To provide a professional and consistent look for all items representing Harvey Mudd College, the Office of Communications and Marketing offers attractive, reusable name badges.
Name badges are 2.75″ x 1.75″ with black text on a gold, metallic surface. They attach to clothing with a magnetic strip (name badges with a safety pin attachment are available by special request).
There are varying layouts allowing your name and personal information to be as visible as possible. The order form will display an appropriate version based on the characters you enter. Badges can be formatted with name and title, or name, title and office.
Allow ten (10) working days for name badge delivery.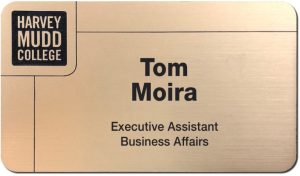 Need Help?
If you have questions, contact Robert Vidaure, art director (rvidaure@hmc.edu, 909.621.8478).