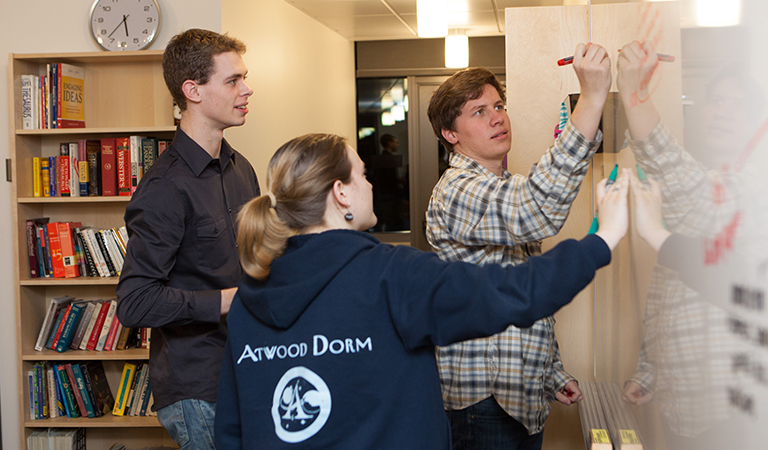 What Can I Expect if I Come to the Writing Center?
You can expect to spend up to 40 minutes with a peer consultant trained to help you with any stage of the writing process. Consultants will do their best to identify and help you with any potential areas of improvement, although they will not know exactly what your professor expects and will not be able to predict your grade. Working closely with your consultant can help you improve your skills as a writer. You can also expect snacks!
How Can I Make an Appointment?
We have an online appointment scheduler. You'll need to register the first time you use the scheduler.
Can I Make an Appointment with Someone Who's Taken my Class?
You shouldn't expect your consultant to be familiar with your class/text/professor. However, all of our consultants have been trained to work with you on your ideas/structure/wording, even if they don't know the specifics of your class. And while every consultant has taken the core courses, in many cases it may be better if your consultant is outside the class so that he/she can be a more objective judge of your paper's clarity. Remember, many writing assignments are ultimately evaluated by someone who hasn't read the text (e.g. Writ 1 portfolios), so this can be good preparation.
How Can I Prepare for my Appointment?
Think about what you want to work on or need advice on. What are the specific things you want to talk with a consultant about? If you have anything written,even just brainstorming notes, please bring them. Previous drafts, especially if they contain peer or professor comments, notes, and outlines can also be helpful. Bring your prompt or assignments handout if you have one.
What if I Don't Yet have Any Ideas About My Paper?
Come prepared to discuss your readings, class discussions, and your thoughts on them, and we will be happy to guide you through the brainstorming process.
Why 40 minutes?
A few years ago a Mudd CS-Bio major ran a statistical analysis on our writing center appointments and found most consultations run their natural course in 39 minutes. We give you an extra minute to get snacks.
Can You Help Me with My Upper Division Clinic Report/ Technical Paper/Thesis?
Yes! Writing Center Consultants are trained to work with all kinds of writing, even when we don't understand the technical content of the work. All the consultants have taken the HMC core, so they have a general background in any field in which you are writing. Remember, if you can make your engineering major consultant understand your biology thesis, you can be certain your writing is clear.
What if I'm Busy in the Evenings When the Center is Open?
Contact us at writing_center@hmc.edu and we'll see what we can do.