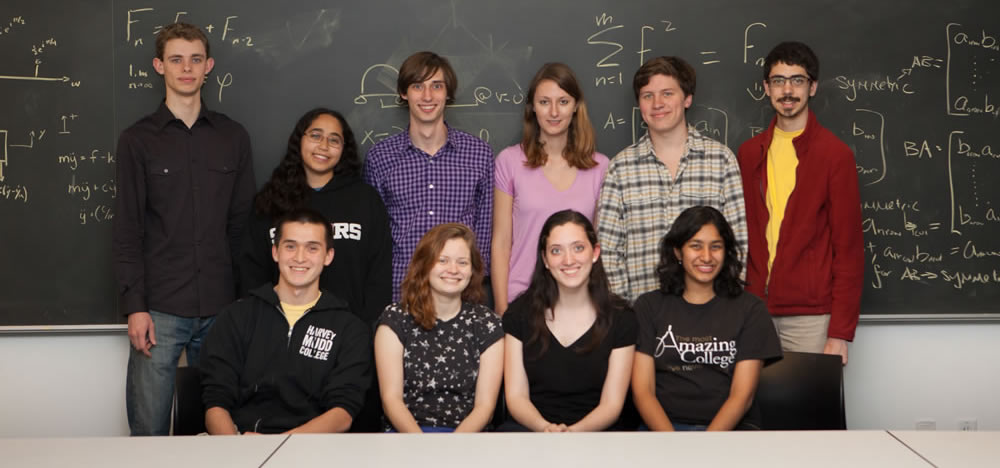 The Academic Excellence Program provides opportunities for students to work together to improve their understanding of concepts in the academic core. Workshops are guided by student facilitators who are outstanding upperclass majors recommended by their departments. They are trained to teach problem solving and collaborative learning strategies while helping students work to understand the material at the level of mastery required for success at Harvey Mudd.
Spring 2015 AE Schedule
Class
Sunday
Monday
Tuesday
Wednesday
Thursday
Chem 23 D
7–9 p.m.
SH 2454
 7–9 p.m.
SH 2454
Physics 24
2–4 p.m.
SH 1480
8–10 p.m.
SH 1480
Biology 52
6–8 p.m.
SH 1480
 6–8 p.m.
SH 1480
Math 40,45,55,70,& 80
8–10 p.m.
SH 1480.
 8–10 p.m.
SH 1480
 8–10 p.m.
SH 2450.
 8–10 p.m.
SH 1480
8–10 p.m.
SH 1480
AE Facilitators
Chemistry
Marie Kirkegaard, Coline Devin, Bruce Yan, Shannon Wetzler and Maddi Hartley.
Physics
Aaron Rosenthal, Tasha Arvanitis, Marie Kirkegaard, Lin Yang, Jim Wu, Caleb Eades, Morgan Mastrovich and Sophie Blee-Goldman.
Mathematics
Elizabeth Kelley, Nathan Hall, John Phillpot, Michael Baeder, Patrick Tierney, Eric Stucky, Amzi Jeffs, Abram Sanderson, Kyle Shan and Matt Wilber.
Biology
Sherry Zhang, Suzy Beeler, Max Frenkel, and Kate Arriola