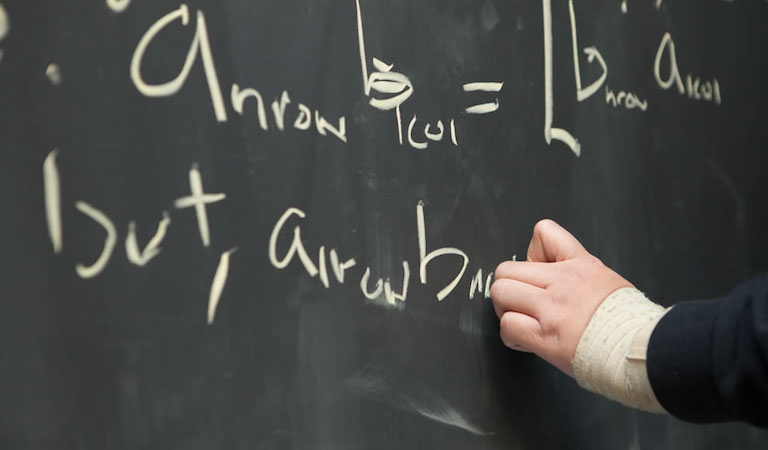 What is the Academic Excellence Program?
The Academic Excellence Program (AE) provides opportunities for students to work together (and individually) to improve their understanding of concepts in the core chemistry, physics, and math courses.
How is AE organized?
Workshops are guided by student facilitators who are outstanding upperclass majors recommended by their departments. They are trained to teach problem solving and collaborative learning strategies while helping students work to master material at the level of complexity required for success at Harvey Mudd.
What Happens When I Come to AE?
Simply walk in the door. Put your name on the sign-in sheet, sit down and begin your work. There might be a person, either a facilitator or a classmate, at the board or at your table explaining something, and you're welcome to join the conversation or not. You're also welcome to stay as long as you wish; you can try and finish your assignment or master some concept while you're there, or you can ask a quick question and leave.
Can I Just Come to AE to Check My Answers?
The short answer is no. AE is designed to help you develop the habits of mind– the problem-solving abilities and collaborative skills– you'll need to be successful at Harvey Mudd. Those skills go well beyond getting the right answers on your homework problems. The facilitators don't have answer keys and won't be able to quickly tell you if you've arrived at the right answer, but will be happy to let you explain the process by which you arrived at that answer, thus helping you strengthen your problem-solving strategies and correcting misconceptions.
Why AE?
One of your biggest tasks as a first- and second-year college student is figuring out how you learn best. AE is but one opportunity to try out and hone your study skills and problem-solving approaches, your time management and collaboration skills. The core courses at Mudd are difficult for most everyone and we want to encourage you to use all the opportunities at your disposal to succeed: AE, office hours, AE, study groups, AE, professors, deans, proctors, friends and AE.
How Can AE Help Me?
If you're coming for homework help, it's best to look at your assignment and at least attempt the problems before you arrive. That way you'll know what questions you have coming in, and will be able to make the most of your time. If you're coming to work with others, you're likely to find several of your classmates whenever you arrive. If you have particular questions for the facilitators, it's best to arrive early in the workshop. Most days you won't have any trouble getting a facilitator's full attention, but on those nights when everyone is struggling and confused about the same assignment, it's best to arrive during the early part of the workshop's scheduled time.
Who Comes to AE?
Students who want to do their work with others in the course, students who want to structure their homework schedule, students who are stuck or need some help and students who want to spend a little more time working on courses they love (or don't love) all come to AE. Some students come every week (or more!) and some students come once or twice a semester. AE is not a remedial program; it is yet another program designed to encourage Harvey Mudd students to work together and alone to master the difficult material that comes your way every day, and to work on college-level problem-solving and study skills.