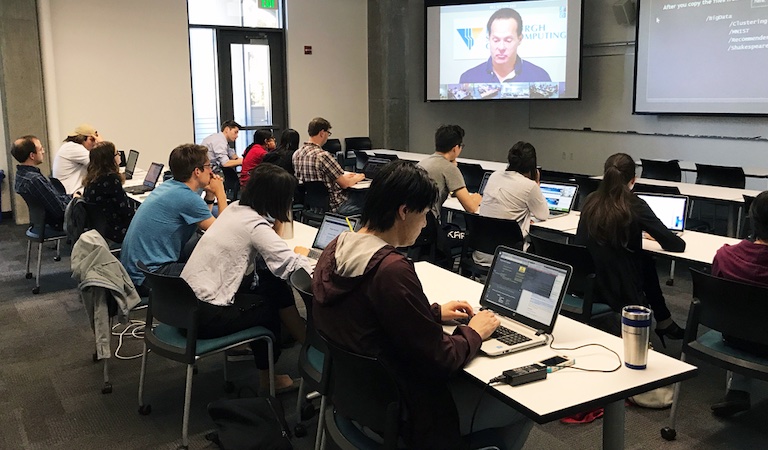 Academic and Research Computing Services (ARCS) provides research computing services including high-performance computing (HPC), high-throughput computing (HTC), data intensive computing, Big Data analytics, large scale data storage resources, and other advanced digital services related to research activities.
To help your research activities, we…
Suggest the right resources through one-on-one consultations
Provide workshops and training for scientific computing tools
Introduce emerging research computing resources
Plan the College's research computing capacity for the future
Harvey Mudd College's XSEDE Campus Champion provides expert support for accessing and utilizing HPC, HTC, and data-driven computing resources on national supercomputer centers through XSEDE. ARCS also helps set up virtual machines on cloud computing platforms like AWS, Azure, and Google Cloud and build local compute servers used for computational research.
Research Computing Showcase
Summer 2017 Undergraduate Research Showcase

Prof. Timothy J. Tsai in Engineering talked about how XSEDE supercomputing allocation helped his summer research. Read more about it from our research computing showcase page.
Gabriel Phun '18 (Chemistry) spoke about his experience with supercomputers during his summer research and how valuable the experience was. Read more about his story at the research computing showcase page.

XSEDE Research Allocation Awardees:

Prof. Lori Bassman in Engineering was mentioned in the HMC News for her receiving a large amount of supercomputing allocations through XSEDE.
Prof. Katherine Van Heuvelen in Chemistry. Her research used XSEDE Research Allocations and her research group published their scholarly work: Acta Crystallographica Section C: Structural Chemistry, Volume 73, Part 8, pages 620-624. https://doi.org/10.1107/S2053229617010397
Research Computing Workshops and Trainings
For more information and current workshop schedule, please visit our research computing workshops page. We offer the following workshops:
XSEDE HPC Workshops: Big Data Workshop
CIS Research Computing Workshop: R, MATLAB, Parallel Processing, Tableau
Advanced Cyberinfrastructure Resources
XSEDE (Extreme Science and Engineering Discovery Environment) is the most advanced, powerful, and robust collection of integrated digital resources and services in the world. HMC joined the XSEDE Campus Champions program in 2012 and has received over 2 million CPU core-hours on supercomputers that our faculty and students have been utilizing for testing their compute- and data-intensive applications.