Local Attractions and Activities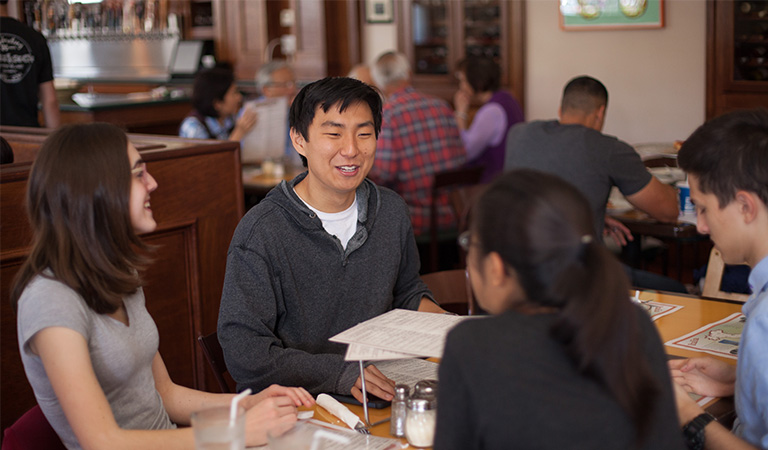 Southern California is home to a variety of attractions, restaurants, museums, and much more. Below you will find a list of activities that are within a five-minute walk from campus and others that require some driving. Please be aware that the list provided below is not an endorsement of any of the locations. The list is intended to be a resource to students unfamiliar with Claremont and Southern California.
Claremont Village
Bakeries
Movie Theatres
Restaurants and Tasty Treats
Bert and Rocky's Ice Cream Shop
Blaze Pizza
Bua Thai Cuisine
Eureka!
Grizzby's Biscuits & Donuts
zpizza
For a guide of all the shops, visit The Claremont Village.
Restaurants outside of the Claremont Village (These places may require transportation)
The Tamale Guy
In-N-Out
The Hat
Lucille's Smokehouse BBQ
Donut Man
Handel's Ice Cream
The Meat Cellar
Rumble Fish Sushi
Beaches
Newport Beach – 43 miles away
Balboa Beach – 46 miles
Corona Del Mar – 47 miles
Huntington Beach – 48 miles
Laguna Beach – 50 miles
Aliso Beach – 53 miles
Crystal Cove – 56 miles
Doheny Beach – 58 miles
Visit beaches in Southern California for more options.
Parks, Recreations and Hiking Trails
Claremont Loop (Claremont)
Mt. Baldy (San Bernardino County)
Griffith Park Observatory & Park (Los Angeles)
Marshall Canyon Park & Nursery (La Verne)
Frank G. Bonelli Regional Park (San Dimas)
Prado Regional Park (Chino)
Joshua Tree National Park (Joshua Tree)
Find a trail nearby and a National Park.
Fun Activities
Bowling
Ice Skating
Roller Skating
Mini Golf, Arcade and Go Karts
SpeedZone
Scandia (no GoKarts)
Escape Room
Sports
American Football
Los Angeles Rams
Los Angeles Chargers
Baseball
Los Angeles Angels of Anaheim
Los Angeles Dodgers
Rancho Cucamonga Quakes (Closest to HMC – 14 miles away)
Basketball
Los Angeles Clippers
Los Angeles Lakers
Los Angeles Sparks
Hockey
Anaheim Ducks
Los Angeles Kings
Soccer
Los Angeles Football Club
Los Angeles Galaxy
Theme Parks
Disneyland Resort (Anaheim)
Knott's Berry Farm Theme Park (Buena Park)
Six Flags Magic Mountain (Valencia)
Universal Studios (Universal City)
Aquarium of the Pacific (Long Beach)
LA Zoo & Botanical Gardens (Los Angeles)
Los Angeles County Fair
Museums
Norton Simon Museum 
LA Museum of Contemporary & Modern Art (LACMA)
Museum of Contemporary Art (MOCA)
The J. Paul Getty Art Museum
The Broad
California Science Center
Natural History Museum
Please visit SoCalMuseums for a longer list.
Music Venues
The Glass House
The Fox Theater
House of Blues
Hollywood Bowl
The Greek Theater
We also have the Campus Activities Planning Board (CAP) that plans and funds off-campus trips to wherever you want (within reason, of course). There's a ton of stuff to do in the L.A. area, from Disneyland to the beaches to the mountains to museums, the list goes on and on. And CAP will fund pretty much anything you and your friends can put together.
But wait, there's more! There are also a boat load of things to do on the other campuses that can probably meet your every need (theatre, ballroom dancing, concerts, festivals, etc.) The Claremont Colleges community sponsors events for everyone (most are free), all you have to do is show up. Again, we've pretty much got you covered when it comes to doing stuff on or off campus.