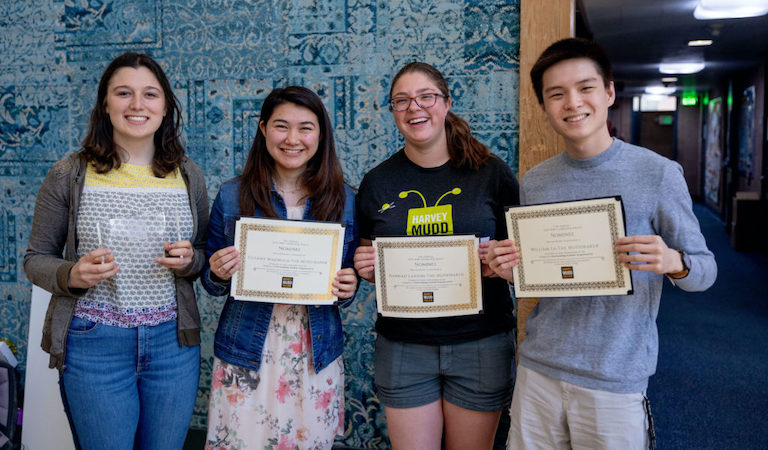 Monday, April 17, 2023 at 12:15 to 1p.m.
Location: Platt Living Room
Recording of the awards ceremony found here!
The Harvey Mudd College Leadership Awards Ceremony was created to recognize valued members of our community. The annual awards recognize students, faculty and staff not only for their academic talents, but for their engagement with and contribution to the Harvey Mudd community. Please nominate your peers, students, and colleagues for the categories below.
Criteria for Awards Nominated by Harvey Mudd Community
These awards are nominated by students, faculty or staff and the recipients chosen by an external committee.
Outstanding Student Organization
This award is presented to a recognized student organization that makes a positive impact on campus or in the wider community. The organization demonstrates integrity, leadership and teamwork and excels in program planning and leadership development of members.
Outstanding Emerging Leader
This award recognizes a first-year student or sophomore who exhibits great potential as a campus and/or community leader. This student demonstrates a commitment to leadership and service through participation in organizations that benefit the campus and/or off-campus community. Nominees are engaged in positive, community-building efforts and are respected by peers, staff and faculty.
Outstanding Mudder Award
Nominees for this award embody what it means to be a "whole person" at Mudd. This student demonstrates creativity, leadership, teamwork, ethics, inclusion, community engagement, wellness and communication in both curricular and co-curricular endeavors.
Outstanding Faculty Member
Nominees go above and beyond their job roles to serve as mentors for students and/or student organizations and to embody Mudd values, such as collaboration and care for the campus community. This award recognizes faculty members who demonstrate leadership in providing quality student support, promoting inclusion, fostering intellectual growth and encouraging involvement in campus, local, national and global communities.
Outstanding Staff Member
Nominees go above and beyond their job roles to offer dedicated support, guidance and service to students, student life and the Mudd community. This award recognizes staff members for their positive contributions to the campus and for their leadership and willingness to make a difference in the lives of students.
Criteria for Awards Nominated by Students
This award is nominated by students; the recipients chosen by an external committee.
Dean Chris Sundberg Prize
Established by Dana Seaton '06, this award recognizes a rising junior who demonstrates exceptional leadership and has a positive impact on the Harvey Mudd College community. The nominee is an ambassador of the College's mission statement and Honor Code and contributes to creating "enhanced college experiences" for other students on campus. The recipient of the Dean Chris Sundberg Prize will receive $500.
Dorman Student Altruism Prize
Established by the Dorman Family Foundation, the Dorman Student Altruism Prize recognizes one graduating senior student who is selected by their fellow students as "one who has done the most for his/her fellow students." The awardee will be selected based on nominations by student peers. The recipient of the Dorman Student Altruism Prize will receive at least $250.