ARCS Pilot Spotlight
Canvas Pilot 2016
Motivation
There are several factors behind the decision to pilot Canvas. First, not all faculty like using Sakai. There are also concerns about whether Sakai will continue to be developed, or if it can keep up with other, more modern LMSs given that most of the institutions involved in the development of Sakai have moved to Canvas. CGU has moved from Sakai to Canvas and the Presidents' Council, the Academic Deans Council and the Information Technology Steering Committee are interested in evaluating Canvas to determine whether the other Claremont Colleges should follow suit.
Goals
Questions we hope to answer:
Overall, how well does Canvas work?
Will the tools that faculty and students are used to using in Sakai have similar counterparts in Canvas?
What new tools will faculty and students appreciate?
How well will Canvas support our consortial setup? Eg. one instance that supports 7 institutions with separate course site templates and admin accounts, ubercourses, cross-listed courses, cross registration, separate authentication services (but CAS), etc.
How will project sites be done?
How will guest accounts be supported?
How will Canvas support our current third party tools: Mediasite, iRubric, Big Blue Button, etc?
Are there new integrations that we can take advantage of?
Participants
Five faculty participated in the Spring 2016 pilot. Each faculty member taught one course in Canvas. Approximately 100 students participated in the pilot. There were two faculty from the Chemistry department, and one each from Computer Science, Physics and Humanities, Social Sciences and the Arts. The courses were not core courses and were a mix of upper and lower level courses.
Faculty and Student Feedback
In the feedback survey we asked faculty and students how satisfied they were with the Canvas tools that they used. Forty-four people responded to the survey. As you can see in the chart below, most participants were satisfied or very satisfied with the Canvas tools.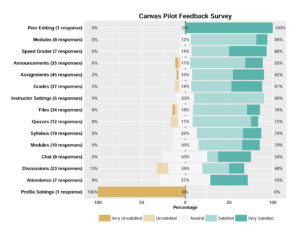 The entire Pilot Report is viewable online