A Bite of Learning Series Home Page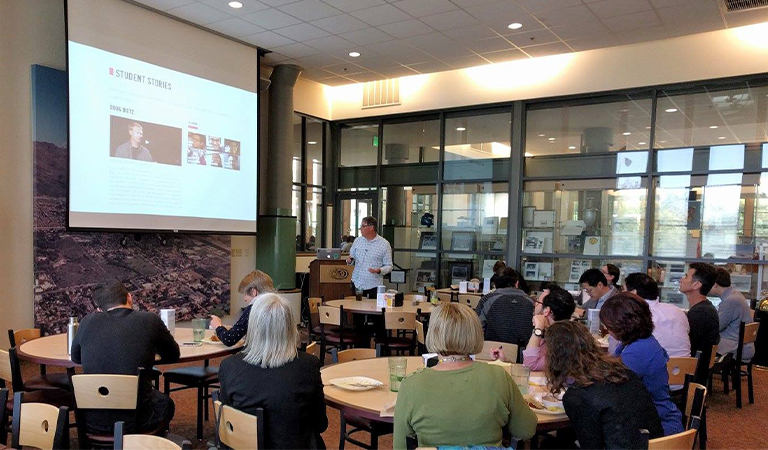 A Bite of Learning is a lunchtime speaker series sponsored by the Harvey Mudd College Office of Computing and Information Services (CIS) in collaboration with the Library of The Claremont Colleges. The series' purpose is to foster innovation in the use of technology in teaching and learning. Presentations are informal, with plenty of time for discussion and Q-and-A.
All faculty, staff, and students of The Claremont Colleges are invited. Bring your lunch and liven up your meals with A Bite of Learning.
We'd love to hear your feedback and suggestions. If you've attended a presentation, please fill out our survey.
Like us on Facebook.
Current Schedule
Location: Aviation Room, Hoch-Shanahan Dining Commons at Harvey Mudd College (campus map)
Time: 12:15–1 p.m.
Archives
Spring 2023
Spring 2022
Fall 2022
Spring 2022
Spring 2020
Fall 2019
Spring 2019
Fall 2018
Spring 2018
Fall 2017
Spring 2017
Fall 2016
Spring 2016
Feb. 10 – Buried in the Mudd: Digging into Film and Video Archives at HMC by Michael Meyka (HMC CIS)
Feb. 23 – Digital Dialogues: Tools for Communicating and Collaborating Across Campus and Beyond by Elizabeth Hodas, Jeho Park, James Sadler and Elly Schofield (HMC CIS)
March 7 – Creative Collaborations and the Hive, or Learning to Play Well with Others by Patrick Little (HMC Engineering)
March 23 – More Than Just a Grade: The Pedagogy and Technology Behind Student Feedback by Elizabeth Connolly (HMC Physics), Theresa Lynn (HMC Physics), Wendy Menefee (HMC Writing Center), Peter Saeta (HMC Physics), and Hal Van Ryswyk (HMC Chemistry)
April 5 – Show Me the Data!: Research Data Management and Storage by Sam Kome (Honnold Library) and Jeho Park (HMC CIS)
April 19 – Instructional Design at Harvey Mudd by Elly Schofield (HMC CIS)
Fall 2015
Sep. 21 – What is DH? And What is it Doing at The Claremont Colleges? by Alex Juhasz (Pitzer College) and Ashley Sanders (Honnold Library)
Sep. 29 – XSEDE for Humanities Computing by Alan Craig (XSEDE)
Oct. 27 – Workday: Discover the Company, Technology and our Impact on Higher Education by Daniel Johnson and Mike Barrameda (Workday)
Nov. 30 – Keeping a Lab Notebook in Evernote, HMC Physics
Dec. 8 – Using 3D Printing Technology in Teaching and Research, HMC Engineering
Spring 2015
Feb. 4 – Using Google+ in a Photography Core Lab by Tom Donnelly and Elizabeth Connolly (HMC Physics Department)
Feb. 17 – Digital Badges and Credentials by Jonathan Finkelstein (Credly)
March 9 – CCEPS: Where Students Engage With Primary Sources by Gale Burrow and Lisa Crane (Honnold Library)
March 24 – The Vital Library by Kevin Mulroy (Honnold Library) CANCELLED
April 3 – A Pilot of Digital Badges at Harvey Mudd by Jeho Park and Elizabeth Hodas (Harvey Mudd College CIS office)
April 14 – Honnold Library's New Gateway by Rebecca Lubas and Sam Kome (Honnold Library)
April 27 – MOOC-Making at Mudd: Updates and Best Practices by Elly Schofield (Harvey Mudd College MOOC Program Director)
Fall 2014
Oct. 1 – Motivating Computer Science With Google Glass by Zoab Kapoor '17 and Jon Finnell '16
Oct. 13 – Mobile iPad Lab: Connecting Virtual and Physical Resources by Danielle Brecher and Natalie Tagge (Honnold Library)
Oct. 31 – Simulcasting in the Shanahan Center by James Sadler (CIS)
Nov. 4 – Expanding Computational Research Capabilities With XSEDE by Shifrah Aron-Dine '16, Josh Sanz '15 and Lori Bassman (Harvey Mudd College Engineering)
Nov. 24 – CCEPS: Where Students Engage With Primary Sources by Gale Burrow and Lisa Crane (Honnold Library) (cancelled)
Dec. 10 – The Ups and Downs of Teaching With Quadcopters… by Zach Dodds (Harvey Mudd College Computer Science)
Spring 2014
Feb. 10 – So Whatever Happened at Honnold? by Sam Kome (Claremont Library)
Feb. 26 – Ready, Sign up, and Compute on DiaGrid! by Carol Song (Purdue University)
March 11 – The HMC Faculty Web Portal by Gerald Reyes (HMC)
April 15 – Exploring Google Glass by Char Booth and Danielle Brecher (Claremont Library)
April 23 – Constructing and Deconstructing MOOCs by Elly Shofield '13
Fall 2013
Oct. 1 – Robotics: Motivation for Learning by Chris Clark (HMC)
Oct. 18 – iRubric: Applications for Baseline Assessment in Writing by Steve Casper and Lindsay Janssen (KGI)
Nov. 13 – Open Access Online Journal Publishing and Scholarship at the Claremont Colleges: More access, more eyes by Allegra Swift (Claremont Colleges Library)
Nov. 19 – Going paperless for course evaluations: our experience piloting CoursEval by Joanne Zhang and Barbara Junisbai (Pitzer)
Dec. 6 – Research with Style! XSEDE Supercomputers and Campus Champions by Katherine Van Heuvelen, Kevin Heath, Jeho Park (HMC)
Spring 2013
Feb. 5 – Student Perceptions of Technology and the Library: Results of the 2012 Student Library Survey by Sara Lowe (Honnold/Mudd Library)
Feb. 18 – Supercomputing in Plain English by Dr. Henry Neeman (Director of the OU Supercomputing Center for Education & Research, University of Oklahoma)
March 7 – Five Years of Using Google Apps for Education at Macalester College by Josh Allen (Academic Information Associate for Sciences), Brad Belbas (Academic Information Associate for Social Sciences), Fritz Vandover (Academic Information Associate for Humanities, Macalester College)
March 26 – Going Public: Using New Media to Share Research Results with Non-Specialists by Prof. Paul Steinberg (HMC, HSA)
April 12 – MOOCs: Massive Open Online Courses by Dr. Jane Manning (Manager of Online Course Production and Platforms, Office of the Vice Provost for Online Learning, Stanford University)
April 17 – Canvas: A New Course Management System by Prof. Ran Libeskind-Hadas (HMC, CS)
April 25 – Experimenting with the Flipped Classroom Model at HMC by Profs. Karl Haushalter (Chemistry), Nancy Lape (Engineering), Rachel Levy (Math), Darryl Yong (Math), and Jacqueline Dresch (Math)
Fall 2012
Sep. 19 – Scheduling Office Hours with the Google Appointment Slots Tool by Elizabeth Hodas (HMC CIS)
Oct. 8 – Explore Your Musical Creativity with Impro-Visor by Prof. Bob Keller (HMC CS)
Oct. 30 – This Digital Humanities Which Is Not One by Prof. Jacqueline Wernimont (Scripps)
Nov. 8 – The Art of Computer Integration in Construction by Dan Stafford (Matt Construction)
Nov. 19 – Experiments in Lecture Capture by James Sadler (HMC CIS)
Nov. 30 – Answering Student Questions with Piazza by Prof. Chris Stone (HMC CS)
Dec. 11 – XSEDE Campus Champion: eXtra Help for eXtreme Compute Power by Dr. Jeho Park (HMC CIS)
Spring 2012
Jan. 23 – Wireless PDF Projection and Annotation with Air Sketch on an iPad by Prof. David Vosburg (Chemistry, HMC)
Feb. 1 – Green Screen: Environmental Documentaries, Video47, and the Classroom by Char Miller (Environmental Analysis, Pomona)
Feb. 21 – Unintentionally Secret Technology at the Library – Little Known Things That Will Help You Use the Library by Sean Stone (Honnold/Mudd Library)
March 5 – Collaborating with Google Apps for Education by Calvin Tong (CIS, HMC)
March 19 – Classroom Walls that Talk: Using Learning Analytics to Raise Awareness of Underperforming Students by John Fritz (University of Maryland, Baltimore County)
April 4 – What Students Really Think about Clickers: Results of Student Surveys by Elizabeth Hodas (CIS, HMC)
April 17 – Using Social Media to Bring Research Ideas Alive by Paul Steinberg (Humanities, Social Sciences, and the Arts, HMC)
Fall 2011
Sep. 19 – Lecture Capture in the Learning Studio Classroom by Michael Meyka and James Sadler (CIS)
Oct. 5 – History Speaks! in Special Collections, Honnold/Mudd Library by Carrie Marsh (The Library)
Oct. 28 – Sakai Roadmap: Sakai CLE and Sakai OAE – What's the Difference? by Elizabeth Hodas (CIS)
Nov. 8 – Mindomo Mapping: Visualizing Concepts and Curricula by Char Booth (The Library)
Nov. 21 – Upgrade Your Studying With Learnstream by Camille Marvin '12 and Ryan Muller '11 (HMC)
Dec. 8 – Paperless Note Taking: Experience with the Livescribe Pen and Other Technologies by Greg Lyzenga '75 (HMC)
Spring 2011
Feb. 8 – Sakai 3: What's next with Sakai by Elizabeth Hodas, CIS
Feb. 22 – Faculty Technology Grants by Jeff Groves, Bob Borrelli and Bill Alves
March 1 – Assessment with iClickers by Katherine Maloney and Eric Ditwiler
March 22 – Sherlock Search and other news from the Library by Sam Kome
April 5 – Backing Up Your Computer by Calvin Tong
April 7 – Desperately Seeking House Elves: Classification and Computational Folkloristics by Tim Tangherlini, UCLA
April 19 – Lecture Capture by Vatche Sahakian
Fall 2010
Sep. 21 – Zotero and RefWorks: Two great research tools by Sam Kome, Honnold/Mudd Library
Oct. 11 (Monday) – Learnstream: Building a revolutionary online learning platform by Ryan Muller and Neal Pisenti, HMC '11
Oct. 26 – BE Press: A new resource at the Library for electronic publishing by Allegra Gonzalez, Honnold/Mudd Library
Nov. 9 – Digital Archaeology and the Qumran Visualization Project by Dr. Robert Cargill, UCLA Center for Digital Humanities
Nov 23. – iRubric for Sakai by Ramesh Sabetiashraf, Reazon Systems, Inc.
Dec. 7 – YouTube at HMC by Judy Augsburger and Leigh Devereaux, College Relations, and Prof. Rachel Mayeri, HSA
Spring 2010
Jan. 26 – Introduction to RefWorks by Jezmine Dene, Honnold Library
Feb. 02 – Timeline and Sign-Up tools by Elizabeth Hodas, HMC CIS
Feb. 16 – Wireless Projectors by James Sadler, HMC CIS
Feb. 23 – Cool Tools by Jezmine Dene, Honnold Library
March 02 – Sakai Tips and Tricks by Elizabeth Hodas, HMC CIS and Jezmynne Dene, Honnold Library
March 09 – VIPEr: Using Web 2.0 tools to foster distance collaboration by Adam Johnson, HMC Physics, and Ethan Benatan, Reed College IT
March 23 – Improve your Googling! by Jezmynne Dene, Honnold Library
March 30 – The Matlab TAH license by Calvin Tong, HMC CIS
April 06 – The TeamBoard Interactive Whiteboard by Egan TeamNoard Inc.
April 13 – Assigning Student Video Projects in Your Syllabus by Prof. Erika Dyson, HSA
April 20 – Using iClickers in the Classroom by Prof. David Harris, Engineering and Prof. Kerry Karukstis, Chemistry
April 27 – gridMathematica by Dr. Jeho Park, CIS
2020
Prof. Timothy J. Tsai: ENG208 – Aashita Kesarwani worked with Prof.

TJ Tsai

in designing the elective course ENG208 that covers the deep learning applications in signal processing by brainstorming the syllabus and course structure, designing three assignments that involved coding neural networks from scratch, setting up autograding with help from student interns, and consulting on multiple aspects of computing packages and environments to be used for this course.
CTL Online Learning Course – ARCS worked with the Claremont Colleges Center for Teaching and Learning to develop an online course in Sakai. The course focused on helping faculty pivot from in person classes to online classes during the COVID-19 pandemic.
Orientation 2020 – The ARCS team collaborated with the Division of Student Affairs to design and create a Sakai site for HMC Orientation 2020 since Orientation was not able to be held in person.
2019
Vatche Sahakian: Physics – JupyterHub server – Aashita Kesarwani, the Research Computing and Data Science Specialist, installed a JupyterHub server on Prof. Sahakian's Kepler GPU machine that serves multiple users with a uniform computing environment via a web-based interface. It was set up with Julia kernel and nbgrader for autograding and is used for teaching classes as well as research work.
Jessica Wu: CS – Aashita Kesarwani assisted Prof. Jessica Wu by guiding student interns in finding datasets and creating the coding assignments for her course in data science ethics.
Matthew Spencer: E80 – ARCS worked with an electrical engineering faculty to create the instructional materials for the 6 labs in his course. The materials created for each lab include a lab prompt, a lab report rubric, a peer review feedback form for lab reports, and an assessment sheet for graders.
Julie Medero & Lucas Bang: CS70 – ARCS team helped faculty from the Department of Computer Science create a seamless learning experience for students. Sakai, Gradescope, GitHub Classroom, GitHub, and Docker were integrated into this course. You can read more about this project in the ARCS Projects Spotlight 2019.
Lelia Hawkins: Chem 41 – James Sadler and Yi Luo worked with Professor Hawkins to create training material to teach her students how to use the Toonly software to create and edit informative animated videos. Once the material was created they offered a class session to walk the students through how to use the software.
2018
Isabel Balseiro: HMC LIT 179X – ARCS helped design the course syllabus, project instructions, assessments, and workshops to integrate Scalar, an open-source scholarly publishing tool that can be used to create media-rich content, into this course. ARCS also taught two workshops on Scalar in class in the Spring and Fall semesters of 2018. Scalar technical support was also provided to faculty and students.
Kate Kharitonova: CS121 – ARCS worked with a computer science faculty to create instructional materials such as a course syllabus, Github learning resources, and a student feedback survey for this course.
Tableau visualizations of WHAM data – The ARCS scientific computing intern, Chukwudi Oguejiofor, worked with the HMC Teaching and Learning committee to visualize data collected through the Workload and Health at Mudd (WHAM) surveys using Tableau.
2017
Julie Medero, Beth Trushowsky, Yekaterina (Kate) Kharitonov: CS70 – ARCS created training materials, FAQs and instructional videos for CS 70 in order to help students who are coming to the course without much experience in using Linux and Github.
You can read more about this project in the ARCS Projects Spotlight 2017.
F&M: Galileo Redesign – ARCS worked with the Facilities and Maintenance Department to design the audiovisual systems during the renovation of the Galileo Auditoria. This included the video projection, assisted listening, lecture capture, and audio distribution systems.
Talithia Williams, Susan Martonosi, Kenji Koza: Math35 – ARCS worked closely with the faculty to develop course content, course assignments, and user guides to support the transition from using Minitab to R, an open source statistics package, for Math 35.
2016
Satyan Devadoss: Website for student projects in computational geometry
Lelia Hawkins & Rachel Levy: Developing an R package for atmospheric sample data analysis and visualization
2015
Albert Dato: Interactive Simulation – Using a game engine, create an interactive experience for students to
Fall 2022
Spring 2022
Spring 2020
Fall 2019
Spring 2019
Fall 2018
Spring 2018
Fall 2017
Spring 2017
Fall 2016
Spring 2016
Feb. 10 – Buried in the Mudd: Digging into Film and Video Archives at HMC by Michael Meyka (HMC CIS)
Feb. 23 – Digital Dialogues: Tools for Communicating and Collaborating Across Campus and Beyond by Elizabeth Hodas, Jeho Park, James Sadler and Elly Schofield (HMC CIS)
March 7 – Creative Collaborations and the Hive, or Learning to Play Well with Others by Patrick Little (HMC Engineering)
March 23 – More Than Just a Grade: The Pedagogy and Technology Behind Student Feedback by Elizabeth Connolly (HMC Physics), Theresa Lynn (HMC Physics), Wendy Menefee (HMC Writing Center), Peter Saeta (HMC Physics), and Hal Van Ryswyk (HMC Chemistry)
April 5 – Show Me the Data!: Research Data Management and Storage by Sam Kome (Honnold Library) and Jeho Park (HMC CIS)
April 19 – Instructional Design at Harvey Mudd by Elly Schofield (HMC CIS)
Fall 2015
Sep. 21 – What is DH? And What is it Doing at The Claremont Colleges? by Alex Juhasz (Pitzer College) and Ashley Sanders (Honnold Library)
Sep. 29 – XSEDE for Humanities Computing by Alan Craig (XSEDE)
Oct. 27 – Workday: Discover the Company, Technology and our Impact on Higher Education by Daniel Johnson and Mike Barrameda (Workday)
Nov. 30 – Keeping a Lab Notebook in Evernote, HMC Physics
Dec. 8 – Using 3D Printing Technology in Teaching and Research, HMC Engineering
Spring 2015
Feb. 4 – Using Google+ in a Photography Core Lab by Tom Donnelly and Elizabeth Connolly (HMC Physics Department)
Feb. 17 – Digital Badges and Credentials by Jonathan Finkelstein (Credly)
March 9 – CCEPS: Where Students Engage With Primary Sources by Gale Burrow and Lisa Crane (Honnold Library)
March 24 – The Vital Library by Kevin Mulroy (Honnold Library) CANCELLED
April 3 – A Pilot of Digital Badges at Harvey Mudd by Jeho Park and Elizabeth Hodas (Harvey Mudd College CIS office)
April 14 – Honnold Library's New Gateway by Rebecca Lubas and Sam Kome (Honnold Library)
April 27 – MOOC-Making at Mudd: Updates and Best Practices by Elly Schofield (Harvey Mudd College MOOC Program Director)
Fall 2014
Oct. 1 – Motivating Computer Science With Google Glass by Zoab Kapoor '17 and Jon Finnell '16
Oct. 13 – Mobile iPad Lab: Connecting Virtual and Physical Resources by Danielle Brecher and Natalie Tagge (Honnold Library)
Oct. 31 – Simulcasting in the Shanahan Center by James Sadler (CIS)
Nov. 4 – Expanding Computational Research Capabilities With XSEDE by Shifrah Aron-Dine '16, Josh Sanz '15 and Lori Bassman (Harvey Mudd College Engineering)
Nov. 24 – CCEPS: Where Students Engage With Primary Sources by Gale Burrow and Lisa Crane (Honnold Library) (cancelled)
Dec. 10 – The Ups and Downs of Teaching With Quadcopters… by Zach Dodds (Harvey Mudd College Computer Science)
Spring 2014
Feb. 10 – So Whatever Happened at Honnold? by Sam Kome (Claremont Library)
Feb. 26 – Ready, Sign up, and Compute on DiaGrid! by Carol Song (Purdue University)
March 11 – The HMC Faculty Web Portal by Gerald Reyes (HMC)
April 15 – Exploring Google Glass by Char Booth and Danielle Brecher (Claremont Library)
April 23 – Constructing and Deconstructing MOOCs by Elly Shofield '13
Fall 2013
Oct. 1 – Robotics: Motivation for Learning by Chris Clark (HMC)
Oct. 18 – iRubric: Applications for Baseline Assessment in Writing by Steve Casper and Lindsay Janssen (KGI)
Nov. 13 – Open Access Online Journal Publishing and Scholarship at the Claremont Colleges: More access, more eyes by Allegra Swift (Claremont Colleges Library)
Nov. 19 – Going paperless for course evaluations: our experience piloting CoursEval by Joanne Zhang and Barbara Junisbai (Pitzer)
Dec. 6 – Research with Style! XSEDE Supercomputers and Campus Champions by Katherine Van Heuvelen, Kevin Heath, Jeho Park (HMC)
Spring 2013
Feb. 5 – Student Perceptions of Technology and the Library: Results of the 2012 Student Library Survey by Sara Lowe (Honnold/Mudd Library)
Feb. 18 – Supercomputing in Plain English by Dr. Henry Neeman (Director of the OU Supercomputing Center for Education & Research, University of Oklahoma)
March 7 – Five Years of Using Google Apps for Education at Macalester College by Josh Allen (Academic Information Associate for Sciences), Brad Belbas (Academic Information Associate for Social Sciences), Fritz Vandover (Academic Information Associate for Humanities, Macalester College)
March 26 – Going Public: Using New Media to Share Research Results with Non-Specialists by Prof. Paul Steinberg (HMC, HSA)
April 12 – MOOCs: Massive Open Online Courses by Dr. Jane Manning (Manager of Online Course Production and Platforms, Office of the Vice Provost for Online Learning, Stanford University)
April 17 – Canvas: A New Course Management System by Prof. Ran Libeskind-Hadas (HMC, CS)
April 25 – Experimenting with the Flipped Classroom Model at HMC by Profs. Karl Haushalter (Chemistry), Nancy Lape (Engineering), Rachel Levy (Math), Darryl Yong (Math), and Jacqueline Dresch (Math)
Fall 2012
Sep. 19 – Scheduling Office Hours with the Google Appointment Slots Tool by Elizabeth Hodas (HMC CIS)
Oct. 8 – Explore Your Musical Creativity with Impro-Visor by Prof. Bob Keller (HMC CS)
Oct. 30 – This Digital Humanities Which Is Not One by Prof. Jacqueline Wernimont (Scripps)
Nov. 8 – The Art of Computer Integration in Construction by Dan Stafford (Matt Construction)
Nov. 19 – Experiments in Lecture Capture by James Sadler (HMC CIS)
Nov. 30 – Answering Student Questions with Piazza by Prof. Chris Stone (HMC CS)
Dec. 11 – XSEDE Campus Champion: eXtra Help for eXtreme Compute Power by Dr. Jeho Park (HMC CIS)
Spring 2012
Jan. 23 – Wireless PDF Projection and Annotation with Air Sketch on an iPad by Prof. David Vosburg (Chemistry, HMC)
Feb. 1 – Green Screen: Environmental Documentaries, Video47, and the Classroom by Char Miller (Environmental Analysis, Pomona)
Feb. 21 – Unintentionally Secret Technology at the Library – Little Known Things That Will Help You Use the Library by Sean Stone (Honnold/Mudd Library)
March 5 – Collaborating with Google Apps for Education by Calvin Tong (CIS, HMC)
March 19 – Classroom Walls that Talk: Using Learning Analytics to Raise Awareness of Underperforming Students by John Fritz (University of Maryland, Baltimore County)
April 4 – What Students Really Think about Clickers: Results of Student Surveys by Elizabeth Hodas (CIS, HMC)
April 17 – Using Social Media to Bring Research Ideas Alive by Paul Steinberg (Humanities, Social Sciences, and the Arts, HMC)
Fall 2011
Sep. 19 – Lecture Capture in the Learning Studio Classroom by Michael Meyka and James Sadler (CIS)
Oct. 5 – History Speaks! in Special Collections, Honnold/Mudd Library by Carrie Marsh (The Library)
Oct. 28 – Sakai Roadmap: Sakai CLE and Sakai OAE – What's the Difference? by Elizabeth Hodas (CIS)
Nov. 8 – Mindomo Mapping: Visualizing Concepts and Curricula by Char Booth (The Library)
Nov. 21 – Upgrade Your Studying With Learnstream by Camille Marvin '12 and Ryan Muller '11 (HMC)
Dec. 8 – Paperless Note Taking: Experience with the Livescribe Pen and Other Technologies by Greg Lyzenga '75 (HMC)
Spring 2011
Feb. 8 – Sakai 3: What's next with Sakai by Elizabeth Hodas, CIS
Feb. 22 – Faculty Technology Grants by Jeff Groves, Bob Borrelli and Bill Alves
March 1 – Assessment with iClickers by Katherine Maloney and Eric Ditwiler
March 22 – Sherlock Search and other news from the Library by Sam Kome
April 5 – Backing Up Your Computer by Calvin Tong
April 7 – Desperately Seeking House Elves: Classification and Computational Folkloristics by Tim Tangherlini, UCLA
April 19 – Lecture Capture by Vatche Sahakian
Fall 2010
Sep. 21 – Zotero and RefWorks: Two great research tools by Sam Kome, Honnold/Mudd Library
Oct. 11 (Monday) – Learnstream: Building a revolutionary online learning platform by Ryan Muller and Neal Pisenti, HMC '11
Oct. 26 – BE Press: A new resource at the Library for electronic publishing by Allegra Gonzalez, Honnold/Mudd Library
Nov. 9 – Digital Archaeology and the Qumran Visualization Project by Dr. Robert Cargill, UCLA Center for Digital Humanities
Nov 23. – iRubric for Sakai by Ramesh Sabetiashraf, Reazon Systems, Inc.
Dec. 7 – YouTube at HMC by Judy Augsburger and Leigh Devereaux, College Relations, and Prof. Rachel Mayeri, HSA
Spring 2010
Jan. 26 – Introduction to RefWorks by Jezmine Dene, Honnold Library
Feb. 02 – Timeline and Sign-Up tools by Elizabeth Hodas, HMC CIS
Feb. 16 – Wireless Projectors by James Sadler, HMC CIS
Feb. 23 – Cool Tools by Jezmine Dene, Honnold Library
March 02 – Sakai Tips and Tricks by Elizabeth Hodas, HMC CIS and Jezmynne Dene, Honnold Library
March 09 – VIPEr: Using Web 2.0 tools to foster distance collaboration by Adam Johnson, HMC Physics, and Ethan Benatan, Reed College IT
March 23 – Improve your Googling! by Jezmynne Dene, Honnold Library
March 30 – The Matlab TAH license by Calvin Tong, HMC CIS
April 06 – The TeamBoard Interactive Whiteboard by Egan TeamNoard Inc.
April 13 – Assigning Student Video Projects in Your Syllabus by Prof. Erika Dyson, HSA
April 20 – Using iClickers in the Classroom by Prof. David Harris, Engineering and Prof. Kerry Karukstis, Chemistry
April 27 – gridMathematica by Dr. Jeho Park, CIS