Engineering Student and Alumni Stories
There are many reasons to pursue an engineering degree. The field is challenging, fun, hands-on, full of interesting problems and collaborative. But don't take our word for it. Read what our students and alumni have to say. Their stories are inspiring.
Jordan Abrahams '19: The Future of Fast Food
Flipping burgers after graduating with an HMC degree may not have been what Jordan Abrahams '19 imagined for himself, but that is what he's doing. Sort of.
As a machine learning engineer at Pasadena, California-based Miso Robotics—creators of the first autonomous grilling and frying kitchen assistant, Flippy—Abrahams is part of the team responsible for technology that controls the thought process of the world's first autonomous robotic kitchen assistant. Flippy, has worked alongside kitchen staff to assist in consistently preparing freshly cooked burgers at CaliBurger, Dodger's stadium and Arizona Diamondback's stadium. Most recently, the company announced the pilot of a new version of Flippy, Robot-on-a-Rail (ROAR), with White Castle, the world's first fast food chain.
In addition to reducing potential for transmission of food pathogens, Flippy is designed to improve food quality, decrease food production costs and improve the lives of workers in the food industry. Abrahams describes what it's like being a robotic scheduler for a robot that can learn from its surroundings, acquire new skills over time and make a mean burger!
Describe your role (machine learning group) working with Flippy.
The machine learning team at Miso has a few key responsibilities: classifying parts of the kitchen, estimating the position of items in the kitchen, keeping track of the kitchen over time, and long-term planning. I specialize in long-term planning, the scheduling part. Flippy looks at what it can manipulate in the environment and predicts what the future would look like if it moved any of them around. Flippy then chooses the action that will make the most amount of the desired food in the future. Flippy creates an adaptive policy to prevent any food from under or overcooking, so that we meet our food quality requirements.
Can you describe what Flippy does to make the burgers and fries?
There are a lot of components that all need to function together to get Flippy to cook. Flippy adapts to its environment using a set of sensors. At a high level, cameras, lidar (light detection and ranging) and depth sensors are used to determine the current state of the kitchen. A set of programmed recipes tell the robot how it can change the environment to make food. Once Flippy figures out what is the best action to do and when to do it, Flippy plans its arm movement to make sure it won't hit anything as it moves food and tools around. The robot continuously re-evaluates and re-schedules where it is in the cooking process, so even if it needs to pause or shut down in the middle of cooking, it can start right back up immediately. This allows human workers to stop Flippy safely without wasting precious cooking time. (See Flippy in action.)
How's Flippy's job performance?
There are several ways to measure performance. Uptime, food throughput rates, order to delivery times, food quality and mistake frequency are all ways we evaluate how effective Flippy is. For a standard frying set up, Flippy is fast enough to get food out at the same rate that human workers can sustain. Right now, that's between 60 to 100 baskets of fried food per hour, depending on cook times and number of fryers Flippy has access to. Right now we're finishing a redesign of our form factor, putting Flippy upside down on a rail, to fit into more kitchens and get better reach. This new form factor will be shipping this year, and so far customers have responded great and are looking forward to the new possibilities.
Anything else you can share?
One memorable experience was conducting a somewhat impromptu presentation of my work. Despite being quite a small company, Miso tends to attract a lot of interest from restaurants. It just so happened that I had been suddenly scheduled for a quick talk the day that I was flying out to the 2019 ICAPS conference. So I brought all my luggage to my desk, gave a quick speech on Flippy's AI and promptly headed out for my flight. I later learned that I had presented to a set of famous restaurant chain CEOs—sorry, those names are private—who loved the talk! Looking back, I probably should have noticed and been more nervous. I suppose all the Clinic calls with Prof. [David] Harris steeled my nerves.
Oh! And shout out to Mudd's HEATlab and LAIR. The research both labs do is incredible, and I love catching up when they publish.
Benson Tsai '06: The Entreprofessor
[Note: This article was first published in the 2019 Engineering Highlights newsletter. Dec 2019]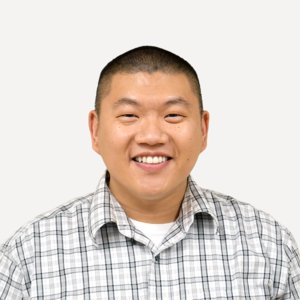 Inspired by his parents and the Harvey Mudd faculty, Benson Tsai '06 was intrigued by two career options: entrepreneur and professor.
Tsai grew up in Hacienda Heights, where his mother started one of the first Chinese schools in the region, and his father ran an import/export picture frame business. In choosing HMC, Tsai stayed close to home while delving into chemical engineering, something he explored further as a transportation analysis intern at Sandia National Laboratories.
"While I had an understanding of how to run a business from my parents, HMC gave me the skills to do what I needed to do," explains Tsai. "I took Gary Evans' Enterprise and the Entrepreneur class, which exposed me to how Silicon Valley venture-backed startups worked.  Professor Spjut's class on heat transfer was also helpful in connecting all the dots for me. I have used the technical material that I learned there extensively. Because the faculty that I was exposed to were so great, I felt that I wanted to do the same with teaching."
Tsai pursued his dream of becoming a professor by enrolling in a PhD program in chemical engineering at the University of Minnesota. But sadly, Tsai's advisor died from pancreatic cancer, prompting Tsai to rethink his career trajectory. Fortunately, another HMC alumnus, Jim Castelaz '06 (engineering), reached out to him about working on a startup in Silicon Valley.
Electrifying startup
In 2009, Tsai and Castelaz founded Motiv Power Systems, a manufacturer of electric powertrains for medium-duty commercial vehicles, such as buses, work trucks and box trucks. Motiv was recently recognized with the 2019 Fast Company World Changing Ideas Award for transportation.
"At the time we founded Motiv, Tesla was just getting started," says Tsai. "We were really at the forefront of electrification. People were still doubting that electric vehicles would be effective. To watch Motiv grow and change and to have a larger impact on society has been very fulfilling."
Impatient with what he considered a slow-moving U.S. electric vehicle market, Tsai left Motiv in 2011 and began work in Taiwan as a member of the technical staff at Lucid Motors (formerly Atieva). Lucid was working with the Chinese government, which required new trucks and heavy vehicles to be electric. Tsai relished working on electric vehicle technology on an international scale. "But, I got tired of living out of a suitcase," he says.
SpaceX to the rescue.
The private, U.S. aerospace manufacturer founded by Elon Musk approached Tsai about working on its spacecraft and rockets in Hawthorne, California, and he eagerly accepted. As a senior battery development engineer at SpaceX, Tsai says he drew on his HMC technical training to design new battery system architecture.
But the call to return to entrepreneurism was strong, and Tsai decided to embark on a new venture. He's now working to bring robotics and automation into restaurant kitchens to help reduce instances of foodborne illnesses and alleviate some of the labor shortages occurring in the foodservice industry. The new company is in its infancy, but the idea is to utilize robots to do mundane, repetitive tasks while people focus on what they are good at, such as restaurant concepts and customer service.
Tsai's education, work experience, previous startup experience and HMC network connections smoothed the way for his current venture: He was able to raise seed capital on a very short timescale.
Tsai is sharing what he's learned by serving as a mentor for HMC INQ, the startup incubator for alumni. He and HMC INQ co-founder Josh Jones '98 met at SpaceX, and Jones encouraged Tsai to become an advisor. Twice a year, startups are admitted to a weeklong program where they receive funding and guidance from mentors like Tsai.
Tsai says, "I get satisfaction from helping people learn, and this probably goes back to my original career goal of being a professor, so working with HMC INQ is a natural fit for me. I'm happy if I can pass on my knowledge and help others be successful."
Ajay Shah '06: Big-Picture Science
[Note: This story was first published in the 2018 Engineering Highlights newsletter.]
Sepsis kills more Americans than breast cancer, prostate cancer and AIDS combined and costs the U.S. healthcare system more than $20 billion each year. Ajay Shah '06, CEO of San Francisco medical device startup CytoVale, hopes that his company's technology might help curtail this deadly condition.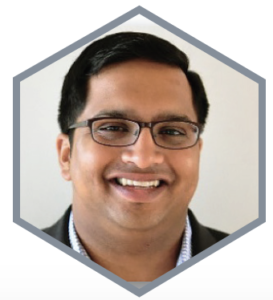 According to Shah, "there's no single test to help physicians triage patients with potential sepsis," a condition caused by a dysregulated immune response to infection.
"But it's well accepted that the number one way to help septic patients is early recognition, because the mortality rate increases by hour of delayed diagnosis," he says.
CytoVale's innovative tech provides early sepsis detection by combining microfluidics, ultra-high-speed imaging, and computer vision and machine learning. Cells from a blood sample pass one-by-one through a microfluidic channel and are "squeezed." High speed videography captures images of each cell as it is deformed. Finally, "we take all that video data and analyze it with computer vision algorithms to extract characteristics of each cell," in order to detect cellular properties that indicate sepsis. Classical approaches to measure cell mechanics analyze up to one cell per second; CytoVale's can process thousands, Shah says.
"That then gives us the ability to analyze over 50,000 cells per patient sample and provide the clinician with an integrated picture of what's happening in that underlying immune biology—all within five minutes," Shah explains.
Shah got his first taste of this "big picture view of science" as an undergraduate. "My time at Harvey Mudd and the research work I did really catalyzed my personal and professional growth," he says. "One of the great things is that undergrads rule the place—we got direct exposure to the faculty and direct engagement with those who are sponsoring research."
It also prepared him for graduate school at the Harvard/MIT Health Sciences and Technology program.
"I already came in with the confidence that I could do real science," Shah says. "I was taught that engineers are here to solve problems and not to live in any particular lane."
This ethos also applies to CytoVale. "We don't have a culture that electrical engineers do electrical work and mechanical engineers do mechanical work. Everybody gets together to solve a problem," he says.
Shah works with several Mudders, including Senior Research Engineer Annie Jensen '12, who was on a Clinic team that Shah sponsored. "Annie was our first employee at CytoVale and has been with the company for over four years. Now, she leads our entire engineering group," he says. Another undergraduate connection is Chris Dahlberg '06, senior integration engineer; he and Shah have been friends since they met as first years 12 years ago.
"We probably have over a decade of Mudd graduates working here!" says Shah.
For Cytovale, the next step is regulated product development followed by Federal Drug Administration approval. Shah hopes to see their technology in emergency rooms by late 2020, "so that we can really impact clinical care."
De Pietro Fellows Study Dam Anchors
The nearly half-mile-long, 165-foot-tall Bluestone Dam in Hinton, West Virginia, controls runoff from a 4,565 square mile watershed and regulates 44 percent of the Kanawha River's flow through Charleston. The state's largest flood control structure, it also is responsible for the creation of its third-largest lake. The dam served as a valuable learning opportunity for Harvey Mudd College engineering students during summer 2018.
This experiential learning opportunity was made possible by the National Infrastructure Protection Plan Security and Resilience Challenge, which identifies and funds the development of cost-effective technologies that address near-term needs and strengthen critical infrastructure. The effort involving Harvey Mudd students focused on an innovative, performance-based field technique for evaluating the condition of post-tensioned anchors in Bluestone Dam. The project was led by researchers in the De Pietro Fellowship Program in Civil Engineering at Harvey Mudd and was reviewed by the U.S. Army Corps of Engineers, the Department of Homeland Security and engineers at Gannett Fleming and PacifiCorp Inc.
According to estimates by the Corps of Engineers, Bluestone Dam has prevented $10 billion in downstream flood damage since it became operational in 1949. The structure was designed to contain runoff from the region's largest storm on record—then a 1916 hurricane that dumped more than 13 inches of rain on the watershed in a 24-hour period. With a new worst-case scenario (20 inches of rainfall) and updated engineering standards, upgrades are needed to better protect the 165,000 people and $20 billion worth of property downstream of the dam. A five-phase Dam Safety Assurance Mega-Project has been underway since 2000, including nearly 300 steel anchors that secure the structure to bedrock with steel cable. Each anchor can add more than two million pounds of stabilizing force to the dam.
These anchors were the focus of HMC students Maggie Gelber '19, Casey Gardner '19, Flora Xia '20, Dana ShangGuan '21 and Andrew Pham '20. Working with HMC advisor Zee Duron '81, Jude and Eileen Laspa Professor of Engineering, and professional engineers, they sought to determine if the anchors are stable and performing as expected. Field testing included using a cold gas thruster to impart a short but powerful force into the dam, one of the most memorable aspects of the project for Andrew Pham.
"By analyzing how the dam reacts to this load, we were able to characterize and understand how the dam works," Pham says. "This project is interesting because it really demonstrates the universality of the Harvey Mudd curriculum. Harvey Mudd teaches engineering with a systems approach—that is, any problem can be characterized by understanding how it reacts to a known input. At Mudd, we've applied this concept to things like circuits and small mechanical systems. However, in the fellowship, we've demonstrated this approach works on structures like dams. I think this research is probably a prime example of the truth of the philosophy of the Mudd engineering curriculum."
This was the fourth dam project for Maggie Gelber, who was able to add even more to her skillset. "In order to do the analysis, we had to learn a lot about dynamic modeling and matching algorithms," she says. "In addition to the obvious technical skills, I appreciate this fellowship for the chance to learn more about engineering projects from start to finish."
"The Bluestone project offered the opportunity to essentially look inside the dam at the embedded anchors," says Casey Gardner, who plans to pursue a master's degree in structural engineering with a focus on non-destructive testing methods for large structures. "The success of this project means that there are a variety of other applications that we might be able to test in the future, using similar tools and test procedures."
Gelber says, "The Bluestone Dam project was an excellent experience for me, not just in terms of the technical knowledge but also for the opportunity to work on a project with such a clear and important impact on the dam community. Non-destructive techniques to analyze aging infrastructure is super important, and I loved getting the opportunity to work on it."
Student Research: LAIR Team Searches for Missing Aircraft
In 1944, southern Italy had been overrun by the Allies and newly captured airfields were quickly put to use as bases for the U.S. Air Force. A little known fact is that Poland's Air Force also operated out of such bases. Flying out of Brindisi, Polish B24s flew long and dangerous missions to drop supplies for those fighting the Germans during the Polish uprising. Operations reports describe at least two Polish aircraft that went down into the sea on the approaches to the Brindisi airfield with most crew members and aircraft never being located.
This year, two students from Harvey Mudd College's Lab for Autonomous and Intelligent Robotics (LAIR) joined a multinational team on an expedition, led by the University of Warsaw, to search for and locate these missing bombers. Through an ongoing collaboration with the University of Malta, Eric Contee '19 and Russell Bingham '20 traveled to Italy with the LAIR's Autonomous Underwater Vehicle and together with Timmy Gambin, a professor at the University of Malta, formed the core element of the team tasked with mapping the seabed and identifying the planes or their fragmented remains. The team designed search patterns for the robot—patterns that enable the systematic search of a given area using the AUV's side scan sonar. Besides running the sonar missions, Contee, Bingham and Gambin processed and analyzed the data so as to prepare target lists that will subsequently be verified by divers. Over six square kilometers were covered and a number of interesting targets identified.
The participation of the Harvey Mudd students was made possible with the help of the Shipwreck Expeditions Association, Polish Air Force Historical Foundation, University of Warsaw Museum, Institute of Archeology of the University of Warszaw and Witold Pilecki Institute of Solidarity.
This project stems from a 10-year collaboration between Gambin and Harvey Mudd engineering professor Christopher Clark, who directs LAIR at Harvey Mudd.
Erica Martelly '17: Growing Where Planted
[Note: This story was first published in the spring 2016 issue of Harvey Mudd College Magazine]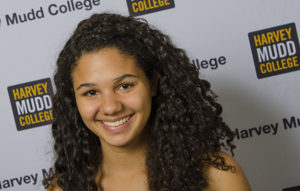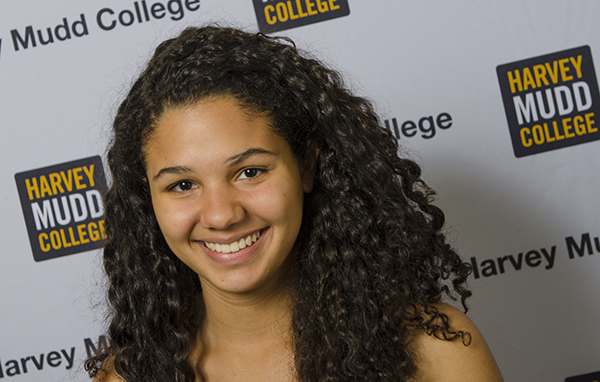 Erica Martelly '17 is a world traveler who speaks three languages (English, Spanish and French) and has moved nine times. While she may now call Harvey Mudd home, she's still on the go.
"Being a President's Scholar has inspired me to fully participate in life at Harvey Mudd," says Martelly. The President's Scholars Program supports outstanding students who are from backgrounds traditionally underrepresented at the College. "I always keep in mind the reason I applied for the scholarship and received it: I care about participating in and improving the community I'm in."
Finding home
Born in Miami, Florida, to parents who teach internationally, Martelly lived abroad for most of her life, including in Mumbai, India, and Abuja, Nigeria, where she graduated from high school. Throughout K–12, she was involved in many activities, from art to sports to music, and thrived in small class settings. By 11th grade, Martelly was sure that she wanted to be an engineer and sought a college where she could continue to experience the personal attention, collaboration and teamwork she had enjoyed throughout her schooling. After her first visit to Harvey Mudd, she knew she had found the right place. True to her word, she's made her mark in this new community.
As part of her coursework, she's built a phone charger and a rocket (E80) and worked for one summer in the lab of engineering Professor Nancy Lape studying how drugs pass through the skin and whether stretching the skin will change how much can pass through.
"Transdermal drug transport is a great alternative to injections and oral drug administration," says Martelly, who focused on two parts of the project. "I worked on developing a new device that can stretch the skin at a constant strain/force and also apply a sinusoidal input. This involved several hours at the machine shop building the prototype as well as a lot of time in electronics lab wiring the components of the device. Also, I worked on finding different techniques to image the surface of the skin to see how surface area changes when the skin is stretched."
Such challenges thrill Martelly, who likes to build, create and analyze contemporary problems. Doing so through lively class discussions and collaborations with classmates has made her work at Harvey Mudd exciting, she says. She especially enjoys the challenging mechanical engineering classes taught by professor and C.F. Braun & Company Fellow Philip Cha.
Food and first years
As much as she's enthusiastically embraced academics, she's also been very involved in campus and volunteer activities. An ardent foodie, Martelly shared this passion with first years during fall 2015 when she and fellow Orientation Adventure guide Alexa Le '17 organized a food tour through Old Pasadena. She's a supervisor for the Linde Activities Center and is a member of Mudd Advocates, a peer-led group that seeks to support sexual assault survivors at The Claremont Colleges. Because Martelly feels "strongly about increasing the access to science education in schools," she volunteers each year for Science Day, which features interactive lessons and demos for local elementary school students. She's also a Peer Academic Liaison (PAL), one of her most rewarding activities, she says. "I check up on students in my dorm and make sure they are getting the help they need to succeed."
Considering her extensive travels, Martelly is uniquely qualified to provide help and support. She says living in so many countries has taught her "open-mindedness, adaptability and empathy," as well as how to make friends quickly.
"I attended school with students from various religions and cultural backgrounds and learned to accept that their opinions are valid even if they don't align with my own," she says.
It's OK to ask for help
She's learned a lot at Mudd, too, and has had her share of challenges here. But, Martelly says, "struggling is not taboo, it's part of the process. It is OK to reach out for help. There is always somebody willing to help."
This summer, she will intern in the aerospace industry along with several other Harvey Mudd students. Recognizing it as a good opportunity to gain practical skills and insights into the professional world, Martelly is excited about her internship and for another chance to flourish in a new community.
Scott Stokdyk '91/92: And the Oscar Goes To …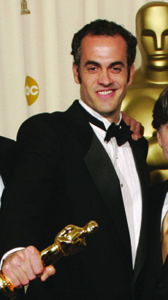 You can cross "thank the Academy" off this Mudder's bucket list.
In 2005, as a visual effects supervisor for Sony Pictures Imageworks, Harvey Mudd alumnus Scott Stokdyk '91/92 received the Academy Award for Achievement in Visual Effects for his work on Spider-Man 2. His team produced more than 800 effects shots and created the digital characters of Spider-Man and the Green Goblin, as well as an innovative, synthetic Manhattan, which enabled the filmmakers to move Spider-Man through a virtual cityscape with complete freedom.
"Academy Awards night was incredible for me," recalls Stokdyk. "After we won, I got swept up into a night of parties and celebration. It was the first visual effects Oscar win for a show at Sony Imageworks, so everyone was ecstatic. Having the Oscar gets you into any of the after-parties, so we went to the Vanity Fair party, where I talked to Tom Cruise and Donald Trump and ate catered In-n-Out burgers. Truly a once-in-a-lifetime experience!"
In addition to his win for Spider-Man 2, Stokdyk was nominated in the Best Visual Effects category for Hollow Man and Spider-Man.
Stokdyk joined Sony Pictures Imageworks in 1998. His early contributions in the art of visual effects include work as a digital artist on Contact and Starship Troopers. He was a computer graphics supervisor on both Godzilla and Stuart Little, a digital artist on Titanic and Terminator 2: 3D and a sequence supervisor on The Fifth Element. Now a sought-after visual effects supervisor, Stokdyk's more recent projects include Oz: The Great and Powerful and Disney's G-Force, for which he supervised visual effects and animation.
Stokdyk, who left Sony Pictures in 2014 to join EuropaCorp as visual effects supervisor, was honored with Harvey Mudd College's 2016 Outstanding Alumni Award for contributions to society through developments in motion picture visual effects. He earned both bachelor's and master's degrees in engineering from Harvey Mudd College.
Kelly McConnell '17: Team Player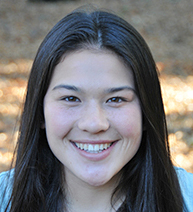 Competitive soccer taught Kelly McConnell '17 valuable, lifelong lessons like time management, how to perform under pressure and the importance of teamwork.
As an engineering major at Harvey Mudd College, McConnell has successfully transferred those lessons learned from the soccer field to the classroom.
McConnell chose Harvey Mudd College for its small-school feel coupled with the resources offered by The Claremont Colleges consortium. Plus, she wanted to play soccer. She chose engineering as a major because she liked the engineering approach to problem solving.
"I like the interdisciplinary approach and the hands-on experience that the engineering department offers," McConnell says. "I also think the professors are truly passionate about what they teach and are very accessible and approachable."
Cornea Project
As an Engman Fellow in Professor Elizabeth Orwin's biomedical engineering lab, McConnell has the opportunity and resources to explore cutting-edge research. Her work focuses on the cornea project, which involves tissue engineering specifically applied to the study and development of an artificial corneal construct.
Ultimately, the project could have a tremendous impact on individuals suffering from corneal damage, which is the second-most common cause of blindness worldwide behind cataracts. The most widely accepted treatment of corneal blindness is transplantation of human donor corneas.
But, McConnell says, with the rise of LASIK eye surgery, the availability of suitable corneas is declining. Tissue-engineered corneas also would allow doctors to study how the cornea reacts to certain drugs or treatments without further diminishing the transplant supply.
McConnell's Clinic project for the 2016 spring semester involved working with Regenesis® Biomedical, which has developed the Provant® Therapy System. The Provant device, which emits a pulsed electromagnetic field, is marketed as an alternative to traditional opioid-based painkillers in post-operative recovery.
Her team added functionality to the device by inserting a circuit board that collects data that can be transmitted back to the company wirelessly.
Kicking It
As captain of the Claremont-Mudd-Scripps women's soccer team, McConnell loves the competition and the closeness of the team members.
"When you play with a team, you learn that, even if you're not playing well that day or you're not the best person on the team, everyone needs to contribute to the team effort," says McConnell, who has played competitive soccer since fifth grade. And, as a goal keeper, she has definitely learned how to perform under pressure.
She was honored in 2015 with the Outstanding Emerging Leader Award for serving as an "ambassador for student athletes."
In addition to playing soccer, McConnell was a mentor in the Linde Residence Hall, where she will be a proctor next school year. She also was a member of the Associated Students of Harvey Mudd College's Work/Life Balance Committee, which conducted several forums and surveyed the College community about work/life balance issues.
When asked how she manages to balance her academic life with her personal life, McConnell says, "I think it goes back to soccer; it helped me know how to prioritize things and keep track of my schedule."
Spenser Anderson '16: Water & Parachutes
For Spenser Anderson '16, there was a lot to like about Harvey Mudd College, including the close-knit environment and undergraduate research opportunities.
"I think I was sold, though, when I came to visit and just really liked the people," Anderson says. "I liked that they were all fun, smart people that were nerdy in a way I could really relate to, and I felt welcome and at home."
Anderson is a senior engineering major interested in dynamics and vibration. He always liked math and physics but wanted to be able to apply them to solve practical problems, which led him to the engineering major.
"I also really like the breadth of the major," Anderson says. "I feel like I can work more effectively on complicated or interdisciplinary projects because of my exposure to disciplines other than mechanical engineering."
Skill Building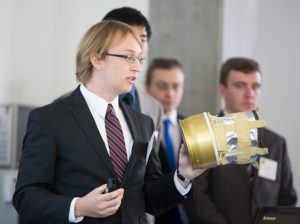 As a De Pietro Fellow, Anderson works in Professor Ziyad Durón's civil engineering dynamics lab, where the team uses structural dynamics and linear systems theory to assess the condition of dams and other civil structures.
"Our most recent research has been on the development of vibration testing techniques that allow us to estimate the structure's response to seismic loading very quickly," says Anderson, who was one of three Harvey Mudd juniors to receive a Goldwater Scholarship Honorable Mention for exemplary research efforts in STEM disciplines. "We've used our testing to help validate numerical models being used to conduct a failure investigation of a large hydroelectric dam on the Columbia River in Washington."
As a junior, Anderson worked on a Clinic project for Blue Origin LLC, which is developing technologies to enable human access to space at dramatically lower cost and increased reliability. Anderson and his team designed a safer, lighter and cheaper device for deploying drogue parachutes on their crew capsule.
The skills he developed during the project helped land him a summer internship with SpaceX's structures group. After that, he's headed to Stanford University, where he's been accepted to the master's program in aerospace engineering.
Anderson's current Clinic project involves reducing changeover time on Niagara Bottling's case-packers when they switch from producing a larger pack of water bottles to a smaller pack. He and his team came up with five subprojects that all streamline or automate various parts of the changeover. "We think that if all of our projects are implemented, about half the changeover could be eliminated," Anderson says.
Athlete/Scholar
A cross-country runner in high school, Anderson continued running in college to stay healthy and relieve stress. He bumped it up a notch his senior year, found a running buddy and competed in the Buckeye Marathon in Arizona in December.
"It was great to have a substantial goal to work toward that wasn't academic, to help me keep some balance in my life," says Anderson, who likes to spend his weekends exploring the outdoors, hiking in the mountains north of campus or taking the occasional road trip to the Sierras, Joshua Tree or Death Valley.
Xin "Cyrus" Huang '16: For the Love of Robots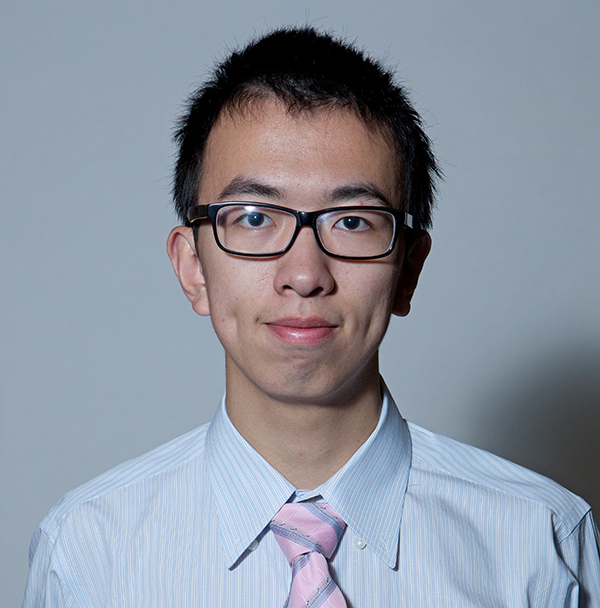 "I love robots. I just love robots!" Xin "Cyrus" Huang '16 says emphatically when asked what initially drew him to Harvey Mudd College.
Originally from Shanghai, China, Huang says his fascination with robots began at a young age and continued through high school, where he also enjoyed math, physics and chemistry. When Huang decided to come to the United States to study robotics and engineering, he set his sights on Harvey Mudd College, a school he felt could offer both a solid grounding in the liberal arts as well as the chance to study engineering at the most demanding level. Accepted at several other prestigious schools, Huang believed that Harvey Mudd would best develop his mind, his skills and his passions, including robotics.
Once he arrived on campus, Huang recalls that he was immediately impressed by the wide range of classes, professors' commitment to their students and how smart his fellow Mudders proved to be. Juniors and seniors eagerly advised the 18-year-old on which classes to take and which professors to partner with. He felt at home and ready for anything.
Learning with a team
The College's emphasis on team projects and peer learning has prepared him "for collaborative work in the professional world," he says. Huang credits collaboration with enabling him to benefit from others' skills, strengths and opinions. It's also helped build his confidence to be a leader: He's been president of HMC's chapter of the engineering honor society Tau Beta Pi since his junior year. He's also volunteered to work on science activities with high school students as part of Society of Women Engineers club events. Huang says he likes to convey to kids "how awesome robotics is" and encourage young women to pursue engineering in college.
Huang sees activities like these as an opportunity to share with others what he's experienced at Harvey Mudd. He praises computer science Professor Zachary Dodds, with whom he studied introduction to robotics, and engineering Professor Chris Clark, whose lab Huang joined as a sophomore. He says the professors were very helpful, providing lots of "hands-on, practical experience." Each went beyond the boundaries of the classroom to create unique opportunities for Huang: Dodds invited him to attend two big conferences, one at Stanford and the other in Seattle; Clark taught Huang the rigors of academic writing and, as Huang proudly points out, gave him first-name credit on a paper they co-authored.
More than engineering
Huang notes that attending Harvey Mudd has provided the opportunity to go beyond building his skills as an engineer and burgeoning expert in robotics. He's taken advantage of the course offerings at the other Claremont Colleges as well. For instance, during a course taught by a Buddhist nun at Pomona College, Huang traveled with his classmates to a nearby Buddhist temple where he practiced walking and sitting meditation. For his final paper, Huang explored how ancient Buddhist traditions and new technologies can be in harmony.
Blending his interest in the humanities and social sciences with his love of engineering, particularly robotics, has also been harmonious. He's found ample time for both pursuits. During a 2015 summer internship at a Palo Alto startup, Huang was part of a team working on household domestic robots. He looks forward to continuing work in robotics (he's considering Stanford, Carnegie Mellon and MIT for graduate school), though he's not sure if he'll pursue research, teaching or forming a startup. He's open to all possibilities, especially the latter.
"I am interested in robotics because it's cool, especially writing code to interact with robots and replicating the real world," Huang says. He intends to develop a self-driving car that will assist his mother, who is afraid of driving, as well as his grandfather, who has Alzheimer's, and any others who are limited by their inability to safely drive. Admitting that he, too, isn't a good driver, Huang grins and says the invention also would help him—plus he'd love to see his name on a self-driving car.
Sherman Lam '16: Exploration 2.0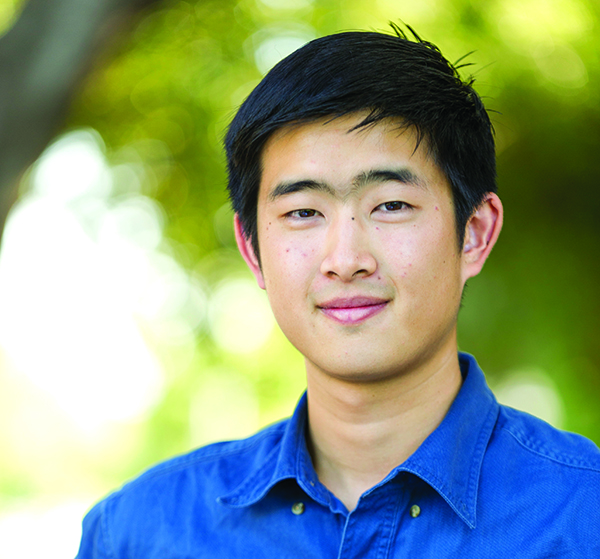 All of Sherman Lam's projects have a purpose. Even the flame-throwing robot he built for the Combat Robots Club.
His research and personal projects help him gain a stronger foundation in software and electromechanical systems, knowledge he can use to help advance the development of intelligent robotics for the sake of space exploration. "I believe robots are the key to exploring places where humans may never go and to expanding our understanding of the universe," says Lam, a junior engineering major and recipient of the 2014 Astronaut Scholarship, the largest merit-based monetary award given to science and engineering undergraduate students in the United States. Lam is the College's 22nd recipient.
Underwater robots
Lam has contributed to two robotics research projects in the Lab for Autonomous and Intelligent Robotics (LAIR), advised by Associate Professor of Engineering Chris Clark. The first required Lam to develop an autonomous agent that planned paths for underwater robots called sea gliders. Lam collaborated with researchers from the University of Delaware, and their work will be used to help study sharks and sturgeon along the East Coast of the United States. His current project involves designing a low-cost system for autonomous quadrotor localization.
In addition, Lam has repaired a remote control aircraft, fabricated an amateur rocket and helped refurbish maker-space for the Harvey Mudd College Fabrication Studio. His other contributions to the Harvey Mudd community include serving as co-president of the Fabrication Studio, co-president of the Combat Robots Club, machine shop proctor and Autonomous Vehicles Lab proctor. Lam is also a recipient of the Harvey Mudd College Davies Engineering Prize (2013) and the Lois and Joseph Marriott Aeronautical Endowed Scholarship (2012, 2013 and 2014).
Upon graduation, Lam intends to continue pursuing his research in robotics software and hopes to work at an institution such as NASA's Jet Propulsion Laboratory or SpaceX. "I aspire to push the boundaries of space exploration with robotics," he says.
Suzy Kim '16: The Value of Teamwork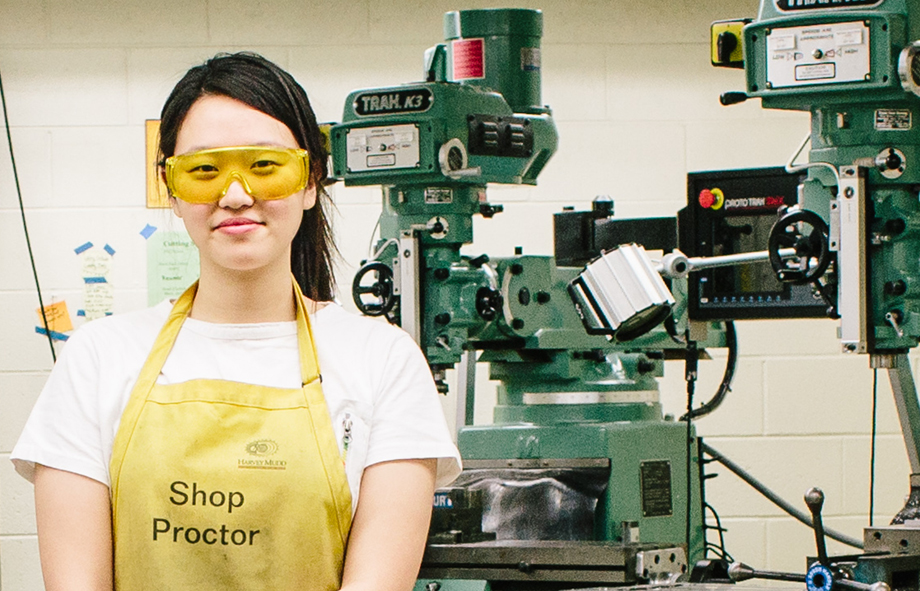 One may not expect to see a chemistry major (emphasis in applied chemistry) supervising an engineering machine shop, but that's just where you'll find Sooyeol (Suzy) Kim, a Harvey Mudd senior from Seoul, South Korea, most days.
In addition to fulfilling her chemistry major requirements, Kim has taken 11 engineering classes, volunteered as a shop proctor, conducted molecular diffusion experiments with engineering Professor Nancy Lape and assisted the local community through her involvement with Science Bus and ESW/MOSS.
Her interest in engineering began during the spring semester of her first year, when she enrolled in the Introduction to Engineering Design and Manufacturing. As she acquired hands-on experience, she became intrigued by the variety of opportunities that were available in the College's machine shop.
"I thought it was really neat that you could use these machines to transform ideas you had in your head into reality," Kim says. "So, I decided to talk to the department about my interest in the shop."
Even though she declared chemistry as her major at the end of her sophomore year, she was encouraged to work as a proctor and associate head proctor in the engineering department machine shop. She was appointed as one of two head proctors during her senior year. Kim has helped coordinate meetings with engineering staff members and faculty who use the machine shop for their classes or laboratories. She also has managed, hired and trained other shop proctors. "I enjoy being able to implement ideas that constantly improve our machine shop," she says. "And, as the head proctor, I am especially driven and dedicated to such improvements."
Working with nanoparticles
Along with her near daily involvement with the shop, Kim works in engineering Professor Nancy Lape's molecular diffusion laboratory to create polymer membranes with nanoparticles. Each of these membranes are then used to study the effect that the nanoparticles can have on their permeability as well as their selectivity in gas separation. She also is completing her senior thesis on dehalogenation reactions with chemistry Professor Katherine Van Heuvelen. Kim has synthesized model compounds of naturally occurring products that can reduce trichloroethylene, a commonly used carcinogen found in groundwater, to a less harmful substance.
Through each of her research experiences, Kim has found that all professors, including Lape and Van Heuvelen, are not only interested in their students' learning experiences, but are also involved with other aspects of their lives. For instance, Kim says that professors have been very supportive of her work in the community. As a volunteer with Science Bus, a student-run organization at Harvey Mudd, Kim has provided weekly hands-on STEM lessons to elementary school students, in order to encourage their interest in the sciences. She also is involved with Engineers for a Sustainable World and Mudders Organizing for Sustainability Solutions (ESW/MOSS), an environmental club that conducts community service work to promote sustainability.
"I think that conserving the environment is the best way to touch as many lives as possible, stretching across national boundaries and socioeconomic classes," Kim says.
Looking forward to the PhD
As she prepares for the next chapter of her life, Kim will draw from the wealth of experience she has acquired through her participation in chemistry and engineering courses and laboratories, as well as her service as a shop proctor, researcher and volunteer. After earning a master's degree in environmental engineering, she intends to pursue a PhD in the same field and remain in academia to continue research in either atmospheric chemistry or in the removal of organic and inorganic contaminants in water.
"I think one of the best aspects of the Department of Engineering is that professors teach you to work with others during classes, research and volunteering," she says. "Students are also encouraged to work together on assignments, which is very representative of the real world, as engineers often collaborate to achieve a common goal."
Sometimes students must also step outside of their comfort zones to become the leaders they are capable of being, Kim believes. When they do, she says they should not be afraid to ask for help.
"Everything from research to extracurricular activities has been a collaborative effort in which many people with different capabilities have come together to contribute in their own unique way," she says. "Thankfully, I learned to ask for help early on, so I've been able to participate in a lot of meaningful experiences throughout the last four years."
Alexa Le '17: Improving the Process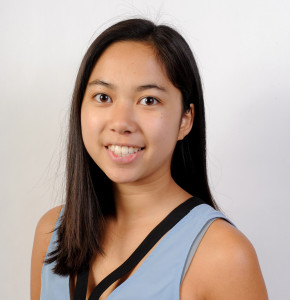 According to Harvey Mudd College junior and engineering major Alexa Le, any place that manufactures or moves anything uses industrial engineers to make its processes more efficient. This work—process improvements on real systems—is just what she wants to do when she graduates.
"I definitely want to go into industry. I'm not taking going back to school off the table, but I think there's a lot of value to learning on the job. Last summer, I did an internship in automotive manufacturing, and next summer I'm going to be working in operations in an Amazon fulfillment center," she says.
She's known since high school that she wanted to take her love of math and science and apply it to real-life problems. Her father is as an administrator in UC Berkeley's engineering department, where she was able to talk with some of the engineering professors, including an industrial engineer. These conversations sparked her interest and solidified her intent, and her first year of classes at Harvey Mudd reinforced her sense that engineering would be the right place to focus her intellectual drive and curiosity.
"I like making things more efficient. I took a manufacturing class my first year at Mudd, and I realized how much process improvement can be counterintuitive. My first instinct had been to stockpile product, but efficient planning in manufacturing means creating things just in time so that the items in production are constantly flowing," Le explains. "Producing lots of one product may seem to speed up production rate, but it means that certain machines are down for periods of time, so it's actually more efficient to produce to customer need. And even small changes can drastically affect the larger process. Making a decision to move a tool box can save the company lots of money in time savings."
Engineering Clinic
Le worked with water bottling company Niagara Bottling for her Engineering Clinic project, helping improve the company's process with an eye toward time efficiency. Niagara bottles water in pack sizes of 24 and 48, and each time it changes size, the machines are down and the company isn't making money. Le's team worked on ways to reduce downtime and increase profits.
"We got to visit the production lines, observe and talk to the operators, and touch the machines," Le says. "We were really immersed in what they wanted. Our goal was to come up with something that the company will be able to implement as soon as possible. We were in touch with them throughout the process about whether our solutions were plausible and cost efficient."
The collaborative nature of the Clinic Program and the engineering major in general is of huge importance to Le. "The people are the best part," she says. "Engineers work in an extremely collaborative environment, and Clinic helps build this culture of creative learning, of bouncing ideas off one another. That's really special." Even when Le's not working on a team as part of a class, she says, she does her homework with other students.
SWE involvement
She also finds fellowship with other students in her role as co-president of the Society of Women Engineers (SWE), whose goal is to promote women in engineering. This means making sure students know there's a support system and that they have the resources they need. Harvey Mudd's chapter of SWE also does a lot of work beyond campus to make sure girls know engineering is a career option. Each spring, SWE hosts a conference—called Women Engineers and Scientists of Tomorrow—that attracts about 200 girls from local high schools to campus to participate in workshops, talk to students and hear from industry professionals, such as female engineers from Facebook and Disney. The engineering department supports the annual event, providing funding and faculty to lead workshops.
"My role in SWE has grown. I've been able to go to the national conference—this year in Nashville—and talk to women engineers in different fields and from a lot of different schools," Le says. "There's career advice, technical talks, outreach event planning help. Also, there's a 250-company career fair where I connected with both of my summer employers."
Le's roommate is co-president of SWE. Typically, presidents are juniors who then work in an advisory capacity their senior years. "As co-presidents, we try to make sure that people of all years feel they can ask questions," she says. "SWE offers a great network."
She notes with delight that this network grew even stronger with the Class of 2014. That year, there were more female engineering graduates (56 percent) than male for the first time in the College's history.
Richard Piersall '16: Safety First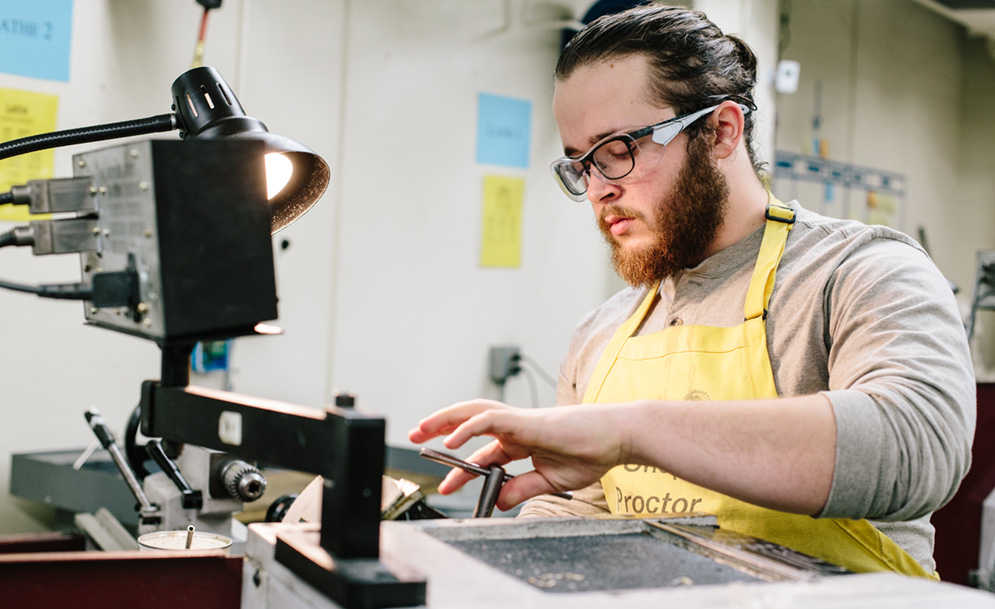 It's not uncommon to find Harvey Mudd College's student-run machine shop bustling late at night or early in the morning with students finishing a project or making headway on a new one. "Having the access, and the trust, is fantastic. It wouldn't work as well at a bigger school or without Mudd's Honor Code," Harvey Mudd senior and engineering major Richard Piersall says.
The machine shop has been an integral part of Piersall's experience at Harvey Mudd—he began working as a proctor his sophomore year and rose to head proctor his senior year. Now, as one of two head proctors, he interviews candidates to follow in his footsteps, provides guidance for students using the shop and, most importantly, helps keep them safe.
"I'm certainly not the most skilled machinist in the shop," Piersall admits, "but I am good at making sure everyone's happy and staying safe. I like the organizational aspect of the job, coordinating shifts and working out changes in rules and policies, and helping proctors who are maybe struggling or having issues. I especially like seeing the shop change over time. The philosophy has evolved to reflect the thinking that shop users are our customers, they come to do their work, enjoy it and stay safe."
Improving access and efficiency
Piersall has tried hard to make the shop even more accessible. "We've always struggled with rushes," he says, as there are a couple of classes that use the shop heavily. One of the assignments of the Introduction to Engineering course is to make a hammer, a process that takes between four to six hours of work. The students are given vague instructions—part of the task is to learn how to fill in the blanks themselves. Piersall says the usage at the shop would skyrocket when the hammer's due date approached, so the shop instituted checkpoints throughout the semester—steps toward completing the hammer that the students had to fulfill—and therefore the spikes in usage were smaller and were easier to contain.
It was that intro course, and his quest to make a hammer, that led Piersall to decide to become an engineering major in the first place. But he was primed for it. He went to a math and science magnet high school, the kind of school where students would play hooky to work in the machine shop, and though he never did so himself, he says he understands the impulse—he really enjoys making stuff.
Which is one of the reasons he's so excited about HMC's Clinic Program and the team he's on—he gets the chance to work on a real-world problem and collaborate with his teammates on a project code-named Magneto. "My team is working on wireless radiation shielding for consumer electronics. Over the past 10 years, devices have been getting really small, really powerful and really fast. But when two circuits are close together, they can interfere with one another, as can signals passing through the air," Piersall explains. "If you have a circuit that's being interfered with you can cover it with a metal box. But as devices become smaller, that metal box is taking up valuable room. So, the entire year's project is trying make a smaller shield."
Dissecting his future
After graduation, Piersall is off to San Diego to work for Gimble, a small startup that makes Bluetooth beacons—small, low-power devices that can send marketing information to smartphones, for example. At a recent Harvey Mudd job fair, employees from Gimble handed out the beacons, which look like little discs. Piersall promptly went home and took his apart, and later, in his interview, was able to comment on the disc's internal circuitry, which he suspects might've impressed his interviewer, an HMC alumnae.
"One of the best things about my experience as an engineering major at HMC is having the flexibility to take a wide variety of really fascinating courses outside of electrical engineering—areas of engineering that aren't necessarily going to apply directly but provide an enormous amount of context. And since Gimble is such a small startup, and there will be a lot of hats to wear, I think that context is really going to come in handy," Piersall says. He adds that because of working in the shop, he'll also have "a better sense of how things are made and built and of the materials involved."
Lucia Kaye '17: A Culture of Collaboration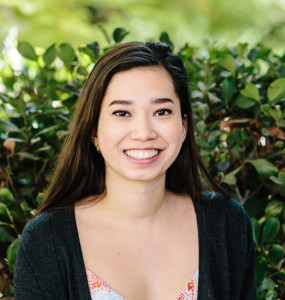 Like many students, Lucia Kaye, a junior from Portland, Oregon, was undecided about her major concentration when she first arrived at Harvey Mudd.
But after enrolling in Introduction to Engineering Design and Manufacturing and discovering that she enjoyed working collaboratively with others to solve challenging problems, her future became clearer.
She became very involved with the Department of Engineering, serving as the co-president of Harvey Mudd's chapter of the Society of Women Engineers (SWE), conducting research with professors and fellow students, and assisting students as a head class proctor.
As co-president of SWE, Kaye helps provide members an array of opportunities to build relationships with professional engineers, peers and professors. At the beginning of the school year, she coordinates pre-registration events so that upperclass students can assist first years and sophomores with their class selections. She also helps organize networking opportunities so that SWE members can meet engineers and learn about companies and job openings. One of her biggest tasks is overseeing the chapter's participation in the SWE National Conference, the world's largest conference for women engineers.
"We also have SWEetheart events, in which upperclass members will mentor first years," she says. "For example, the SWEethearts may send them goodies during finals week, or organize movie nights and other bonding activities."
To build community among students and faculty, SWE also hosts a Thai Food Event every fall. The entire student body is invited to learn about SWE and meet engineering faculty and staff members. SWE members also arrange private dinners for students and professors so that they can interact outside of a classroom or office setting.
"These dinners remind students that professors are people with real lives who not only care about them as students, but as young adults too," she says. "Every engineering professor is friendly, inviting and always willing to discuss their interests and offer advice on courses."
Professors who love what they do
She adds, "I always get the impression that Harvey Mudd's professors love the work they do. It is very clear from the way they interact with their students."
Kaye has had a great experience with Lori Bassman, professor of engineering and her research advisor. During summer 2015, Kaye was part of Professor Bassman's research group, which works on producing high entropy alloys. "Unlike traditional alloys, which consist of one major element and possible small additions of a secondary element, high entropy alloys consist of five to seven elements in roughly equiatomic proportions," Kaye says.
High entropy alloys have been shown to have better mechanical properties than traditional alloys and are a relatively new field in physical metallurgy and materials science. As part of the experimental team, Kaye fabricated high entropy alloys and then performed mechanical and microstructural analysis using various microscopy tools. The research group spent the summer in Sydney, Australia, working with collaborators at the University of New South Wales. Their work has resulted in a patent pending and a paper that is being submitted to a professional journal.
During the 2015–2016 academic year, Kaye is serving as head proctor for Experimental Engineering, a required course for all sophomores. She guides students as they conduct lab experiments, create designs and prepare to fly fully instrumented model rockets. She also finds time to perform in the Claremont Concert Orchestra, "a nice distraction from my workload at Mudd," she says.
Working together works
Through her many activities, Kaye has witnessed the positive impact of working together. In fact, she believes that it's one of many reasons the engineering department, as well as the entire College, thrives.
"Harvey Mudd's collaborative and friendly culture is part of the reason I decided to attend the College in the first place," she explains. "And the people I interact with every day, especially in the Department of Engineering, are a constant and positive reminder of this culture of collaboration."