Harvey Mudd College Watson Fellow to Study Empathy
April 20, 2022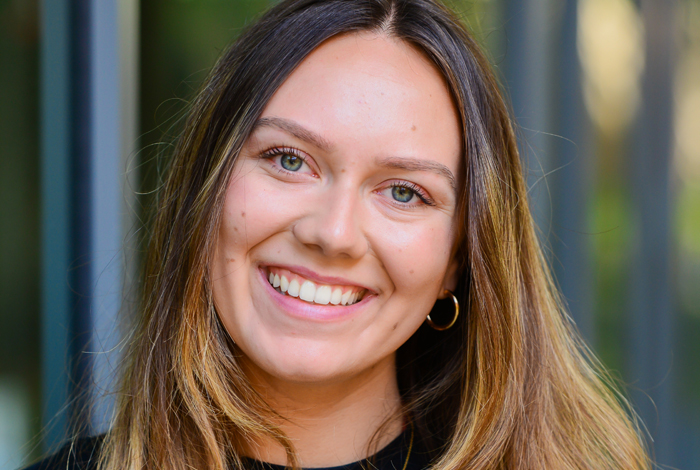 Not only is empathy one of her own core values, Kaitlyn Paulsen '22 believes that empathy unites everyone. As a recipient of a 2022 Watson Fellowship, she looks forward to developing deeper empathy while investigating "Caring over Curing: Endurance through Challenging Health Experiences" during travel to Australia, France, Japan, New Zealand and the United Kingdom.
The Thomas J. Watson Fellowship is a one-year grant ($36,000) for purposeful, independent exploration outside the United States awarded to graduating seniors. Paulsen is part of the 54th Class of Thomas J. Watson Fellows, who represent 21 states and eight countries and exhibit a broad range of academic specialties, socio-economic backgrounds and project diversity.
Paulsen was encouraged by her research advisor and mentor, engineering professor Lori Bassman, to apply for the fellowship. In addition to engineering, Paulsen is majoring in human-centered design, which has allowed her to work on open-ended design projects, like one with the Brain Tumor Network, a nonprofit organization and free patient navigation resource for those impacted by brain tumors. One of the caregivers she interviewed had a 22-year-old daughter who had been diagnosed with a brain tumor. "Hearing him speak about his daughter is something I will never forget. He spoke about his desire to create memories with her in the time she had left," says Paulsen. "The situation was unimaginable, and here he was, open hearted, sharing his pain, blessing us with his tears. I realized that the pain had nothing to do with the cancer itself. He wasn't fighting the tumor in the way the doctors were. He was battling the idea that he could live a day in this world with his daughter not in it.
"Since that project, my passion for understanding emotional endurance in healthcare has only grown," she says. Further interviews led her to surmise that often the medical field can be focused on curing instead of caring. "In a disease where a cure may not be possible, sometimes all we can do is care. This is the idea I decided to explore for my Watson project: what it means to focus on caring instead of curing."
Paulsen plans to explore countries that have different approaches to healthcare, identifying programs that seem to focus on the emotional well-being of patients. In each country, she'll shadow workers in various programs, interview patients, families and caregivers, and support the development of more holistic and inclusive models of care.
Paulsen says there are many dimensions to explore in this space of emotional endurance and shared some of what she'll be investigating.
The impact on caregivers and families. Caregivers bear both the emotional and practical challenges of caretaking. Particularly in degenerative diseases, caregivers can experience a preemptive grieving process.
Expectations around emotional support in healthcare. What factors shape expectations around receiving emotional support? Is emotional support and connection present in the care environment? What barriers might there be to adopting these programs in different settings? How do expectations around emotional support change across the treatment continuum? "I'm curious how cultural definitions of health care shape these expectations," she says.
Resources that exist for provider well-being. What level of professionalism are clinicians expected to maintain? How does this level of professionalism affect stress levels and compassion fatigue?
"One reason this project means so much to me is because of the personal challenge and growth I hope to experience by conducting this project in an immersive way," Paulsen says. "By positioning myself in a variety of emotionally and geographically foreign experiences, I want to not only explore what emotional resilience is for patients and providers, but what it is to me. I am eager to challenge my own ability to speak this language and develop deep empathy."
Paulsen works at the Rick and Susan Sontag Center for Collaborative Creativity (The Hive) as a student staff member, helping refine curriculum for the human-centered design major and directing a podcast about the design process. At HMC, she's served as a grader, teaching assistant and Academic Excellence tutor in the engineering department and as a tour guide for admission. She has participated in the Clinic Program, serving on teams to develop a less-traumatic nasopharyngeal swab and designing a more comfortable urinary catheter for the City of Hope. And, she's worked in Professor Bassman's materials engineering lab on research utilizing thermodynamic modeling software to study a system of high entropy alloys and bronzes.
Paulsen anticipates beginning travel for the Watson Fellowship soon after graduation.