Harvey Mudd Physics Major Awarded Prestigious Goldwater Scholarship
April 25, 2022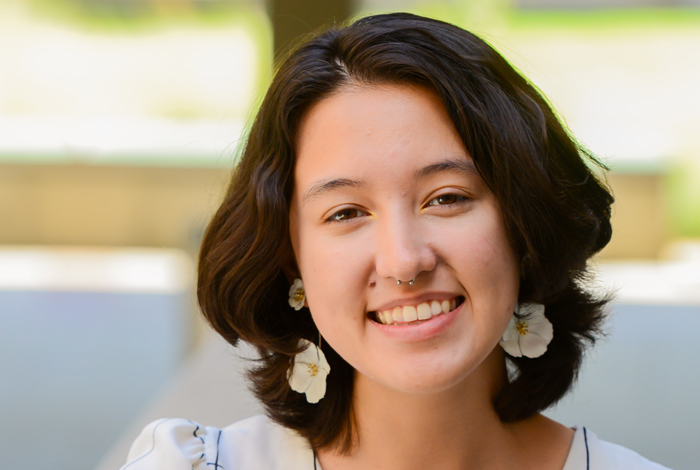 Albany Blackburn '23, a Harvey Mudd College physics major, is the recipient of a Barry Goldwater Scholarship, the most prestigious national award for undergraduate STEM researchers. The award for undergraduate U.S. sophomores and juniors covers the cost of tuition, fees, books, and room and board up to $7,500 per year. This year, 417 scholarships were awarded from a candidate pool of 5,000 U.S. sophomores and juniors.
Nominated by faculty mentors, Blackburn is interested in pursuing a career in academia, teaching physics and doing research at the university level. She is doing research with physics professor Brian Shuve to demonstrate that their proposed search method has high potential to find dark matter particles in particle collider experiments. "Our method involves reconstructing the decays of long-lived particles, which gives us high sensitivity to a wide range of possible dark matter models," says Blackburn.
She has also conducted research with HMC engineering professor Leah Mendelson and Texas A&M University professor Jeremy Holt. With Mendelson, she wrote code to calibrate a camera array used for particle image velocimetry. With Holt, she used machine learning techniques to calculate the nuclear equations of state for neutron stars.
Outside of academics, Blackburn is a residential life mentor, works as an Academic Excellence physics tutor and helps plan student activities as a member of the Division of Student Affairs Muchachos.
After graduating, she plans to attend graduate school to earn a PhD in particle physics.
About the Goldwater Scholarship
The scholarship program honoring Senator Barry Goldwater was designed to foster and encourage outstanding students to pursue careers in the fields of mathematics, the natural sciences and engineering. All Harvey Mudd sophomores and juniors are eligible to compete for the Goldwater Scholarship, which is awarded on the basis of academic merit. The HMC Department Chairs Committee nominates up to four students annually.