McGregor Center Earns AIA LA Honor Award
November 16, 2021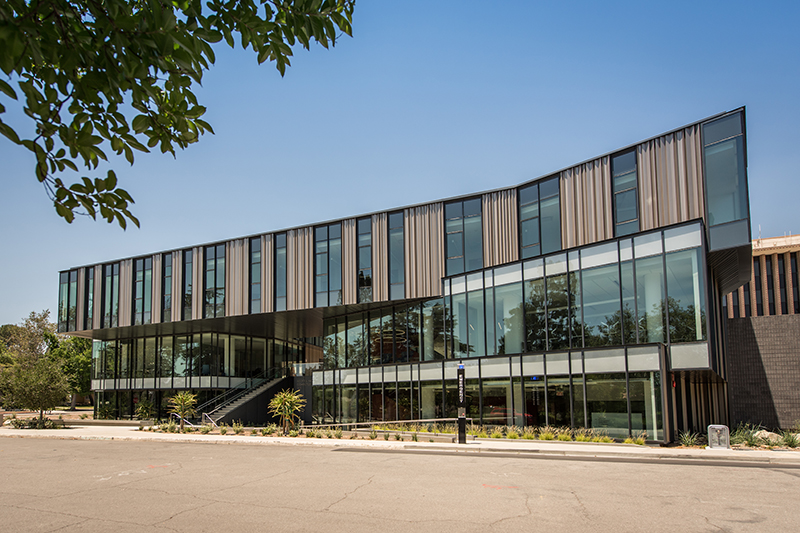 The Scott A. McGregor Computer Science Center at Harvey Mudd College has received yet another design award, this time from American Institute of Architects Los Angeles.
At the AIA LA Design Awards Oct. 28, Steinberg Hart, McGregor Center architects, took home several top prizes, one of which was the Educational Honor Award for Harvey Mudd's newest three-story, 36,000-square-foot building. The McGregor Center is home to HMC's Department of Computer Science as well as a makerspace, labs, Clinic space, student study and collaboration space, plus administrative and faculty offices.
To be considered for AIA LA's highest Honor Awards, firms were required to submit energy data in the AIA's 2030 Design Data Exchange platform—a tool that tracks energy usage and other metrics in order to improve carbon performance. Also, all entrants of the AIALA Design awards were signatories to the American Institute of Architects 2030 Challenge, which will assume actions to meet Paris Climate Agreement targets.
Sustainable features of the McGregor Center include a cool roof, shaded outdoor spaces, native and adaptive vegetation, natural lighting, and bioswales and infiltration systems (storage for 50-year event). The offices with operable windows are interlocked with the HVAC system which shuts off air conditioning in lieu of fresh air. The efficient HVAC system has the latest variable refrigerant flow system that allows for efficient heating and cooling of zones for optimum occupant comfort. On-campus photovoltaics meet 100% of the buildings energy needs. In addition to these attributes, the McGregor Center is designed strategically to invigorate interdisciplinary collaboration.
In August, Engineering News-Record California named the McGregor Center as Southern California's Best Higher Education/Research Project.