Sandoval Awarded NASPA Region VI Dorothy Keller New Professional Award
November 24, 2020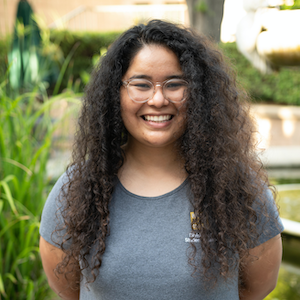 Karen Romero Sandoval, assistant director for housing and first year experiences at Harvey Mudd College, was awarded the National Association of Student Personnel Administrators (NASPA) Region VI Dorothy Keller New Professional Award at the 2020 NASPA Western Regional Conference.
The Keller New Professional Award recognizes a professional with less than five years of full-time experience in student affairs for their dedication to the institution and their innovative efforts as well as for showing leadership promise and being an active member of NASPA. NASPA Region VI includes Aotearoa (New Zealand), Arizona, Australia, California, China, Guahan (Guam), Hawai'i, Hong Kong, Malaysia and Singapore.
Sandoval coordinates and manages HMC student housing, the first-year experience program, campus events and programs, and New Student Orientation.
One of Sandoval's nominators wrote, "At the core of Sandoval's success is a deep commitment to creating a living and learning environment that is challenging, supportive and inclusive. She had fostered a community in which members feel safe, accepted, self-aware and interdependent."
"This award means a lot to me, especially as an individual just starting in this field," Sandoval says. "It means a lot too, because my supervisors and colleagues believe in the work that I do."
HMC's Division of Student Affairs, with its 20 staff members, is responsible for residential life, student activities, career services, health and wellness, institutional diversity, and community engagement.