Harvey Mudd Alumni Association Announces 2020 Awards
March 31, 2020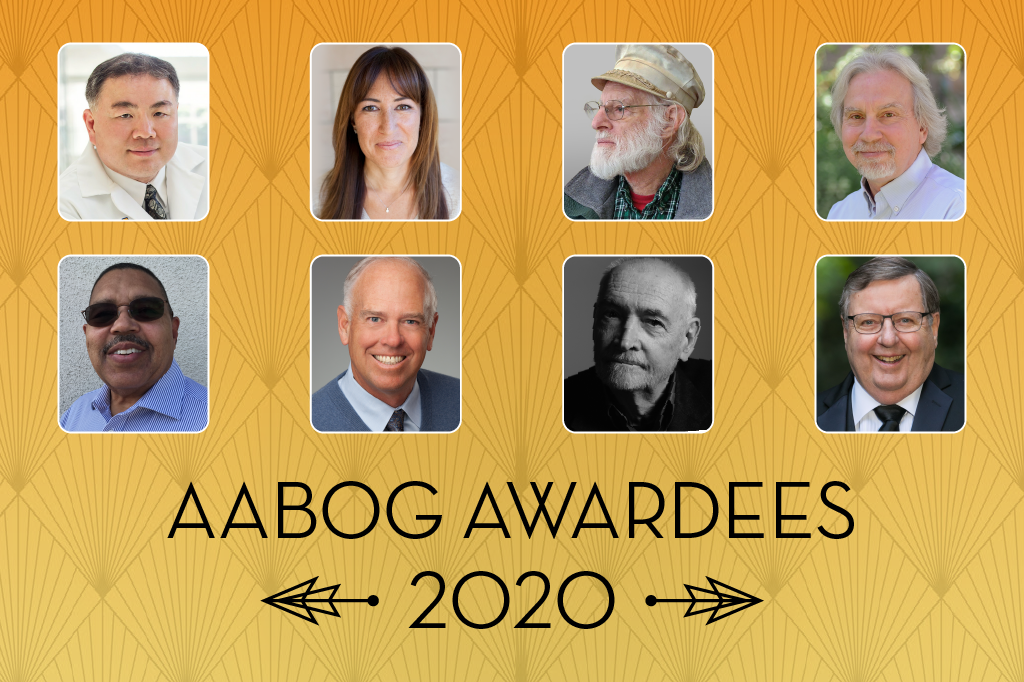 The Harvey Mudd College Alumni Association Board of Governors (AABOG) has announced its annual awards, which recognize impact on Harvey Mudd College as well as service to society.
Outstanding Alumni
The board of governors selected three individuals to receive the 2020 Outstanding Alumni Award. Given from alumni to alumni, the award recognizes individuals who have made a sustained and effective commitment to improving society and who best exemplify the mission of Harvey Mudd College.
Thomas D. Wang '85, MD, PhD (mathematics and physics) is an academic physician at the University of Michigan who specializes in in vivo imaging of the liver and digestive tract for early cancer detection. He is an NIH-funded investigator who has served as a principle investigator for several multi-institutional NCI research consortiums. He has developed the first video endoscope that is sensitive to fluorescence for rapidly identifying pre-malignant lesions over large mucosal surface areas. This approach has been patented, commercialized and developed for clinical use and is widely cited as a major impetus for the accelerated convergence of fluorescence spectroscopy and endoscopy. He has pioneered the use of fluorescence-labeled peptides to detect over-expressed cell surface targets in vivo to identify pre-malignant mucosa. He has filed over 30 patents on novel optical imaging technologies.
A longtime Warner Bros. Entertainment executive, Vicky Colf '95 (engineering) serves as chief technology officer, overseeing the studio's portfolio of technology services and solutions, including technology research and development, and innovation strategy. She oversaw the development of the entertainment industry's first digital supply chain, the Emmy Award-winning Digital End-to-End (DETE) managed content service, which changed the way entertainment content is delivered. In addition to being an HMC trustee, Colf sits on the board of Motion Picture Laboratories Inc. (MovieLabs), a nonprofit technology research laboratory focused on driving innovation to create business opportunities and deliver tangible digital distribution solutions. She's also a board member of STEAM:CODERS, a nonprofit organization that teaches under-represented and underserved students and their families the fundamentals of STEAM (science, technology, engineering, art and math) in preparation for academic and career opportunities.
As a research economist, Joel Greer '70 (mathematics) has worked for the Government of Kenya's Ministry of Planning and Development (as an employee of the International Labor Office); the U.S. General Accounting Office; the University of the Witwatersrand (Johannesburg, South Africa during its Apartheid era); and the U.S. Center for Medicare and Medicaid Services. While a PhD student at Cornell University, Greer invented the Foster-Greer-Thorbecke Poverty Measure, adopted as the standard poverty measure by the World Bank and the Inter-American Development Bank and incorporated into the Mexican constitution and used as an index for its poverty-reduction program.

Honorary Alumni
As Honorary Alumni, recipients are afforded all rights and privileges that pertain to HMC alumni. Recipients are longstanding friends of the College, its students and alumni, and have contributed significantly to its betterment.
A faculty member since 1996, Patrick Little holds the J. Stanley and Mary Wig Johnson Professorship in Engineering Management. He directed the Engineering and Global Clinic programs for a total of 11 years, and was a visiting professor at Kogakuin and Tsukuba Universities in Japan, and at the California Institute of Technology. He served as the Interim Director of the Fred and Susan Sontag Center for Collaborative Creativity during its founding years and still conducts research in ways to increase creativity in young engineers. He served as Chair of the Faculty from 2016 to 2019. As an expert on transportation and reliability, he analyzed the operations and maintenance practices of many railway organizations, including working as a Terminal Superintendent for a Class I railroad. Little authored a variety of technical papers as well as papers on engineering education, and he co-authored the widely used text Engineering Design: A Project-based Introduction.
Lifetime Recognition
The Lifetime Recognition Award honors outstanding dedication to Harvey Mudd College over many years.
David A. Baylor joined the HMC Board of Trustees in 1999 and is now an emeritus member. He has over 40 years of experience as a broadcast executive spanning satellite, over-the-air network and public television. A Fellow of the Society of Motion Picture and Television Engineers, he led the design and implementation of several industry innovations, including closed captioning, network Television's first national satellite interconnection system and introduction of digital satellite TV. His teams have earned several Technical Emmy Awards, and he was named Black Engineer of the Year in 1997 for his career achievements. Baylor is a U.S. Army Vietnam veteran, entrepreneur and philanthropist, supporting several community organizations and colleges, including Harvey Mudd.
Wayne Drinkward '73 (engineering) recently retired from his position as CEO of Hoffman Construction Company, the Pacific Northwest's largest construction company and builder of some of its most significant and iconic projects. In addition to his industry engagement, Drinkward has been an active volunteer and supporter of many community service organizations in the areas of social service, education and medical research. Drinkward joined the Harvey Mudd Board of Trustees in 2005 and has served as its chair since 2012. He was instrumental in the creation of the R. Michael Shanahan Center, which houses a recital hall that bears his name. In 2015, the board named a new residence hall in honor of Wayne and Julie Drinkward in recognition of the support and leadership they have provided to the College.
Michael G. Wilson '63 (engineering) is producer of the James Bond film series together with his sister, Barbara Broccoli, and is chairman of EON Productions. He received a juris doctor from Stanford Law School and worked for the Department of Transportation before joining Surrey & Morse, where he became a partner specializing in international tax and business transactions before transferring to EON Productions in 1972. In addition to producing and co-writing Bond films, Wilson and Broccoli released The Rhythm Section and have executive produced independent film projects and co-produced stage productions, including the Tony Award-winning The Band's Visit. Wilson is a leading expert on 19th-century photography and directs the Wilson Centre for Photography, one of the world's largest private photography collections. A fellow of the Science Museum London, he serves as a trustee for several organizations, including Harvey Mudd College and the Carnegie Institution for Science. With Broccoli, he was awarded an Order of the British Empire in Her Majesty the Queen's New Year Honours List 2008 for services to the film industry. In 2014, they received the David O. Selznick Achievement Award in Theatrical Motion Pictures.
Van Hecke Prize
The Van Hecke Prize is reserved for alumni who are synonymous with an extraordinary level of support for and commitment to the College, its students, its alumni and its mission.
Bruce Worster '64 (physics), has been a member of the HMC Board of Trustees since 1998 and was a 2009 Outstanding Alumnus and a 2019 recipient of the alumni association's Lifetime Recognition Award. He previously served several terms on AABOG, including a term as president. With his wife, Susan, he established the Susan and Bruce Worster '64 Professorship in Physics and has supported several capital projects and scholarships, including the Class of '64 Endowed Scholarship. He held technical and leadership roles in several Silicon Valley companies and started his own, Ultrapointe Corporation, before joining telecommunications company JDS-Uniphase Corporation, from which he retired in 2001 as vice president. Worster holds many patents for integrated confocal laser imaging system and related technologies used to analyze defects on silicon wafers during the semiconductor manufacturing process.