HMC's Upward Bound Reaches Graduation Milestone
May 17, 2018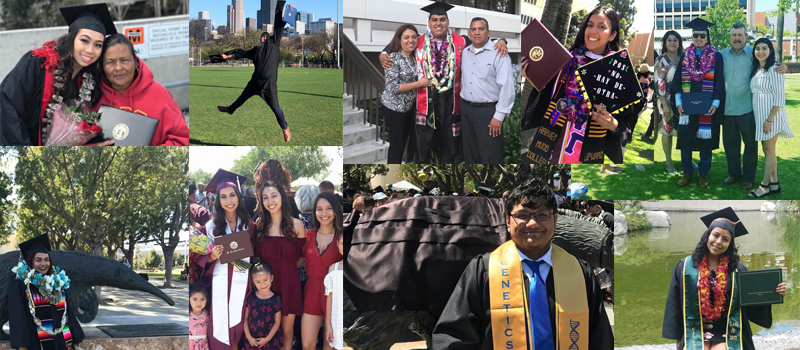 Harvey Mudd's Upward Bound program, which helps-first-generation, low-income high school students develop the skills and motivation to succeed in college, met an important goal this year: 70 percent of its Class of 2011 has now completed an associate's or bachelor's degree.
The milestone is important, but the successes and struggles of each student in the program may be even more impressive and meaningful, says program director Angie Covarrubias Aguilar, herself a graduate of the program. For instance, one Upward Bound student is graduating from high school this year as a recipient of two scholarships: a $40,000 scholarship from Southern California Edison and a $20,000 scholarship from Dell which she will use at Yale to study environmental science—a feat she accomplished while gathering recyclables and making food with her mother, a breast cancer survivor, to sell at work sites to supplement the family income.
Introduced nationally in the 1960s and 1970s, Upward Bound is a federally funded program that began in 1968 at the Claremont University Center (now The Claremont Colleges Services) and moved to Harvey Mudd in 1972. The free program serves rising sophomores, juniors and seniors from local high schools through six-week intensive summer residential programs and an academic-year program that meets three Saturdays a month at Mudd and once a week at the five local high schools, to offer college planning and tutoring from students at the Claremont Colleges. 145 high school students participate during the academic year, and about 110 students enroll in the summer program.
One recent emphasis of the program, says Aguilar, is to find ways for students to embrace their mistakes and struggles, "so they can see them as part of the learning process, and so they don't get discouraged when they face these things."
The program has students who "are succeeding in spite of their parents being deported, in spite of them not having a place to stay, in spite of a parent awaiting a heart transplant," Aguilar notes. "We remind them that hard work can pay off, but it doesn't mean that they won't have setbacks, and that they need to see how far they've come."
Aguilar and her colleagues are also working to include more opportunities to expose the students to science and technology careers. Rising seniors in the program can participate in a four-week internship in a research lab, working alongside undergraduates and professors. Led by Lelia Hawkins, Barbara Stokes Dewey Associate Professor of Chemistry, 12 Harvey Mudd professors have participated in the internships, from disciplines including chemistry, biology, computer science, math and the humanities.
Aguilar says the internships help students realize that there are many STEM careers open to them. "They think about math and other fields as something they could pursue, and it's because of these different exposures, and meeting new people, and not being afraid to take those risks."
Social media has been very helpful in keeping the Upward Bound students connected and caring for each other even after graduation from the program, she adds. "From the first encounter that the students have with us, we are trying to build a sense of community."
Some alumni come back to work for the program in the summer, while others talk with Aguilar and her colleagues about students who may be struggling after the transition to college. "Because we've built this relationship for three years," Aguilar says, "we know things about them that go beyond academics that can be helpful in understanding what the students contend with during their postsecondary education."
Aguilar recalls a recent Facebook photo of a program participant who graduated from Loyola Marymount University with "HMC Upward Bound" printed on her graduation sash. "Seeing those kids who continued to persevere and be persistent in their education," she says, "is something that you can't see in the numbers, and that keeps us going."