Harvey Mudd Graduates Highest-ever Percentage of Women Physics and Computer Science Majors
May 15, 2018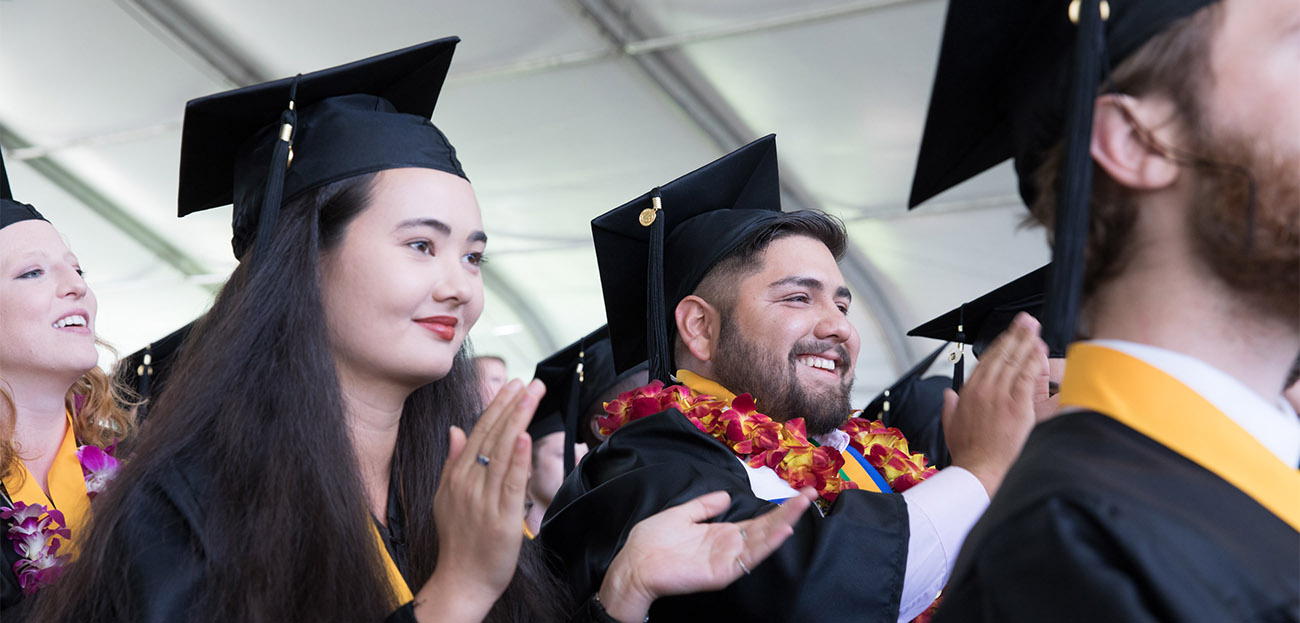 Harvey Mudd College graduated its highest-ever percentage of women physics and computer science majors at the College's 60th commencement ceremony on May 13, 2018.
The College conferred bachelor of science degrees upon a total of 172 students at the spring ceremony—83 women and 89 men. Fifty-eight percent of physics majors and 56 percent of computer science majors were women.
Astrophysicist Nergis Mavalvala, associate head of the Department of Physics and the Curtis and Kathleen Marble Professor of Astrophysics at MIT, gave the commencement address. Mavalvala works on the detection of gravitational waves and quantum measurement science at LIGO, the Laser Interferometer Gravitational-wave Observatory. She was a member of the team that in early 2016 made history when they detected gravitational waves from the collision of two black holes, supporting the final prediction of Einstein's general theory of relativity and introducing a completely new method for observing the universe.
"The discovery of gravitational waves required collective teamwork and unwavering focus in the face of many, many, failures over many, many years," Mavalvala told the Class of 2018. "How did we do it? It was a caring and inclusive environment that made whoever we were valued. We focused on a shared dream, on achieving our very own mission impossible."
"If you combine the wonderful education you have and with kindness," Mavalvala continued, "and collaborate and promote others who have walked different journeys than your own, if you stand up to the forces that destroy equal opportunity for everyone, you will change the world."
Graduating senior Ramita Kondepudi gave the student keynote address.
"We have gone through so much," Kondepudi told her classmates. "I think when you can love a place so deeply, even when you have been through the most grueling times, you realize we are strong; you realize we can do anything. And with that, I want to say congratulations; we made it through Harvey Mudd College, and we are the class of 2018."
David Sonner '80 P18 welcomed the graduates into the HMC Alumni Association.
"Like many alumni before you, you worked together on many different assignments and in the process, you learned many things you will find useful in life," Sonner said. "But what you will probably value the most are the close friendships forged during your Mudd experiences together."
President Maria Klawe concluded the ceremony.
"We are so proud of what you have accomplished," Klawe said. "Your achievements in research, clinics, competitions and national awards are incredible. But even more incredible is how you have grown as human beings, how you have cared for each other, how you have built relationships across the College, how you have demonstrated what wonderful human beings you are. You will have a huge impact on the world."
According to the results of the Office of Career Services senior survey, 67 percent of the Class of 2018 are headed into the workforce; the most frequently mentioned employers are Microsoft, Google, Millennium Space Systems and Amazon. The most frequent position reported by respondents is software engineer; other positions include data scientist, electrical and mechanical engineer, consultant and research analyst.
Almost a quarter of the Class of 2018 is headed to graduate school: 24 percent expect to be enrolled in graduate programs this fall in a variety of fields including physics, applied mathematics, robotics, medicine, mathematical and computational biology, transportation planning and engineering.  Graduates will be attending Stanford, Cornell, University of Southern California and Columbia, among others.
The remaining members of the Class of 2018 have various plans including a Watson fellowship, internships and travel.
View the 2018 commencement ceremony.