Fundraising for Bates Library Collection Soars Past Goal
May 17, 2018

There are some real gems in Harvey Mudd College's Aeronautical Library Special Collection (aka Bates Library Collection). Among them are the images from Northrop photographer Roy Wolford; memorabilia of aero pioneers, such as founding HMC Trustee Lee Atwood and HMC Bates Program supporter Brigadier General Joseph Marriott; videos of the space missions of HMC astronauts Stan Love '87 and George "Pinky" Nelson '72; manuals for airplanes Iris Critchell flew in World War II as a member of the Ferry Command; and the Raymond Goodall collection of books on aeronautical engineering and aviation history.
Thanks to generous donors—many of them alumni of the former HMC Bates Program—this treasured collection will be properly preserved and will remain readily accessible to students, faculty, aviation historians and enthusiasts well into the future.
Over the past two years, Bates alumni Bruce Worster '64, Walt Foley '69 and John Norin '90/91 have worked to raise funds so that professional librarian Michael Palmer could work alongside Instructor of Aeronautics Emerita Iris Critchell to preserve the collection of aero history, which includes historic books, photographs and other items. Last year, they raised $67,000 to move Palmer from part time to full time, and this past December, Bates alumni and friends responded generously to a $50,000 matching gift challenge by Eileen SCR '67 and Jude Laspa '65, and Bruce '64 and Susan Worster to raise $144,383 to continue supporting Palmer's work.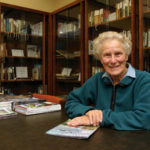 Critchell, an aviatrix who participated in 16 years of Women's Transcontinental Air Races and spent 38 years teaching aeronautics and flight at three major colleges, devoted 35 years to Harvey Mudd as director and chief flight instructor of the Bates Foundation's Aeronautics Program. One of her many passions and accomplishments was the formation of the Bates Library Collection. Through her dedication, personal connections and deep knowledge of aviation history, she has been able to build a unique and valuable special collection that contains material on the major contributions to Southern California aviation history, as well as numerous aviation and aerospace contributions made by Harvey Mudd and Bates Aero Program graduates.
HMC Bates alumni have been working closely with Critchell and members of the College administration and faculty, as well as Honnold/Mudd Library staff and administrators, to establish a plan for properly preserving these collections currently held at Harvey Mudd. This plan included hiring Palmer, a librarian who has done significant curatorial work for The Claremont Colleges Library Special Collections, including the Library's other aviation collections. As special collections curator, he has worked to preserve, process, catalog and digitize the collections. In addition, Palmer has worked closely with Critchell to host visits by aviation history researchers, who found the collection to be of significant value to their work.
Currently, Palmer is processing the archival records of the Bates Aeronautics Program itself, including the records of the Bates Foundation, Iris and Howard Critchell's teaching materials and albums of photographs documenting the activities of each class in the Bates Program. He also is processing the recently received materials from the collections of Mervin K. Strickler, called by the Smithsonian Institution "the most distinguished proponent of aviation education in the 20th century," and is identifying videos on VHS to reformat for access on the internet.
"The Bates Collection is an important repository for the history of aviation, particularly in Southern California," says Palmer. "But its value extends beyond merely preserving a record of the past: incorporation of materials from the collection in the curriculum teaches students critical thinking. It also gives students an awareness and appreciation for the achievements of their predecessors, with their spirit of inspiration, innovation, dedication, perseverance, teamwork and humanity, thus furthering HMC's mission to produce leaders with a clear understanding of the impact of their work on society.
"Making these materials accessible to researchers outside the College enhances Harvey Mudd's public reputation as a leading repository for the history of aviation and its contribution to Southern California," Palmer adds.
Funds from the Bates Library Collection Campaign ensure that work can continue. "It is clear that even more can and must be accomplished—especially while Iris is still able to impart the wisdom of her eight decades of experience, share her invaluable memories, and pass on her countless contacts in the aero world," says HMC Trustee Bruce Worster '64, a Bates alumnus, physicist, entrepreneur and Bates Library fundraising chair.