Berenice Cortez: Binder Prize Winner
May 17, 2018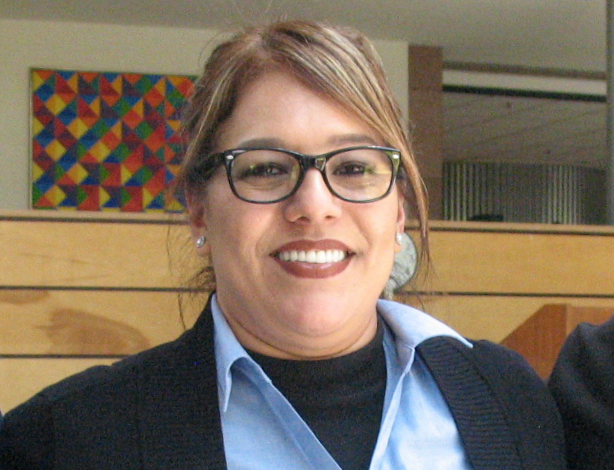 Berenice Cortez says she and her Harvey Mudd colleagues are like one big family, and she has nothing but praise for their talent and capability. But her peers decided that it was time for Cortez to receive the praise. Their recommendations resulted in her receiving the 2018 Binder Prize, which honors a member of College's support staff who combines a record of exceptional service with a helpful and friendly attitude toward College community members.
"Berenice touches every department with her dedicated service to the catering department from overseeing event setups, putting the finishing touches on floral arrangements, to serving meals. Berenice is patient and adept when last-minute changes are needed," one of Cortez's nominators wrote.
Surrounded by colleagues, Cortez was told she'd won the award and was presented with a bouquet of flowers by Bill Daub, professor of chemistry and a member of the selection committee, who was joined by Miguel Ruvalcaba, dining services manager, Ramona Campoy, assistant manager, and Dana Nagengast, assistant vice president for human resources. "It makes you feel special, that you're recognized and appreciated," Cortez says.
For 18 years, Cortez has served and tasted many plates of food from the kitchen at Hoch-Shanahan Dining Commons. When alumni return to campus for events they often comment on the quality of the food, she says. She began as a beverage runner, then worked in catering, where she's been ever since. Cortez is now catering lead, a job that requires organization, creativity and skill as well as the patience that she's known for.
Cortez is a seasoned pro in the busy world of catering, dealing with all sorts of dilemmas like inclement weather, staff shortages (she'll jump in to cook if necessary) or switching venues because someone—sometimes herself, she admits—provided the wrong location. She has even memorized many community members' food and catering preferences.
Hiccups and last-minute adaptations are a common occurrence, just part of the job, she says. Cortez recalls catering a barbecue for HMC's fourth president, Jon Strauss, to celebrate his son's high school graduation. She did not have lighter fluid and she struggled to light the charcoal. Finally, by virtue of copious amounts of Sterno, she managed to, and then the sprinklers went on. She laughs at the memory. "I had to try to cover the grill and move it, and someone called maintenance to get them to come turn the sprinklers off."
Her ability to remain calm and professional under circumstances like these was cited by one of the nominators. Another said, simply, "Berenice is a great asset to HMC Dining Services."
The Binder Prize was established in 1997 by a gift from engineering Professor Emeritus Sam Tanenbaum and Carol Tanenbaum, his wife, to honor Carol's mother, Mary G. Binder, and to express their gratitude to the College's support staff. In addition to the award of $750, Cortez received a commemorative certificate and will have her name added to the Mary G. Binder Prize plaque in the foyer of Galileo Hall.