Students, Faculty, Staff Honored for Leadership
April 29, 2015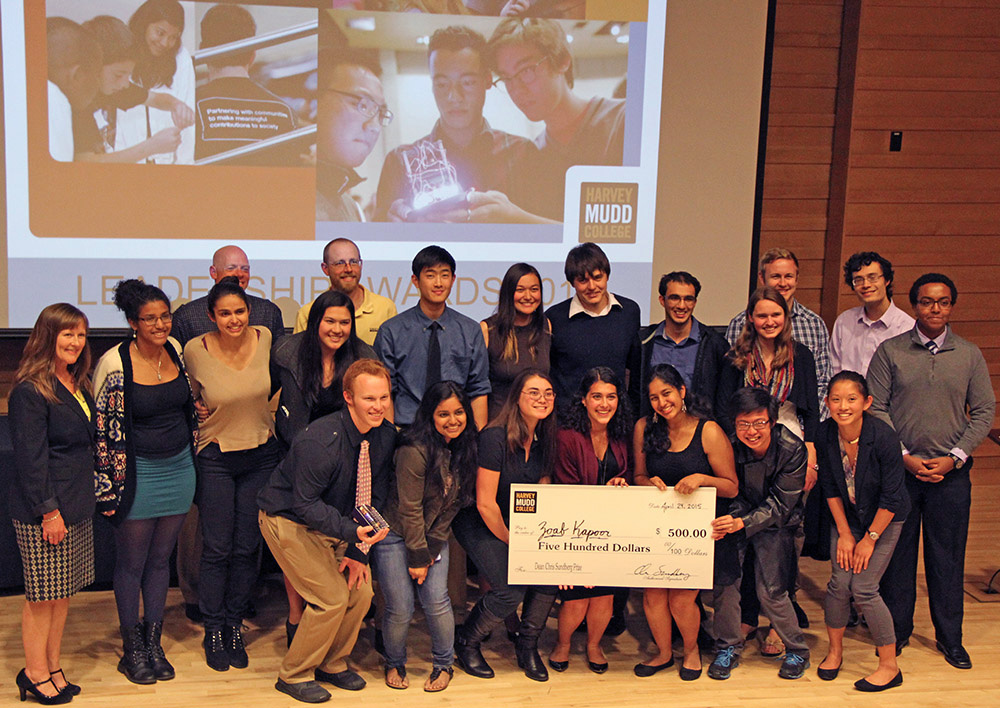 Great institutions rely on talented leaders, like those honored April 24 at Harvey Mudd College's third annual Leadership Awards Ceremony. Leadership Awards affirm students, faculty and staff not only for their academic talents and job proficiency, but also for their engagement and contribution to the Harvey Mudd community.
"These awards are a way of expressing our gratitude to those among us who have given generously of their time, energy and passion to make our lives and our community better," says Maggie Browning, dean of students and vice president for student affairs. "To the leaders we recognize today, thank you for challenging us, for supporting us, for teaching us, for holding us accountable, for helping us become the best versions of ourselves that we can be."
Outstanding Emerging Leader
In recognition of her efforts to engage the Mudd and 5-C community in active discussions to raise awareness about sexual consent, Lisa Goeller '17 (joint major, computer science/mathematics) received the award for Outstanding Student Leader. Through collaborations with peers, the Office of Dean of Students and various 5-C groups, Goeller led efforts to establish the Harvey Mudd Advocates for Survivors of Sexual Assault (Advocates) and coordinated Consent Week on campus. Goeller's leadership with the Advocates illustrates her dedication to engaging the community in meaningful discussions and taking action to build a culture of support at Mudd.
For serving as an "ambassador for student athletes," Kelly McConnell '17 (engineering) also received the Outstanding Emerging Leader Award. A thoughtful, involved member of the Mudd community and positive example of work/life balance, McConnell, a member of the Claremont-Mudd-Scripps women's soccer team, has served as a Linde mentor and has helped to organize community forums related to email communication and work/life balance.
Outstanding Student Organization
Science Bus volunteers epitomize the Harvey Mudd mission statement of assuming leadership in their fields with a clear understanding of the impact of their work on society, working to bring STEM to underserved communities in ways that are accessible to a diverse range of students, parents and educators. The program works with five local elementary schools to teach weekly hands-on science lessons to students in grades 3-5, offered at no cost to the community. Science Bus is entirely student-run and depends on a network of more than 50 student volunteers, who raise funds, develop lessons, work alongside professional educators and teach throughout the academic year.
Outstanding Mudder Awards
Three students received the Outstanding Mudder Award for their contributions to the Harvey Mudd community and beyond and for embodying what it means to be a "whole person" at Harvey Mudd.
Natasha Allen '16 has an impressive history of involvement in both local community engagement and broad social justice initiatives. In her capacity at Homework Hotline, Allen has served as a teacher and mentor to other tutors. The physics major helped found and now co-leads the Coalition for the Empowerment of Education, Leadership and Independence (CEELI) at The Claremont Colleges, which works to eliminate poverty by empowering communities. A recipient of a 2014 Strauss Internship for Social Understanding, Allen also has extensive experience with projects designed to meet needs in underserved communities, such as with One Million Lights, which works on providing electrical light in areas with limited access to electricity. A recognized mentor on campus, Allen was recently selected to be a proctor in the new residence hall for academic year 2015–2016.
Known for helping others, Travis Beckman '15 is interested in rehabilitative medical technologies, especially prosthetics and similar technologies to help amputees regain their full quality of life. For the E4 course, Beckman helped design a recumbent tricycle for a disabled child, for which he received the Davies Engineering Prize. In the Orwin Lab, the Engman Fellow in Bioengineering combines medical device design experience with research interests in biocompatibility and therapeutic tissue engineering. He is an outstanding student and dedicated community leader, having volunteered for Claremont After-School Programs (CLASP) and other community service activities. Beckman has been a supervisor at the Linde Activities Center since 2012 and has served as an Atwood proctor. Along with Yeahmoon Hong '15, Beckman spearheaded a successful campus-wide voting effort to bring pop star Taylor Swift to The Claremont Colleges for a private concert.
Participation in Harvey Mudd's Summer Institute (SI) program inspired President's Scholar Sophia Williams '15 (engineering) to seek opportunities to help others. Williams exemplifies Mudd values through her amazing attitude and commitment to mentorship, wellness, diversity and compassion. As a rising junior, Williams was chosen to serve as head mentor for SI, training mentors as leaders and good communicators and leading a community outreach program that brought science activities to 7- to 14-year-old students. Williams has also been an aide for the Future Achievers in Science and Technology program, a mentor for Atwood Dorm and a Dean of Students (DOS) Muchacho. The recipient of a prestigious Thomas J. Watson Fellowship, Williams will spend a year abroad researching how to best end poverty by studying the effectiveness of different methods of financial aid.
Outstanding Faculty Member
Winner of the Outstanding Faculty Member Award, Associate Professor of Chemistry David Vosburg "fully embodies the HMC spirit of intellectually challenging students while providing a support system necessary for success," wrote student nominator Eun Bin Go '15. Vosburg is a leader in incorporating sustainability into his teaching and research—his efforts were recently recognized by the American Chemical Society with the 2015 Award for Incorporating Sustainability into Chemistry Education. Vosburg is widely regarded on campus as a professor who engages with students and promotes their work professionally, co-authoring numerous papers with students and presenting student research at regional and national conferences. As a Fellow of the American Scientific Affiliation, Vosburg is also a visible faculty leader in fostering conversations about the harmony of science and faith.
Outstanding Staff Member
As the senior director of facilities for the Office of Facilities & Maintenance (F&M), Troy Hansgen has expanded his role well beyond leading efforts to maintain the College's buildings, equipment and grounds. In particular, Hansgen has been integral in helping environmental club ESW/MOSS (Engineers for a Sustainable World/Mudders Organizing for Sustainability Solutions) promote sustainability initiatives on campus, including a two-year effort to launch a board-approved "Green Fund" for sustainable campus improvements. "Troy has been instrumental in getting results," wrote his nominator, Priya Donti '15. "For the students who have worked hard on some of these projects, this serves as an inspiration for us to continue making sustainable and social change for the rest of our lives."
Outstanding Contribution to HMC
Employer nominees for Outstanding Contribution to HMC support the co-curricular education of students by offering opportunities for students to apply their academic training in a workplace setting and develop management skills. University recruiting director for Laserfiche Laura Victoria has contributed to the Harvey Mudd mission to develop students as leaders in their chosen fields by offering a structured learning environment for internships as well as full-time positions to further develop leadership skills as industry professionals. Victoria has also been an active participant in Office of Career Services events over the past eight years, including in "Beyond the Bubble: Life after Mudd" seminars.
Shirlynn Spacapan Memorial Scholarship
Established by family and friends in memory of Harvey Mudd Professor of Psychology Shirlynn Spacapan, this scholarship recognizes a deserving sophomore, junior or senior who has been highly involved in community service during his or her time at the College. Jacob Dittes '15 (engineering) coordinates and hosts weekly community cafes for participants of the Claremont Homeless Advocacy Program (CHAP), a grassroots, all-volunteer group that seeks to end homelessness in Claremont by advocating for and supporting homeless adult individuals within the community. Dittes also coordinated and volunteered for the Food Recovery Program, a 5-C, student-led initiative that takes leftover food from the dining halls to a local homeless shelter. On campus, Dittes has been an active member and officer for Mudders Making a Difference and ESW/MOSS, and he is a community engagement student liaison.
Dean Sundberg Prize
Established by Dana Seaton '06, the Dean Chris Sundberg Prize recognizes a rising junior who demonstrates exceptional leadership and has a positive impact on the Harvey Mudd College community. The nominee is an ambassador of the College's mission statement and Honor Code and contributes to creating "enhanced college experiences" for other students on campus. Winner Zoab Kapoor '17 (joint major, computer science/mathematics) is known for being friendly, helpful and willing to sacrifice his own time for the good of others. He balances academics and play and excels academically while also participating in extracurricular activities, such as the DUCK! improv group. As such, he has been an asset to the new campus work/life balance working group, which aims to help create a better experience for current and future Mudders.
Strauss Internship
Lisa Goeller '17 (joint major, computer science/mathematics), Fabiha Hannan '16 (engineering) and Madeline Pignetti '17 (computer science) were each awarded the Strauss Internship for Social Understanding. Designed for Harvey Mudd students interested in working with a local community service agency, the 10-week internship includes up to $4,000 in support. Students work with local agencies to design the internships, ensuring they meet the needs of the agency and align with the founding ideal of a commitment to a lifetime of service activities.
Huppe Memorial Internship
Natasha Allen '16 (physics) and Jose Orozco '17 (engineering) each received the Ben Huppe '14 Memorial Internship for a Sustainable World. The Huppe Internship provides a stipend of up to $4,000 for work in renewable energy, green technologies and environmental sustainability, or for work that addresses the problems of underserved populations. Maggie Lewis and Bob Huppe, parents of Ben Huppe '14, and their family and friends created the internship program in honor of Ben's passion for science and social justice.
The New Millennium Experiential Learning Fund
Sophomore Anya Kwan (chemistry) is the winner of the New Millennium Experiential Learning Fund Award, established by Aaron Archer '98 and Gregory Rae '00 to engender in participating students a significant and deep commitment to a lifetime of service activities with national or international nonprofit organizations.
The Nathaniel Davis Prize for Public Policy and International Relations
Manu Kondapi '18 (undeclared) has received the Nathaniel Davis Prize for Public Policy and International Relations. Established by Howard C. Deshong III '89 and Jeannette Deshong in honor of the late Harvey Mudd Professor Emeritus of Political Science, it enables Harvey Mudd students with an interest in public policy and/or international relations to pursue this work more formally through a summer experiential learning experience nationally or abroad.
Scholarships and Fellowships
Also recognized at this year's Leadership Awards were Goldwater Scholarship winner Timothy Middlemas '17 (physics), Goldwater honorable mention winners Spenser Anderson '16 (engineering), Madeleine Weinstein '16 (mathematics) and Shannon Wetzler '16 (joint major, chemistry/biology), as well as Thomas J. Watson Fellows Priya Donti '15 (joint major, computer science/mathematics) and Sophia Williams '15 (engineering). In addition, junior Sherman Lam (engineering) won the Astronaut Scholarship Foundation Award, and the Harvey Mudd College Napier Fellows for 2014–2015 were Donti and Emma Zang-Schwartz '15 (individual program of studies, global health).