2023 Student Orientation Schedule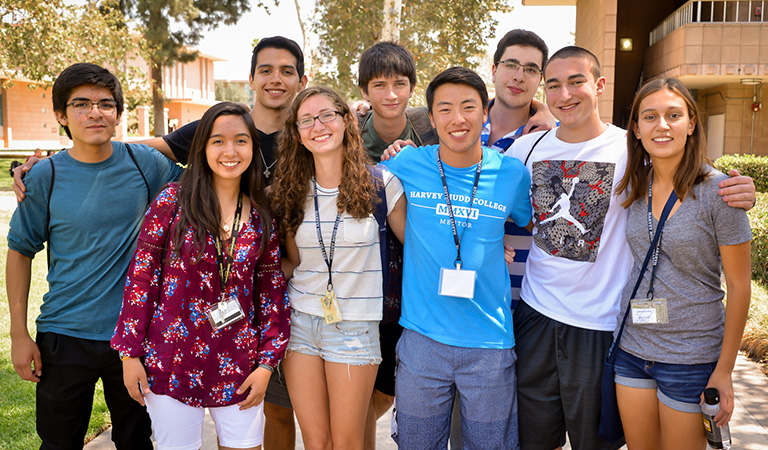 Most of our New Student Orientation (NSO) sessions will be presented in an online, virtual format throughout the summer and leading up to our on-campus Orientation. Students will receive more information regarding the sessions to their HMC email in June with sessions beginning in July. These sessions will include presentations and interaction from Mudd's faculty, staff, and student leaders.
We will have a combined in person NSO for all incoming students.
Proposed dates (events are subject to change):
First-year and transfer student move-in will be on Aug. 24.
International Student move in, to be determined (updated Feb. 17, 2023)
New Student Orientation (NSO) will take place Aug. 24–27.
Course registration for new students will take place Friday, Aug. 25.
Time
Event
8 a.m.– noon
Student Registration/ Move Into Residence Halls
Noon– 1 p.m.
New Student Lunch
1:15–2:15 p.m.
Honor Code Forum
2:15– 3:45 p.m.
Roster Signing
5–6 p.m.
President's Reception & Family Farewell
6–7:30 p.m.
Mentor Dinner
8–9:30 p.m.
Mentor Group Time
9:30–10:30 p.m.
Residence Hall Meeting
*1– 5 p.m.
*Only for Interested Students

Choir and Orchestra Auditions

Will also be taking place Aug. 27 and Aug. 28 from 1 to 5 p.m.
Orientation Day 1: Thursday, Aug. 24, 2023
| Time | Event |
| --- | --- |
| 7–9 a.m. | Breakfast |
| 10 a.m.–9 p.m. | OA Trip |
| 5–7 p.m. | Dinner and Muddlore |
| 9:30 p.m. | Head back to HMC |
Orientation Day 2: Friday, Aug. 25, 2023
| Time | Event |
| --- | --- |
| 10–10:30 a.m. | CIS Information Session 1 (only attend 1) |
| 10:30 a.m.–12:45 p.m. | Brunch |
| Noon–12:30 p.m. | CIS Information Session 2 (only attend 1) |
| 12:30–2 p.m. | Sexual Misconduct: Prevention, Awareness and Support |
| 2–3:30 p.m. | Beyond Alcohol Edu |
| 5–6 p.m. | Dinner |
| 6–10 p.m. | Casino Night & Ice Cream truck |
| 7:30–8:30 p.m. | Mentor & Proctor Skit Session 1 (only attend 1) |
| 8:30–9:30 p.m. | Mentor & Proctor Skit Session 1 (only attend 1) |
Orientation Day 3: Saturday, Aug. 26, 2023
| Time | Event |
| --- | --- |
| 10:30 a.m.–12:45 p.m. | Brunch |
| 2–3 p.m. | Ice Cream Social with the Office of Community Engagement |
| 3–4 p.m. | Scavenger Hunt |
| 5–7 p.m. | Dinner |
| 7–9 p.m. | Talent Show/Closing Ceremony |
Orientation Day 4: Sunday, Aug. 27, 2023
| Time | Event |
| --- | --- |
| All Day | First Day of Classes |
Monday, Aug. 28, 2023
| Time | Event |
| --- | --- |
| 11 a.m.–Noon | Convocation |
| Noon–1 p.m. | Lunch with Faculty Advisor |
Tuesday, Aug. 29, 2023