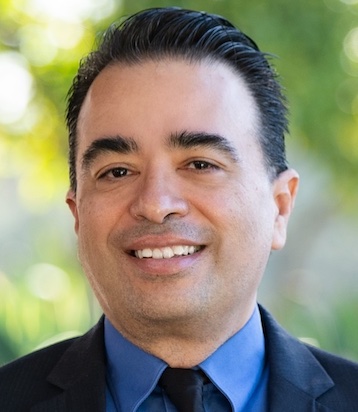 As vice president, chief operating officer and treasurer, Andrew Dorantes oversees the College's Office of Business Affairs. This includes the areas of finance, budget, audit, investment/endowment, human resources, facilities and maintenance, risk management, payroll, student accounts, emergency preparedness, dining services, and the mailroom. Dorantes staffs the Audit Committee; Budget and Financial Planning Committee; Compensation and Personnel Policy Committee; Investment Committee; and Physical Plant and Campus Planning Committee of the HMC Board of Trustees.
Professional Background
Prior to joining Harvey Mudd College in 2003, Andrew Dorantes spent 14 years in public accounting, serving as a partner and consultant for a national accounting firm. Dorantes provided auditing, accounting, tax and advisory services to colleges, universities and other non-profit organizations. Prior to that, Dorantes was employed in the City of Fullerton's finance department, where he worked in the budget, general accounting, purchasing and risk management divisions.
From 2000–2006 Dorantes held an adjunct faculty position at Azusa Pacific University, teaching auditing principles equipping students with the skills necessary for a career in public accounting and successful completion of the certified public accounting exam (CPA). Dorantes currently serves as an adjunct faculty at Claremont Graduate University (CGU), and previously served at the University of Redlands teaching Higher Education Budget, Economics and Finance, providing graduate students with essential and practical understanding of finances and the current challenges of higher education.
Education and Certifications
Dorantes holds a bachelor of science degree in accounting and a master's degree in business administration from California State Polytechnic University, Pomona. He received his PhD (2014) from Claremont Graduate University, School of Educational Studies. His dissertation was on Financial Crises Management in Higher Education: How Private Colleges and Universities Responded to the 2007-2009 Financial Crises (The Great Recession). Dorantes is both a certified public accountant (CPA) in California and a certified fraud examiner (CFE).
Additional Information
Dorantes is published in the Journal of Education Finance on the topic of financial crises management in higher education and in New Direction for Higher Education on the topic of impact and success of business and finance staff at private colleges and universities. Additionally, he has authored articles for publications such as Business Officer (published by the National Association of College and University Business Officers) on topics including deferred maintenance, financial management, non-profit tax issues, and accounting and auditing issues. Dorantes has also spoken at various non-profit conferences on similar topics.
Dorantes has served on several WASC Senior College and University Commission (WSCUC) review teams, as the team member focused on evaluating the financial condition of institutions and currently serves as a Commissioner for WSCUC. In recognition of his extraordinary service to the College, Dorantes received the 2010 Henry T. Mudd Prize.
Contact Information
Andrew Dorantes
909.621.8126
adorantes@hmc.edu