Harvey Mudd Senior Named to 2023 ALL IN Student Voting Honor Roll
May 8, 2023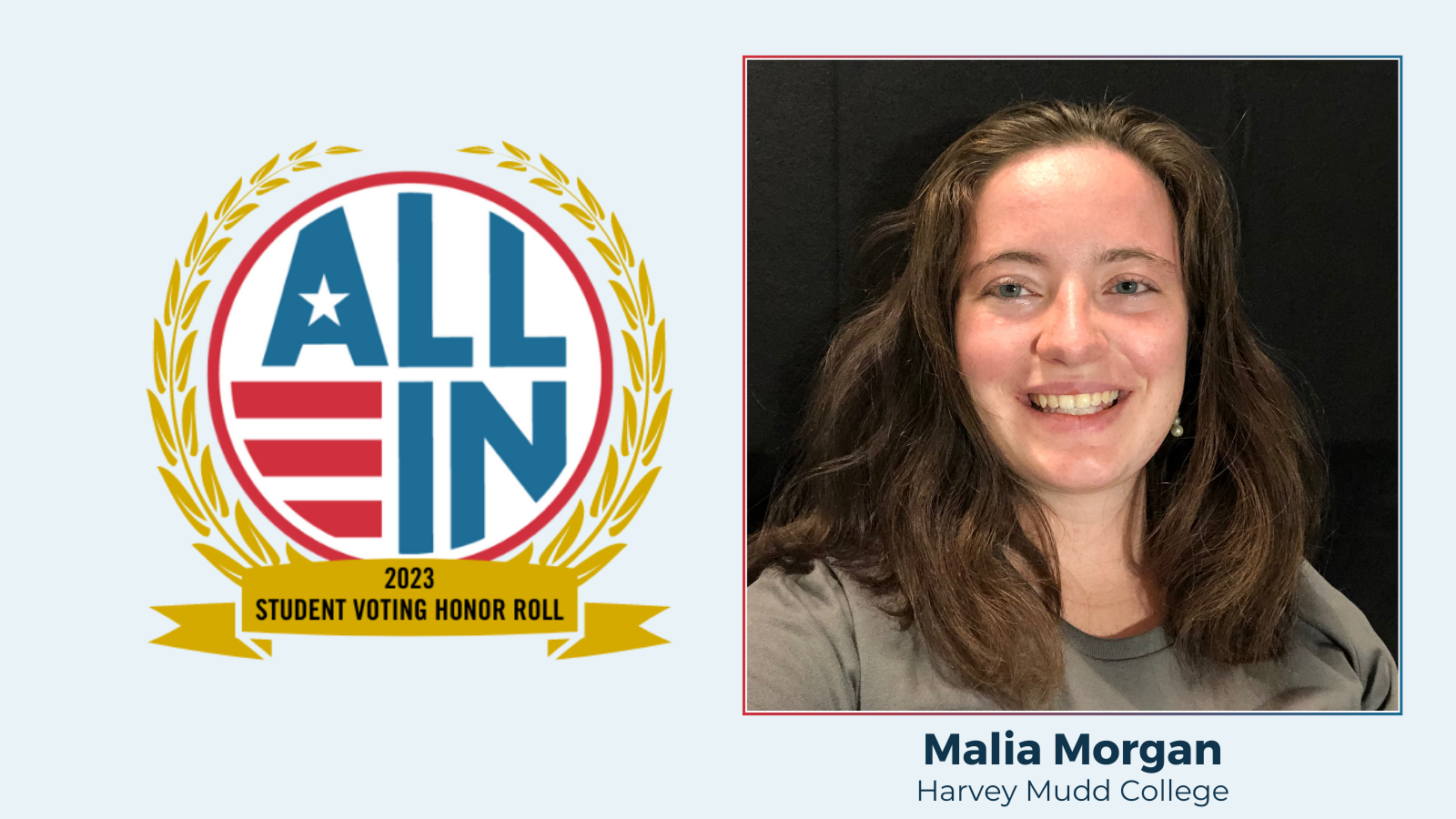 Harvey Mudd College computer science major Malia Morgan '23 was selected by ALL IN Campus Democracy Challenge (ALL IN) for the 2023 ALL IN Student Voting Honor Roll. Morgan was commended for doing outstanding work to advance nonpartisan democratic engagement at Harvey Mudd. She joins a group of 175 students recognized for their efforts before 2022 midterm elections, when an estimated 23 percent of young people ages 18 to 29 turned out to vote.
"This year's honorees played a crucial part in registering and empowering student voters ahead of last year's midterm elections, resulting in historic turnout among young voters. The ALL IN Campus Democracy Challenge is honored to celebrate hundreds of student leaders encouraging nonpartisan democratic engagement across the country," said Jennifer Domagal-Goldman, executive director of the ALL IN Campus Democracy Challenge. "These students organized voter registration drives, coordinated campus-wide voter engagement resources and brought polling locations to their campuses. We are excited to watch these students continue to change the world."
Morgan, co-president of the student-led Living Learning Community (LLC), helped host an Election Night get together that allowed students to either follow or avoid the election news. She said, "Another thing we did was work with the Office of Civic and Community Engagement providing voter education. During lunchtime, they set up a table outside of the Hoch that our members would go to and just give out information on how to register to vote, how to figure out what was going to be on your individual ballot, how to check if you're registered to vote, if your mailing address was right, how to get an absentee ballot and all the hoops that you have to jump through. We take on issues that our community members care about but don't have time to investigate themselves. We bring them that information and present it to them in very accessible ways."
In addition to her work organizing student activities, Morgan is a computer science major who has worked in three different labs at Mudd, including work on educational computer science, human-robot teams and computer vision design. She has served as a tutor, was an Academic Excellence facilitator for the physics department and worked in the Office of Admission as a social media intern and tour guide. Earlier this year, she was recognized with an honorable mention by the Computing Research Association for her "outstanding research potential."
In January, Harvey Mudd College was named to ALL IN's list of Most Engaged Campuses for College Student Voting, honoring institutions that promote democratic engagement by facilitating civic learning, political engagement and voter participation among students. The College was also awarded the Highly Established Action Plan Seal of Recognition and highlighted for its participation in the Ask Every Student Initiative.
The ALL IN Campus Democracy Challenge empowers colleges and universities to achieve excellence in nonpartisan student democratic engagement and engages more than 9.8 million students from more than 965 institutions in all 50 states and the District of Columbia.