Daniel Guerra Receives HMC's 2023 Mary G. Binder Prize
May 8, 2023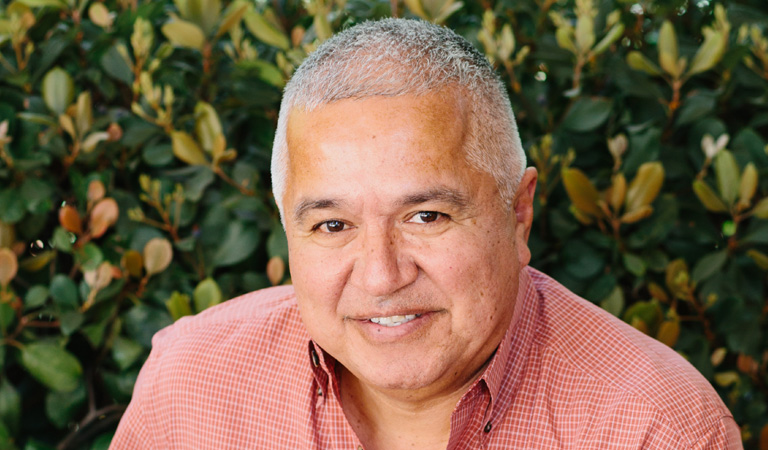 Laboratory and Stockroom Manager Daniel Guerra was focused on finishing the spring semester when he was called in to a faculty meeting to discuss two incidents that had occurred during spring lab courses. Ready to detail events with other staff members, Guerra was interrupted by chemistry Professor Bill Daub and human resources Senior Director Joanna Hernandez. They announced that Guerra had been selected as this year's recipient of the Mary G. Binder Prize, which honors outstanding support staff.
"I have been working at Harvey Mudd College for eleven and a half years, and this is truly my dream job," says Guerra, whose work includes managing all chemical and supplies ordering for the teaching and faculty research labs in the Department of Chemistry. He says he intends to continue working at HMC until retirement. "I love coming to work on Mondays because the chemistry department is AWESOME! The faculty, staff and students in the chemistry department are all exceptional human beings and a pleasure to work with."
Nominators complimented Guerra on his patience, organization, kind-heartedness, positivity, helpfulness, creativity and expertise. One commented, "Daniel also supervises students who work in the stockroom with him. He is not only their supervisor, but also a mentor and a teacher. We have observed Daniel connecting with those students on a personal level, asking them about their home life, their career goals and their classes. He teaches them about how to manage: he explains how he organizes the chemicals, why he does things the way he does and how they can take these lessons into their own lives. You can tell the students who work with Daniel in the stockroom are learning from him, not just working for him."
The Binder Prize honors a member of HMC's support staff "who combines a record of exceptional service with a truly helpful and friendly attitude toward students, faculty and fellow staff members all across the College." The prize was established in 1996 by engineering Professor Emeritus Sam Tanenbaum and his wife, Carol, in honor of Carol's mother. It includes a $1,000 award and commemorative certificate, and Guerra's name will be added to the Mary G. Binder Prize plaque in the foyer of Galileo Hall.
2023 Binder Prize Committee members are Lorena Gonzalez, Mary G. Binder Prize winner 2022; Zee Duron, professor of engineering; Theresa Lauer, Emergency Preparedness and Safety; Miguel Ruvalcaba, dining services; and Georgia Klein '23, student representative.