Harvey Mudd Alumni Association Announces 2023 Outstanding Alumni
April 25, 2023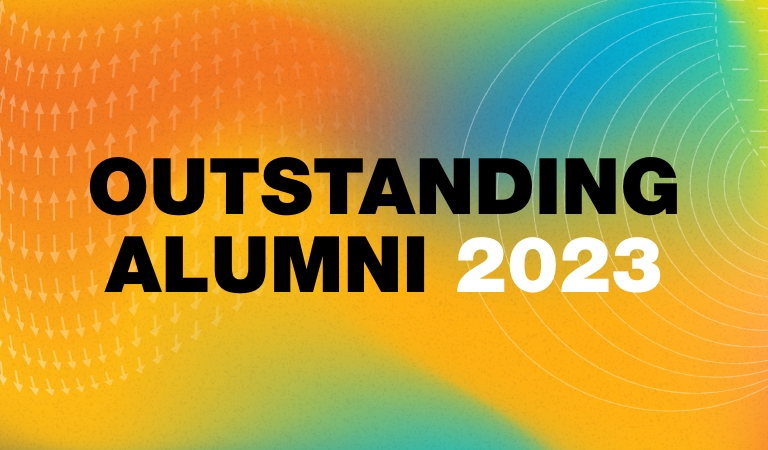 The Harvey Mudd College Alumni Association Board of Governors (AABOG) has announced its annual awards to recognize those who have had an impact on HMC and well beyond.
Outstanding Alumni Awards
These awards are given to alumni who best exemplify the mission of Harvey Mudd and who have made a sustained and effective commitment to improving society.

Sharon Alderman '63 was one of two women in her class at Harvey Mudd College. After graduating with a major in chemistry, she married and began weaving while in Colorado then, consistently, when the family moved to Utah. Alderman has received the Utah Governor's Award in the Arts and was recently named one of "Utah's 100 Most Honored Artists." Her work has been shown in competitions and invitational exhibitions all over North America and she has been represented in the National Museum of Women's Art in Washington, D.C. Her writing and work have appeared in Shuttle, Spindle & Dyepot, Interweave, Textile Artists' Newsletter and Handwoven. Alderman has written three books, lectures, gives keynote addresses, acts as a juror and leads workshops for guild, art center, colleges and state, regional and national conferences. She has woven prototypes for a number of engineering firms and while these commissions are often technically very challenging, she says that they are among the most interesting work that she does.
Allison Barto '98 is a director at Ball Aerospace, specializing in developing complex space systems from vision to orbit. Among her 25 years of supporting missions for both NASA and defense customers, Barto has spent over 17 years in technical and leadership roles for the Webb Telescope. She has been involved with several teams studying future large-telescope architectures, is an SPIE Fellow, board member and associate editor of the Journal of Astronomical Telescopes, Instrumentation and Systems. In 2014, Barto received the Women In Aerospace Achievement Award.

After receiving a PhD from Caltech, Ken Bencala '73 studied the physical and geochemical connections of stream waters to their surrounding watersheds as a research hydrologist with the U.S. Geological Survey (USGS). Bencala's studies have left lasting impacts by bringing dynamic modeling to the analysis of rigorous process-based experimentation in the natural environment and by furthering the understanding of the role of streambeds in determining stream water chemistry. Bencala was elected a Fellow of the American Geophysical Union and is the co-author of 59 articles in peer-reviewed journals, seven book chapters and 11 USGS agency reports. Two of his publications have been selected for reprinting in the International Association of Hydrological Sciences series "Benchmark Papers in Hydrology." Bencala has mentored several PhD students and served as co-editor of the authoritative hydrologic sciences journal Water Resources Research.
Peter Paterno '72 is a partner at King, Holmes, Paterno & Soriano, LLP and has nurtured the careers of dozens of multiplatinum recording artists. Paterno's clients include Dr. Dre, Metallica, Van Morrison, Alice In Chains, Linda Ronstadt, Jared Leto, Roddy Ricch and Alanis Morissette, just to name a few. He is an HMC mathematics graduate (with distinction), has an M.A. in mathematics from the University of Hawaii and earned his J.D. from UCLA in 1976. In 1990, Paterno was the first president of Hollywood Records and helped start the company, reporting directly to then-CEO Michael Eisner. Due to his extensive experience in copyright and trademark law, tax planning in the entertainment industry, litigation management and live theater production, Paterno has been involved in the formation, purchase and sale of numerous entertainment companies. His honors include Billboard's Top Music Lawyers List, being named a Super Lawyer for Super Lawyers Magazine and receiving the 2023 Entertainment Law Initiative Service Award for advancing and supporting the music community.
Jefferson Tilley '68 has spent his entire professional career in the pharmaceutical field with his most recent position as president of TChem Consulting, LLC. Tilley discovered Dorzagliatin, a first-in-class drug for the treatment of diabetes and Resmetirom, another first-in-class drug for the treatment of fatty liver disease, which is currently in late-stage clinical trials in the U.S. Tilley served several years as an adjunct professor of chemistry at Fairley Dickenson University where he developed and taught a course on medicinal chemistry. He is a fellow of the American Chemical Society, recipient of the North Jersey ACS Lifetime Achievement Award and has approximately 60 patents and 80 publications.

Fred Streitz '83 earned his M.A. and PhD in physics from Johns Hopkins and serves as the deputy associate director for strategic partnerships in the computing directorate at Lawrence Livermore National Laboratory. Before his current assignment, Streitz worked in Washington, D.C. helping to create the artificial intelligence office in the Department of Energy as a department liaison to the data element of the COVID-19 Task Force and as a senior advisor in the Centers for Disease Control and Prevention in the newly formed Center for Forecasting and Outbreak Analytics. While at the CDC, Streitz provided technical assistance on the planning, development and execution of strategies for state-of-the-art modeling and forecasting tools. Streitz is a fellow of the American Physical Society, a two-time winner of the Institute of Electrical and Electronics Engineers' Gordon Bell Prize for outstanding achievement in high-performance computing and a two-time recipient of a special recognition award from the secretary of energy.
Honorary Alumna & Lifetime Recognition Awards
Recipients recognized as Honorary Alumni are afforded all rights and privileges that pertain to HMC alumni. They are longstanding friends of HMC, its students and alumni, and have contributed significantly to the College's betterment. The Lifetime Recognition Award honors outstanding dedication to Harvey Mudd College.
Howard Deshong III '89, P22, the recipient of a Lifetime Recognition award, is a managing partner and founding member of Galileo Partners, a single-family office based in Los Angeles. He serves on the boards of several nonprofits, including The Annenberg Foundation Trust at Sunnylands and the Annenberg School for Communication Trust at the University of Southern California and on the boards of two private technology companies, OWL ESG, Inc. and Marine Learning Systems. Deshong earned a B.S. in physics from HMC, an M.A. in law and diplomacy and PhD in counter-terrorism policy from The Fletcher School at Tufts University. Deshong worked on defense-related issues at the RAND Corporation for six years followed by three years at a nonpartisan Congressional agency. He then entered the private sector, joining Oppenheimer Investment Advisers in 2001. He left that firm to help start Bristlecone Value Partners in 2004 and founded Galileo Partners in 2007.
Kerry Karukstis has served Harvey Mudd College for over 35 years. Her years of service have included chemistry department chair, chair of the faculty and faculty representative to the board of trustees. She has mentored more than 130 undergraduate research students (over 70% female); more than 65% have earned a PhD in chemistry and 90% have earned advanced degrees. She received the American Chemical Society Award for Research at an Undergraduate Institution, which recognizes Karukstis' participation as an undergraduate research mentor and her active engagement in the undergraduate research enterprise at the national level through her involvement with the Council on Undergraduate Research since 1993. She has conducted student-faculty collaborative research with external funding provided by the National Science Foundation, the National Institutes of Health, the American Chemical Society Petroleum Research Fund, Research Corporation, the Camille and Henry Dreyfus Foundation and the Jonsson Foundation. Through her National Science Foundation work with CUR and fellow PIs, she assisted over 200 institutions across the country in the process of institutionalizing undergraduate research, scaffolding the elements of undergraduate research throughout the curriculum and understanding the factors necessary for transformative organizational and cultural change. In 2003, Karukstis received the Henry T. Mudd Prize for extraordinary service to the College, and, this year, she received the both the Honorary Alumni and Lifetime Recognition awards.
President Maria Klawe received the Lifetime Recognition Award. She began her tenure as Harvey Mudd College's fifth president in 2006. A renowned computer scientist and scholar, she is the first woman to lead the College since its founding in 1955. She has made significant research contributions in several areas of mathematics and computer science, including functional analysis, discrete mathematics, theoretical computer science, human-computer interaction, gender issues in information technology, and interactive-multimedia for mathematics education. Read the spring 2023 Mudd Magazine article highlighting her many accomplishments at HMC and beyond.