Industrial-Academic Collaboration Yields New Chemistry Teaching Lab
October 25, 2022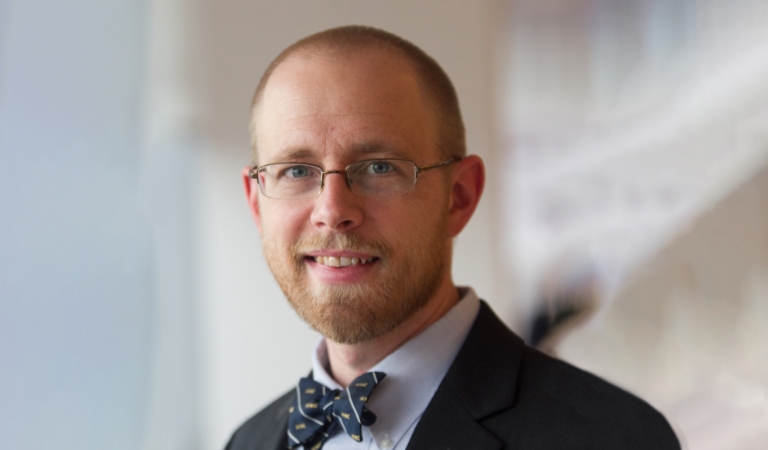 In 2019, Harvey Mudd College chemistry professor David Vosburg read about a rapid and mild method of amide bond formation, one of the most important reactions in pharmaceutical synthetic chemistry. Vosburg wondered, could the experiment be scaled for use in his lab at the College?
At a conference that year, Vosburg met the author of the award-winning paper, Dr. Gregory Beutner, a process chemist at Bristol Myers Squibb who headed the team that discovered the new method. The scholars discussed collaborating on translating the large-scale, industrial chemistry into a small-scale teaching lab. Beutner enthusiastically agreed and the two, along with HMC students Oliver Baldwin '21 and Lindy Conrad-Marut '21, formed an industrial-academic partnership to develop a new organic chemistry teaching lab experiment for undergraduates at Harvey Mudd.
"Shortly before the coronavirus pandemic hit, Oliver and Lindy identified two good target molecules that are structurally very similar to an anticancer compound, an antihypertensive drug and a Parkinson's drug," says Vosburg. "They optimized the one-step synthesis of these compounds at room temperature under mild conditions and with very little waste generated. Our procedure uses a biorenewable starting material and avoids the toxic solvents, highly corrosive chemicals and skin-sensitizing coupling agents that are typically used to make amide bonds."
The pandemic delayed their plans to implement the experiment for in-person labs, but they devised a version that was suitable for remote instruction as well. The experiment has been used in organic lab courses at HMC both virtually (one semester) and in-person (for the third semester this fall).
"Students get to compare how environmentally friendly our method is compared with literature routes, both qualitatively and quantitatively," Vosburg says. "This chemistry is green and robust, and it also features rich mechanistic details of how the reaction unfolds. Students analyze their products using sophisticated instrumental techniques, including mass spectrometry, infrared spectroscopy and various forms of nuclear magnetic resonance spectroscopy."
The Vosburg team's paper about the experiment was recently published online in the Journal of Chemical Education, following research poster presentations at the American Chemical Society national meeting in March and the National Organic Symposium in June.
"Other schools are likely to adopt the experiment soon, just as they did with our recent lidocaine synthesis," Vosburg says. "Both of these new experiments were developed by HMC undergrads and feature rapid, mild, green routes to medicinally relevant molecules."
Vosburg hopes that the collaboration with Beutner inspires future academic–industrial partnerships to further chemical education and help promote the principles of green chemistry in the laboratory.