Harvey Mudd Celebrates the Classes of 2020 and 2021
April 11, 2022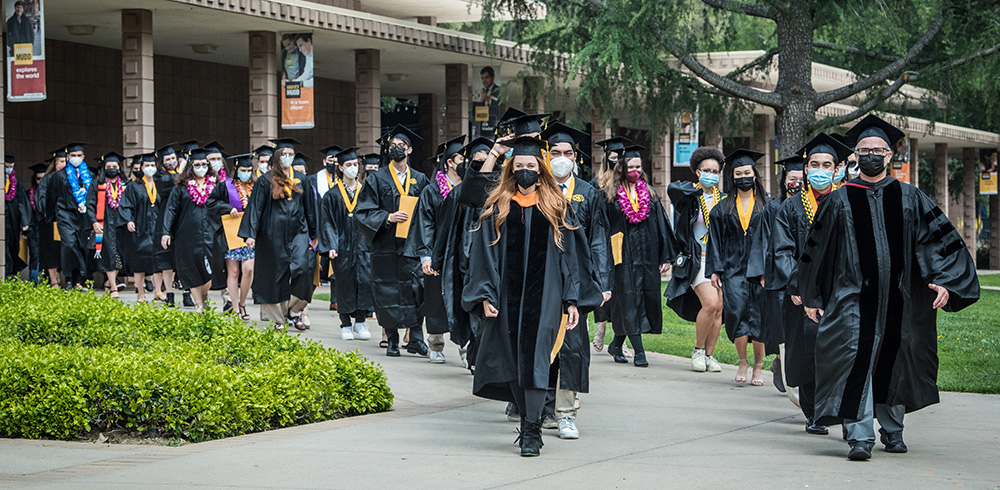 Harvey Mudd College held commencement ceremonies for the Class of 2020 and the Class of 2021 on April 2. Both classes had voted to wait until they could gather in person on campus to hold their official commencement ceremonies.
The commencement speaker for the Class of 2020 was Fei-Fei Li, Sequoia Professor in the Computer Science Department at Stanford University and co-director of Stanford's Human-Centered AI Institute. Li congratulated the graduates and thanked them for sticking with her as their speaker despite the two-year delay. She described how, amid the uncertainty and chaos of life, she found a north star in her love of physics, curiosity about computer vision and, ultimately, a desire to use her knowledge to improve peoples' lives.
"As I look at all of you today. I'm so full of hope!" Li told the graduates.
"You are the faces of incredible talent, ambition and eagerness to make a difference. And, if I know anything about Harvey Mudd, especially from the talented Mudd graduates who I have had the fortune to teach and advise in my years as a professor, I know that many of you are every bit as driven," Li said. "My wish for you is to always pursue that north star in your horizon. And remember, there's a human side to everything, whether you're an economist, theoretical physicist or a composer. It may seem like a complication—even a burden, at times—but it's also an incredible gift. And it's the only way to truly appreciate the impact your work will have on your world. Depending on your chosen profession, that impact may have global consequences."
"No matter what your north star is, don't be afraid to let its human side shine. After all, it takes so many colors to add up to the white light of a star. There's plenty of room," she said.
Djassi Julien '20 gave the Class of 2020 student keynote address. He talked about the isolation that accompanied the first pandemic stay-at-home orders in spring 2020 when students left campus mid-semester, and about how he now views unrecoverable time.
"I want to share a short excerpt from a poem by a brilliant poet and novelist named Ocean Vuong," Julien said. "In his poem titled 'Someday I'll Love Ocean Vuong' he says, 'Ocean—get up. The most beautiful part of your body is where it's headed. And remember, loneliness is still time spent with the world.'"
"I think Ocean Vuong got it right. The most meaningful parts of our lives don't live behind us; they're right now, and all of the many right nows that we have ahead of us. The birthdays, the weddings that I hope to be invited to, the destination bachelor parties (just throwing some ideas out there, Ibiza?), these are all the ways that we cannot recover the time that we lost, but honor it by not taking the time we have ahead of us for granted. So again to the Class of 2020, I offer my most heartfelt and sincere congratulations. There are a lot of memories left to be made, so let's get to it."
At the afternoon ceremony for the Class of 2021, UCLA Professor of Gender Studies and African American Studies Safiya Umoja Noble gave the commencement address. Noble is a 2021 MacArthur Fellow and also serves as the co-director of the UCLA Center for Critical Internet Inquiry. She is the author of a best-selling book on racist and sexist algorithmic bias in commercial search engines titled Algorithms of Oppression: How Search Engines Reinforce Racism.
"Commencement speakers often talk about the future—the future you will inherit, the future you will lead," Noble told the Class of 2021.
"But graduates, you are not the future. You are not the future of this country; you are not the future of this world. You graduates are the present."
"We have been taught to believe that when we are young that the moment for our impact is later," Noble said. "But the future is not later. In fact, the future is made up of an infinite number of everyday decisions, choices, thoughts and actions that we are all making right now. The future is made up of our individual decisions. It is driven by our collective choices, by our silences and even by our unwillingness to take action. It is driven by the space we take up in the world, and the space we hold on to for too long when we don't make space for others. You graduates, you must take the space to shine. We don't need your brilliance, your empathy and your ideas tomorrow, somewhere out in the distant future. We need your voices and your power now, today."
Guilherme Missaka '21 gave the student keynote for the Class of 2021. Missaka used the metaphor of eating cake to talk about life lessons learned during his time at Mudd.
"Flavor is just one of the many characteristics of a cake—some would say the most important—but it does not paint the whole picture," Missake told the graduates. "Some would argue that looks are an essential part of the cake, while some may think, texture is better. Lesson number three: There is so much more to people than just one characteristic. Cakes, like ogres, have layers. Free Shrek reference for you there."
"We are all going to start something new and try it out for a bit," he said. "With a cake, this part is easy—we always go for the bite! But it is an incredibly difficult step in life, so I urge you to experiment, responsibly of course. Take that first bite!"
Dee West '65 P92/93 welcomed the graduates of both classes into the HMC Alumni Association.
President Klawe concluded both ceremonies.
"The world has many areas that need help from Harvey Mudd College graduates, from addressing climate change and other environmental problems to social justice inequities to advances in basic science and technology," said Klawe.
"Whatever you do and wherever you go, you will take your commitment to excellence, integrity, equity and inclusion, and helping others succeed. You will pay attention to the impact of your work on society, and use your outstanding skills in communication and critical thinking to help others pay attention too. Given the increasing impact of technology in every aspect of society, the world needs graduates like you more than ever before."
View the 2020 Commencement ceremony.
View the 2021 Commencement ceremony.