Harvey Mudd Trustees Approve Spring 2022 Faculty Promotions and Tenure
February 21, 2022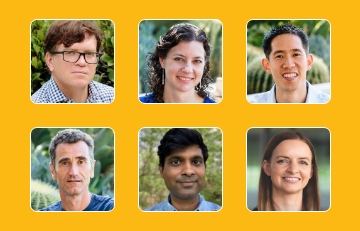 Promotions and tenure appointments for Harvey Mudd College faculty were approved by the board of trustees and will become effective July 1, 2022. Upon discussion and the recommendation of the Academic Affairs Committee, the board unanimously approved the following appointments.
Salvador Plascencia earned tenure and promotion to associate professor. He is the author of the cult favorite The People of Paper, named a best book of the year by the San Francisco Chronicle, Los Angeles Times and Financial Times. The People of Paper has been translated into a dozen languages and widely anthologized and adopted in Chicanx, postmodern, creative writing and design courses throughout the country. His writing has appeared in McSweeney's, Lucky Peach, Tin House and the Los Angeles Times. He is the recipient of the Bard Fiction Prize and a Moseley Fellowship.
Danae Schulz earned tenure and promotion to associate professor. In 2021, she was awarded a Faculty Early Career Development grant from the National Science Foundation for her research on the African trypanosome, a protozoan parasite that causes sleeping sickness in humans and nagana in cattle. Trypanosomes are transmitted to the bloodstream of a mammal through the bite of a tsetse fly, eventually leading to coma and death. Schulz seeks to understand what allows trypanosomes to reprogram themselves to adapt as they move between the differing environments of the fly midgut and the mammalian bloodstream, with an eye toward trying to manipulate these adaptations to generate new therapies.
Timothy Tsai earned tenure and promotion to associate professor. His research lies at the intersection of signal processing, machine learning and music. He recently received a National Science Foundation grant to develop tools to counteract the spread of false audiovisual information and to establish the reliability of true audiovisual information.
Werner Zorman, an associate professor and holder of the Walter and Leonore Annenberg Chair in Leadership, earned tenure. In addition to teaching classes on leadership, communication and team building skills, he conducts research on leadership education and facilitates leadership development among students, faculty and staff.
Approved for second two-year appointment
Anup Gampa (assistant professor of psychology) studies critical social psychology and the relationships between individuals' psychologies and structures—such as capitalism, racism or social movements—that they are a part of.
Heather Zinn-Brooks (assistant professor of mathematics) specializes in mathematical modeling of complex systems. She uses analytical and computational techniques to study phenomena in social and biological applications.