Ken Stevens '61, Scorer of Stags First Touchdown, Named to CMS Athletics Hall of Fame
September 15, 2021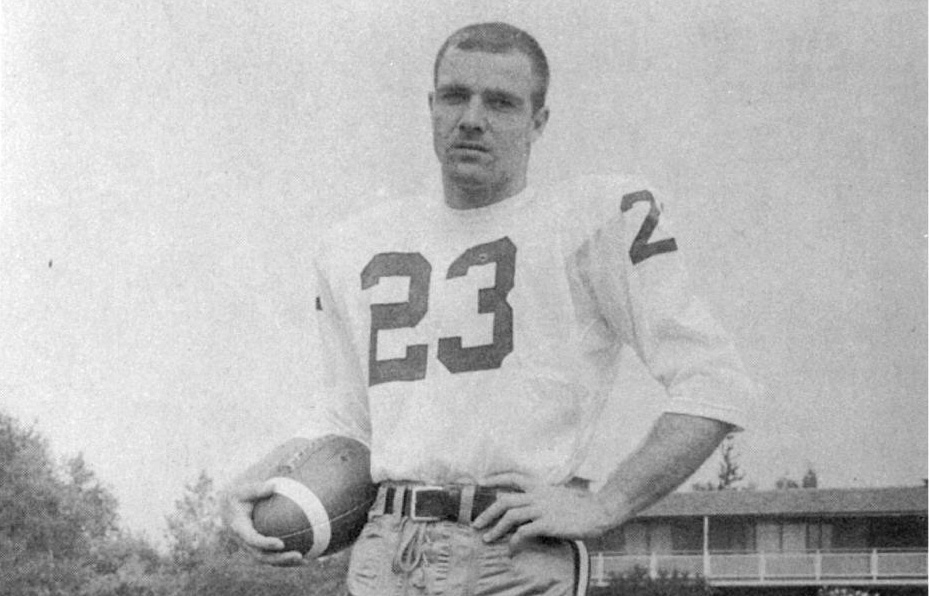 The Claremont-Mudd-Scripps Athletics Alumni Association Hall of Fame has announced its Class of 2022, consisting of 13 Athenas and Stags. The roster includes Harvey Mudd College Founding Class member Kenneth D. Stevens '61, a respected leader and running back and kicker for the first and only tri-college (Pomona/CMC/HMC) freshman football team, which preceded the CMC/HMC Stags athletic team.
Stevens, who is being inducted into the Hall of Fame posthumously (having passed away in 2016), joined the freshman football team as one of three Harvey Mudd students in 1957. His leadership, hard running and fierce tackling won the respect of his teammates as a key contributor on offense, defense and special teams. He was voted as the team's game captain several times in each of his three varsity seasons. Stevens holds the distinction of scoring the first-ever Stags touchdown, a 15-yard run versus Chino Institute in that inaugural season of 1958. That year, he was named to the Chemical and Engineering News All-America honor roll.
In 1960, Stevens provided the margin of victory in the Stags' first-ever win over Pomona, scoring a touchdown and kicking 2 PATs (points after touchdown) in a hard fought 14–12 Stags win. He played both offense and defense in addition to kicking. Being a new team in the SCIAC, the Stags were not recognized with an All-Conference selection until 1960. That year, Stevens, along with teammate Vern Eppley CMC '61, became the first CHM Stags selected to the SCIAC All Conference Team and was named most valuable player in his senior year.
"In a year that we are celebrating our 'Great Moments from 75 Year of Athletics,' we couldn't be more thrilled to welcome these 13 Athenas and Stags to the CMS Hall of Fame. It is an incredible class filled with team captains, NCAA and SCIAC Champions, SCIAC Athlete of the Year honorees and All-Americans," said Erica Perkins Jasper, CMS Director of Athletics, Physical Education and Recreation.
One of the first student dorm proctors, Stevens (chemistry) went on to the University of Washington (PhD, physical organic chemistry, 1966), completed a postdoctoral fellowship at Brookhaven National Laboratory in New York (1966–1967) and served as assistant professor of chemistry at Harvey Mudd from 1967 to 1969. During that time, he took a class in ceramics at Scripps College that was to change his life forever. He became an MFA student at the University of Puget Sound, then, when a science faculty member became ill, he was called upon to teach chemistry as lecturer and, eventually, became a full-time, assistant professor of chemistry. In 1971–1972, he became assistant professor of art after earning his MFA in ceramics. Over the subsequent 30 years, until his retirement in 2001, Stevens served in a variety of roles, including as chair of the department of art. His professional affiliations included the American Crafts Council, the National Council for Education in the Ceramic Arts, the College Art Association and Tacoma Art Museum.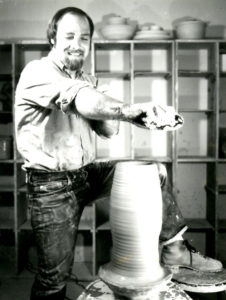 Known for his work with porcelain, Stevens accumulated an extensive list of shows to his credit and was one of the members of a group of Tacoma clay artists known as "Club Mud." Internationally renowned for his work, he was selected to be a Monbusho Fellow (Japanese Ministry of Education Fellow) and researched ceramics in Japan, where he enjoyed "Honored Artist" status. Stevens' work and that of his students was featured in several exhibitions, and he appeared in the December 2001 issue of Ceramics Monthly. To celebrate his love of the arts, the Ken Stevens '61 Founding Class Concert Series was created at Harvey Mudd College.
During the 2021¬–2022 academic year, Claremont-Mudd-Scripps athletics is celebrating its "Great Moments from 75 Years of Athletics." Honoring former athletes through the CMS Athletics Alumni Association Hall of Fame is part of the yearlong celebration.
Read more about Ken Stevens in Dwell magazine.