HMC Homework Hotline Reopens Sept. 7
September 7, 2021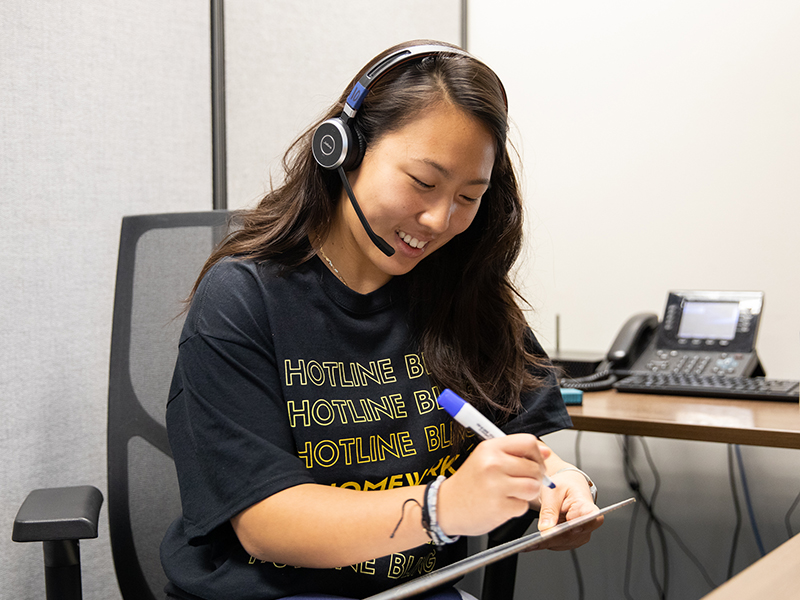 Harvey Mudd College's Homework Hotline (1.877.827.5462) reopens Sept. 7 to provide science and math help for students in grades 4 through 12.
The free, over-the-phone tutoring service, now in its 11th year, is staffed by 36 student tutors who take calls Monday through Thursday, 6 to 9 p.m. During the 2020–2021 academic year, Homework Hotline was staffed by Rose-Hulman Institute of Technology Homework Helpline workers in partnership with HMC, whose student mentors were not on campus. Now HMC students are thrilled to be back in their campus calling center, says Gabriela Gamiz, director of community engagement.
"There's real excitement about having Homework Hotline back on campus," says Gamiz. "Hearing the tutoring sessions taking place creates a special community and incredible energy."
A $135,000 anonymous contribution received in February 2021 allowed the College to fully staff the hotline with Harvey Mudd students for the 2021–2022 academic year. In addition to securing long-term funding, Gamiz is exploring options for new tutoring platforms and working with student callers to help the program become more efficient and extend its reach.
The Hotline is staffed by high-achieving students from Harvey Mudd, one of the nation's top undergraduate colleges specializing in science, technology, engineering and mathematics. Hotline tutors receive training to effectively communicate with callers, are equipped with books and materials from local school districts and have a Dropbox link so callers can upload materials if necessary. Tutors average 3,000 calls per academic year. The majority of calls to the hotline come from students in junior high and high school, with over 60 percent of callers requesting help in trigonometry, geometry or algebra.
Homework Hotline primarily serves the Greater Los Angeles area but is open to all who have math or science homework questions.