Harvey Mudd Chemistry Student Wins Cancer Research Award
May 18, 2018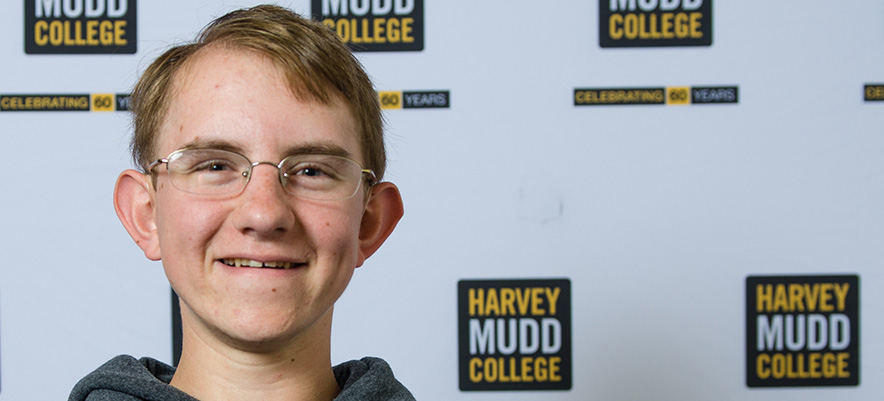 Althea Theodora D. Hansel, a chemistry major at Harvey Mudd College, has won the 2018–2019 American Association for Cancer Research (AACR) Undergraduate Scholar Award.
Hansel is one of 10 college students chosen from the U.S., Canada and Puerto Rico to win the award. They received complimentary registration and a $1,500 stipend each year to support participation this year and next in AACR Annual Meetings, one of the largest conferences for cancer researchers. The remainder of the award can be used for related school projects or science events.
Established by AACR member Thomas J. Bardos, the award for full-time, third-year undergraduate students majoring in science aims to inspire science students to enter the field of cancer research.
Interest in the field is personal: Hansel was diagnosed with cancer at age 3.
"I had stage four neuroblastoma, which is termed high-risk neuroblastoma," Hansel says. "At that time, the five-year survival rate was 30 to 40 percent. It's been almost 17 years for me with no evidence of disease now, and the long-term survival rate is about 40 to 50 percent. So, we really haven't made as much of an improvement in the two decades since I was sick as we might hope. My personal goal after Mudd is to do an M.D./PhD and then become a pediatric oncologist and a physician/scientist, then use my experiences as a cancer survivor to help children who are still fighting cancer."
Hansel has been focused on this goal since high school when they began working in the research lab of Dr. Yael Mossé, one of their doctors. "She really inspired my passion for research and love of science and my desire to really train myself as a scientist, in addition to wanting to become a doctor," Hansel says. At Harvey Mudd, Hansel has done research on campus with chemistry professor Mary Van Vleet '12, learning the fundamental physics of intermolecular interactions and the tools of scientific computing and molecular modeling. During summers at the University of California San Francisco, Hansel tested different treatments for neuroblastoma with Dr. Clay Gustafson and studied "cancer more generally" with Dr. William A. Weiss. Hansel will return to Gustafson's lab this summer on a grant from the St. Baldrick's Foundation.
Being able to attend AACR conferences that are now supported by his award is icing on the cake for Hansel. At the conference in April, Hansel met up again with Mossé, whom they hadn't seen in three years, and got a sense of what is happening in the field of cancer research, "what the really cutting-edge research is in pediatric oncology, which is what I'm most interested in."
In addition to scholarly activities, Hansel is a student leader on campus. Hansel is a Drinkward Residence Hall mentor and proctor, a member of the Honor Code Committee, a tenor in the Claremont Chamber choir and membership vice president of Science Bus. Hansel received the HMC chemistry department's William G. Sly Prize, which honors a junior chemist who exemplifies curiosity, intellectual integrity and enthusiasm.
Founded in 1907, the American Association for Cancer Research is dedicated to promoting the education and training of the next generation of able and dedicated scientists and to facilitating and nurturing their careers in cancer research and cancer-related biomedical science.