Klawe Receives Epiphany Science Inspiration Award
May 7, 2018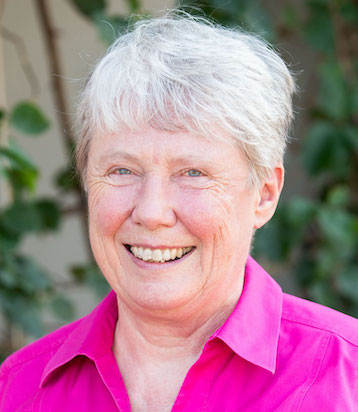 Harvey Mudd College President Maria Klawe has received the 2018 Epiphany Science Inspiration Award, which recognizes educators whose leadership has inspired significant change in science aspirations and achievements. Klawe is being honored for her work to promote increased diversity in computer science.
The Science Inspiration Award is one of four inaugural Epiphany Awards given by the Novim Group, a nonprofit founded at the Kavli Institute for Theoretical Physics at University of California Santa Barbara. Novim Group's mission is to "bring science into the discussion of controversial subjects, without advocacy."
The Epiphany Science Awareness Award honors Alan Alda, cofounder and advisory board member of StonyBrook University's Alan Alda Center for Communicating Science. The Epiphany Science Courage Award recipient is John P.A. Ioannidis, M.D., DSc, of Stanford University, an internationally recognized leader in assessing biases, replication and reliability in research findings in biomedicine and beyond. The Epiphany Science and Society Award honors Byron Reeves, director of Stanford's Center for the Study of Language and Information and co-director of the H-STAR Institute (Human Sciences and Technologies Advanced Research).
The Epiphany Awards program, funded with help from longtime Christian Science Monitor reporter Alexandra Jane Noble, was established to honor efforts to communicate complex science topics in innovative, engaging ways to stimulate a better understanding of scientific issues in the general populace, particularly among young adults and policy makers.
Klawe began her tenure as Harvey Mudd College's fifth president in 2006. A renowned computer scientist and scholar, she is the first woman to lead the College since its founding in 1955. She has made significant research contributions in several areas of mathematics and computer science, including functional analysis, discrete mathematics, theoretical computer science, human-computer interaction, gender issues in information technology and interactive-multimedia for mathematics education. Her current research focuses on discrete mathematics.
Klawe is the recipient of the 2014 Women of Vision ABIE Award for Leadership and was ranked 17 on Fortune magazine's 2014 list of the World's 50 Greatest Leaders. In 2015 she was honored with the Lifetime Achievement Award from the Canadian Association of Computer Science and the Achievement Award from the American Association of University Women, and she was inducted into the U.S. News STEM Solutions Leadership Hall of Fame. She received the Computing Research Association's 2016 Distinguished Service Award and the Carnegie Corporation's 2017 Academic Leadership Award.
The 2018 Epiphany Awards will be presented at a May 7 ceremony at Stanford University by Novim Group founder Michael Ditmore.