HMC Students Compete in Health Hackathon
December 12, 2017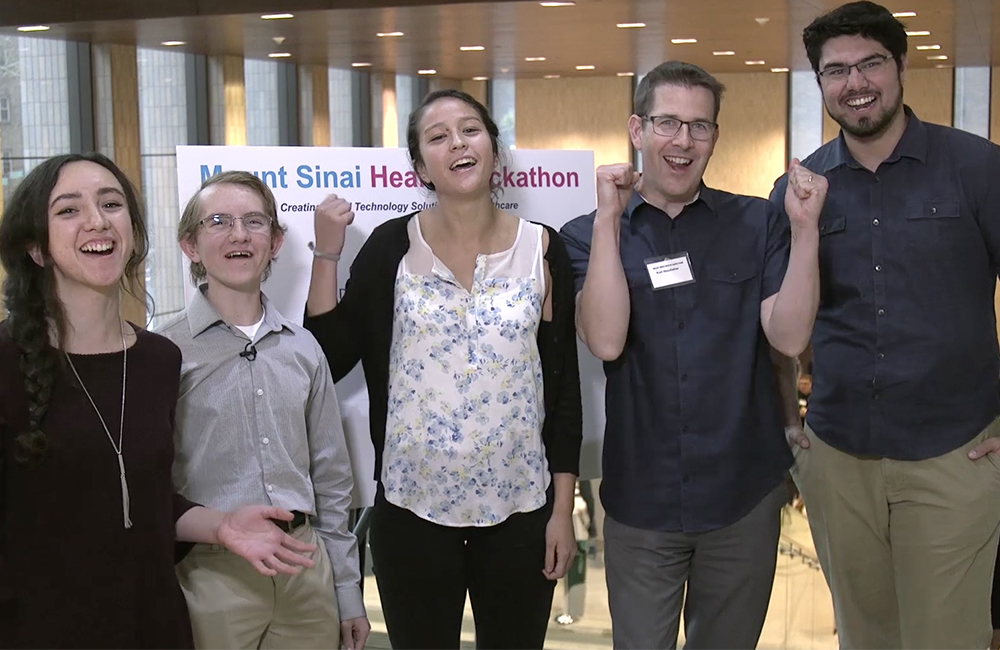 Four Harvey Mudd College students and one stuffed animal competed in the second annual Mount Sinai Health Hackathon in October. The teddy bear was the team's answer to the cancer-themed challenge to create a novel technology solution for a problem in healthcare.
The students, accompanied by biology and chemistry professor Karl Haushalter, the team's faculty advisor, were among a handful of undergrads among a mix of physicians, scientists (PhDs and post-docs), engineers, IT professionals and business people participating in the 48-hour multidisciplinary competition. When Ronak Bhatia '19, Dominque Mena '19, Theo Hansel '19 and Michelle Lanterman '18 arrived in New York to compete in the Health Hackathon, they knew the theme of the challenge was cancer, but that was all the information they had. By the end of the competition, the team had developed the idea and a prototype for the TeddyTracker, a stuffed animal for pediatric cancer patients that is wired with sensors to detect stress, like when the child is squeezing hard or rocking forcefully. 
"To stimulate thinking by the teams, the event began with several short talks by clinicians, scientists and innovators," says Haushalter. After that, the entire project was conceived and executed during the hackathon.  
"This was a group effort," says Bhatia, an engineering major. "The team had a poster board with various Post-it notes that covered different design ideas, objectives and constraints. Our team would come up with ideas, create a Post-it, and stick it on the poster board. Eventually, after doing this several times, the team consulted with each other about how enthused everyone was about the idea and if it was technically feasible."
Because the team was made up of engineering majors (Bhatia, Mena and Lanterman) and a chemistry major (Hansel), the students wanted a project that fit their skillset. "Our team didn't want a project that involved too much coding if any at all," says Bhatia. "Eventually, after consulting with the group, we all found something to do for the TeddyTracker."
Ultimately, the team didn't end up as a finalist in the competition, but that didn't diminish the accomplishment. "Even though the students did not win the cash prize, the faculty members at Mount Sinai were incredibly impressed with their project," says Haushalter. "By far, their project was the most advanced in terms of implementation and technical savvy. Most of the other projects that were presented did not yet have working prototypes, they just had some mockups that explained the idea. Our team actually had a working prototype that had functionality."
  
The team brought the TeddyTracker back to Harvey Mudd—it resides in Bhatia's dorm room— and are considering keeping the project going.
"I had an amazing time," says Bhatia. "I really want to do hackathons again, and I felt really empowered about all that I learned at Mudd to accomplish what I did with everyone."