Pioneer in Sustainable Solutions to Keynote Hixon Conference
September 23, 2016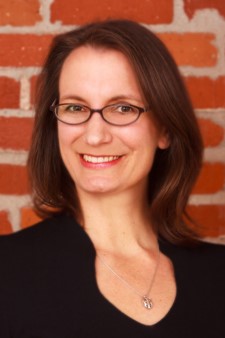 Amanda Sabicer, partner and board member of one of the leading cleantech incubators in the world, is eager to leverage the strengths of the Los Angeles region to help companies deliver market-ready, cleantech solutions "and the jobs that come with them," she says.
Sabicer, the keynote speaker at the Oct. 8 Conference for Sustainable Design and Solutions hosted by the Hixon Center for Sustainable Environmental Design at Harvey Mudd College, is one of the entrepreneurs leading the Los Angeles Cleantech Incubator (LACI), a non-profit, public/private partnership that has assisted over 40 companies, raised more than $60 million and created over 800 jobs. The organization is helping Los Angeles grow its green investment portfolio and is establishing the city as the national leader in green job creation.
A former sales and marketing executive for Amgen, Sabicer devoted her early career to helping low-income New Yorkers overcome barriers to employment and obtain living-wage jobs through workforce development. In recent years, she has turned her focus to strategy and development for mission-driven organizations. As director of development at LACI and partner/board member of Social Venture Partners Los Angeles, a venture philanthropy organization, she combines her passion for economic development with her interest in innovation and entrepreneurship, and she'll describe this work in her keynote remarks at Harvey Mudd beginning at 8:30 a.m.
Sabicer, a graduate of Pomona College (politics) and UCLA's Anderson School of Management (MBA), joins more than a dozen entrepreneurs and sustainability experts scheduled to speak at the Hixon Center's first biennial conference, which takes place from 8 a.m. to 5 p.m. in the R. Michael Shanahan Center for Teaching and Learning on the Harvey Mudd campus. The gathering is designed to raise awareness regarding environmental sustainability issues and to focus on the methods and processes that create sustainability solutions.
Morning presentations will feature such varied topics as Sierra Nevada Brewing Co.'s successful sustainability program, how to engage undergraduates with sustainability concepts, environmental justice and water policy during a drought and the development of a surface trawl to monitor marine plastics.
Two panels—one on urban design in the morning and another on water infrastructure in the afternoon—feature local and national environmental experts, including Devon Hartman, retired co-founder/CEO of HartmanBaldwin Design/Build, Inc., recipient of the 2015 Linda Wigington Visionary Leadership Award and executive director of the Community Home Energy Retrofit Project, Inc.
A poster session and skill-building workshops (reducing food waste, composting and leadership) round out the afternoon.
Discounted rates are $15 for HMC students, faculty and staff and $20 for other Claremont Consortium members; student scholarships are available. The rate for the general public is $30. Rates increase after Sept. 30, so early registration is encouraged.