Mudder Honored for Dominant Defense
December 8, 2015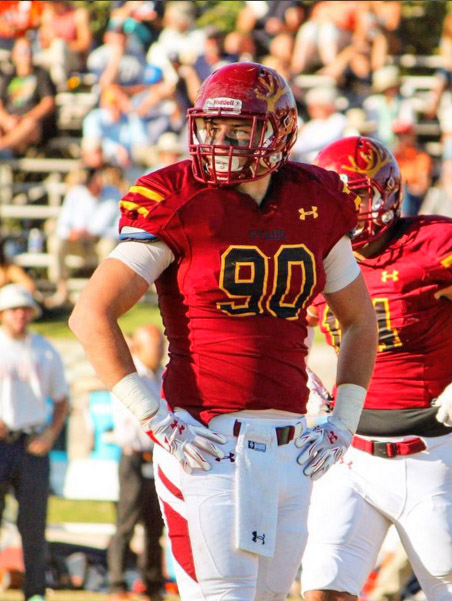 Harvey Mudd College junior and Claremont-Mudd-Scripps nose guard Paul Slaats has been given the Southern California Intercollegiate Athletic Conference (SCIAC) Defensive Athlete of the Year award for Division III football.
For the 2015 season, the Stags led the conference in points allowed per game (21.9), rushing yards allowed per game (105.8) and interceptions (17). Slaats captained the defensive line with 46 tackles on the season and led the team with 7.5 "tackles for loss," setting opponents back 14 yards. This is Slaats' second All-SCIAC award after a previous First Team selection in 2014, during which Slaats started all nine games and tallied 32 tackles, one sack and one fumble recovery.
Justin Luthey, CMS football defensive line coach, calls Slaats the most hardworking, dedicated and compassionate player he's ever coached.
"He has held himself to a standard of excellence and was never satisfied with his performance, " says Luthey. "There wasn't a play in any practice or game that he took off, and he was always hungry to improve. He was dedicated in his off-season training and to his role in our defense fully."
Luthey says Slaats was so dominant against opposing offensive lines, in fact, that teams rarely, if ever, tried to run the ball between the tackles.
"He was the cog that our defense revolved around, and [he] wreaked havoc on opponents' game plans," says Luthey.
Defensive coordinator Mark Odin notes that Slaats' strength, intelligence and dedication make him a natural leader on the defensive line.
"The success of our defense is predicated on how well he does at his position," says Odin. "He is consistently asking ways that he can master his craft. His athletic ability, understanding of our defensive structure, physicality and work ethic are solid foundations that allow him to continue to succeed and are also contagious to our team."
Head coach Kyle Sweeney calls Slaats an "excellent teammate" and says that he's been instrumental in helping to recruit more football players to Harvey Mudd College.
"Paul has worked very hard to make himself a better football player and really is the focal point in the middle of our defense," says Sweeney. "Over the past two years, we have been very difficult to run the football against. A lot of that starts with Paul in the middle."
Sweeney adds that, while their defensive schemes don't always lend themselves to Slaats "putting up big statistics," his impact is "huge."
"We expect big things from Paul as a senior," says Sweeney.
In addition to earning SCIAC Defensive Player of the Year, the junior team captain was also one of just 77 players named to D3Football.com's 2015 All-West Region Team, chosen from 249 nominations by all Division III member schools.
On the academic side, the engineering major with a concentration in economics has undertaken several internships during his time at the College, most recently working with alumnus Olivier Chaine '95 performing data analytics and software development in the field of landing page optimization. He credits engineering professors Kash Gokli, Gordon Krauss and Albert Dato, as well as Professor of Economics Gary Evans, with encouraging him in his academic pursuits. Slaats aspires to work as an entrepreneur and eventually start his own business incorporating technology and finance.
Slaats has also been a strong advocate for student-athletes struggling for work-life balance. His involvement with the Student Athletic Advisory Committee (SAAC) for Claremont-Mudd-Scripps has taken him to conferences to discuss NCAA regulations for SCIAC and their impact on students. Slaats works with other Harvey Mudd students-athletes—including fellow juniors Kelly McConnell (soccer) and Rachel Mow (cross country)—to foster dialogue on improving the student-athlete experience at Mudd. He has given tours and hosted prospective students-athletes from all sports and has served as a dorm athletic representative.
"More impressive than his on-the-field successes is the young man I have seen him grow into," says Luthey. "He is a strong Christian, great leader and dedicated student. I count myself very thankful that I have the opportunity to coach such a fine young man, and I am very excited to see where his journey in life takes him."