$25 Million Gift Establishes Center for Creativity and Collaboration for the 5Cs
September 10, 2015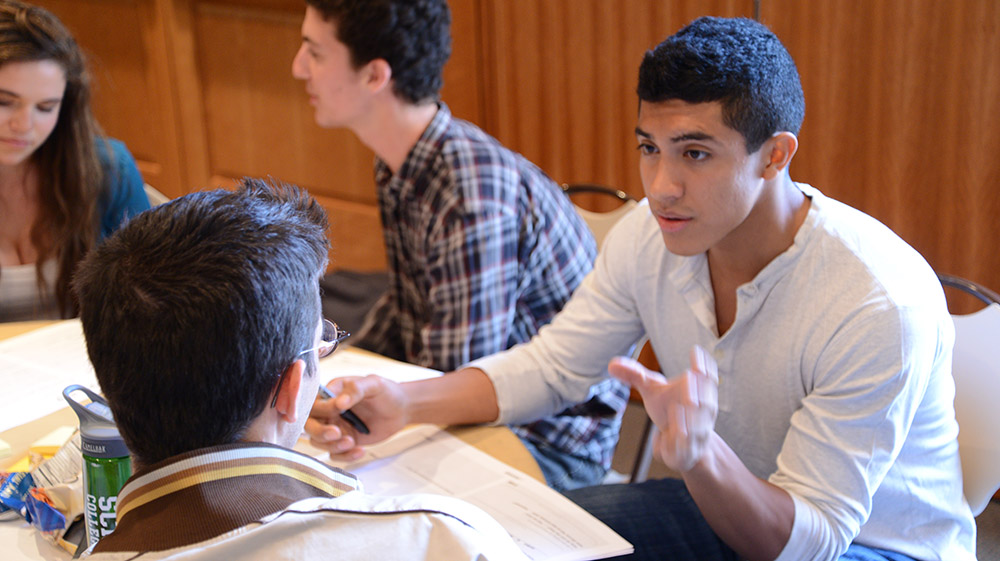 "The challenges we face today call for audacious thinkers and doers who can work collaboratively and creatively across disciplines." —Rick Sontag (HMC '64)
In making a $25 million gift that will benefit the five undergraduate campuses of The Claremont Colleges, Rick and Susan Sontag hope to help some of the nation's most talented students harness their creative potential to make a difference in the world.
As the fall semester begins, Pomona, Scripps, Claremont McKenna, Harvey Mudd and Pitzer colleges have joined forces to establish the Rick and Susan Sontag Center for Collaborative Creativity. Initially housed in Seeley G. Mudd Hall on the Pomona College campus, the center is an innovative setting where students from the five liberal arts colleges—known collectively as the 5Cs—can work in creative teams, be intellectually daring, mix things up and think with their hands (or feet).
This landmark gift from Rick and Susan Sontag—1964 graduates of Harvey Mudd College and Pomona College, respectively—will provide the new center with both operating expenses for its early years and endowment support to ensure its longevity.
Already nicknamed "The Hive," for the buzz of creative thought and collaborative activity it is designed to foster, the center offers students the opportunity to join in everything from drop-in sessions and unstructured brainstorming to one-hour workshops and course-based activities, with a variety of learning options in between. The center's stated purpose is to accelerate the creative development of students and to equip them to work collaboratively to address the future's most ambiguous problems and complex challenges.
"The challenges we face today call for audacious thinkers and doers who can work collaboratively and creatively across disciplines," explained Rick Sontag. "We expect the center will encourage students to navigate change, pull together knowledge from a vast range of sources and have a meaningful impact on difficult problems with no clear solutions."
"There is no better home for this dynamic resource than The Claremont Colleges. Each of the colleges is very distinctive in its approach to liberal arts education within its own unique culture," said Maria Klawe, president of Harvey Mudd College. "The opportunity to bring undergraduate students and faculty with very different interests and backgrounds together is the embodiment of the type of creative fusion that generates discovery and solutions."
The opening of the new center is the culmination of a yearlong effort involving students, faculty and staff of the 5Cs in exploring new approaches to creative collaboration. Last year, students from every campus had the opportunity to take part in experimental offerings ranging from a tutorial on micro-controllers to pop-up workshops on such subjects as communication through drawing and prototype development. Newly created grants provided faculty with the resources to supplement existing courses with hands-on approaches to collaborative learning and to develop innovative classes that cut across traditional disciplinary boundaries.
A focus on undergraduate education and an emphasis on encouraging collaborative creativity—an acknowledgement that our greatest challenges will require leaders to be audacious thinkers and doers, both as individuals and as part of diverse collectives—distinguish the Sontag Center across American higher education.
Pomona College Associate Professor of Physics Dwight Whitaker and Harvey Mudd Professor of Engineering Patrick Little have been named co-directors of the center while a national search for a permanent director takes place. The presidents and deans of the five colleges will manage and oversee the initiative.
"We are enthusiastic about developing ways to engage a wide variety of potential participants," Whitaker said. "Anyone who wants to participate should be able to find a way to easily plug in—the history major should feel as much a part of this as the engineer, artist, entrepreneur and activist. We look forward to working with all who are interested."
For the Sontags, this gift is the continuation of a long history of supporting their alma maters and The Claremont Colleges as a whole. They have spent a lifetime building successful businesses and actively supporting education and medical research. Their giving to The Claremont Colleges includes naming gifts to LEED-awarded residence halls on both the Pomona and Harvey Mudd campuses, as well as significant gifts to expand undergraduate research. Rick is also an emeritus trustee at Harvey Mudd College.
Rick's uncle, Frederick Sontag, was a much beloved professor at Pomona College, where he taught philosophy for more than 50 years.
The announcement of the new center bearing their names was released on Sept. 10, 2015, the couple's 50th wedding anniversary.