Metallic Alloys Research Earns Best of Show from TMS
April 28, 2015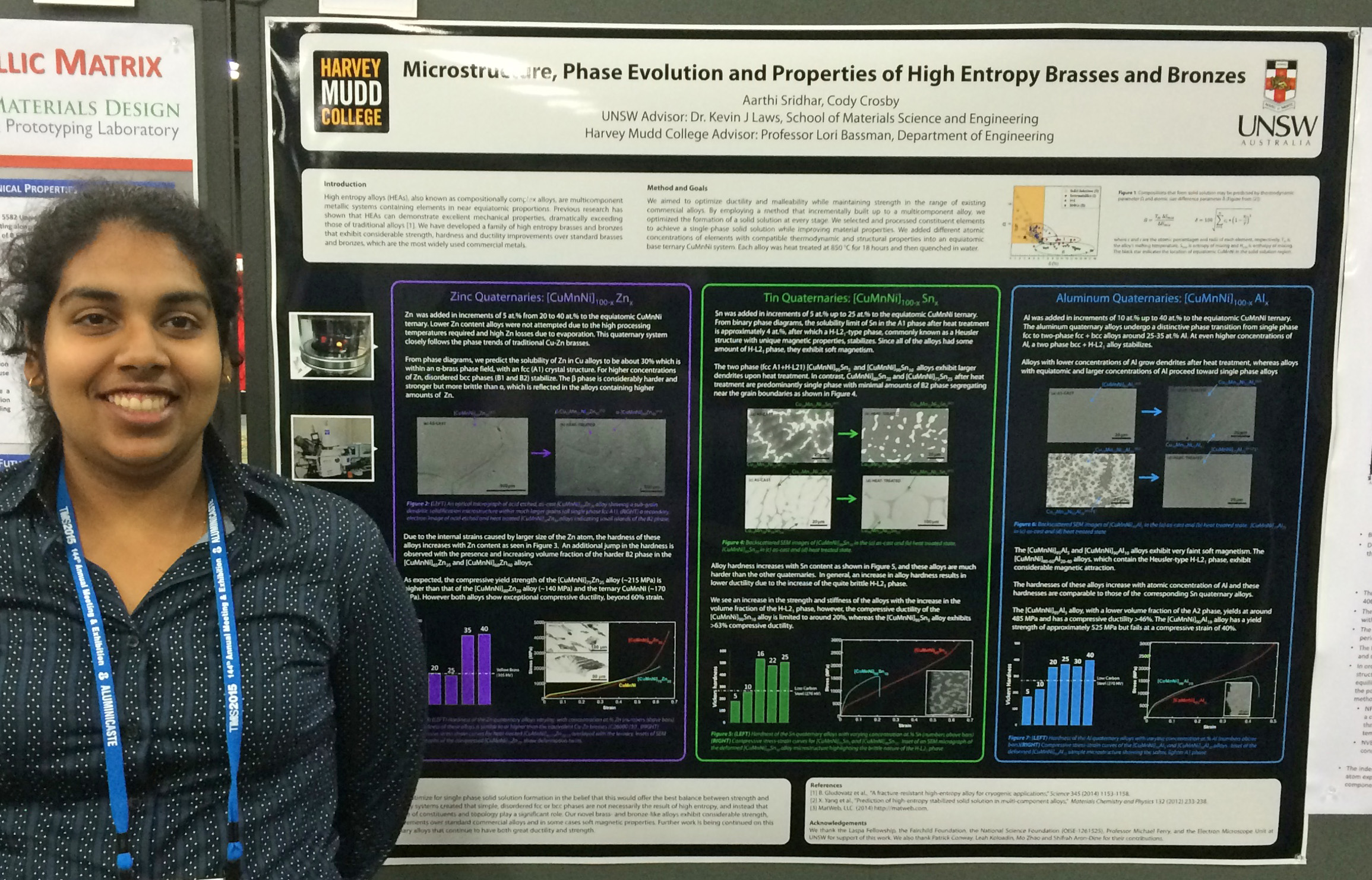 Harvey Mudd College engineering students earned Best of Show honors recently at a major international materials conference for their development of novel metallic alloys.
The team was recognized for its poster, "Microstructure, Phase Evolution and Properties of High Entropy Brasses and Bronzes," presented by Aarthi Sridhar '15 at the Minerals, Metals & Materials Society (TMS) 2015 Annual Meeting & Exhibition, March 15–19. In addition to a $500 award for the best undergraduate poster in the Structural Materials Division, the Harvey Mudd team received an additional $500 for the Best of Show award, given to the top undergraduate poster among all five technical divisions.
Lead authors Sridhar and Cody Crosby '15 spent two summers collaborating with researchers in the School of Materials Science and Engineering at the University of New South Wales (UNSW) in Australia. The students are engaged in undergraduate research with Lori Bassman, professor of engineering at Harvey Mudd, and also worked under the direction of Kevin Laws and Michael Ferry at UNSW. Mo Zhao '16 and Shifrah Aron-Dine '16 spent last summer at UNSW as well and contributed to the work, along with Patrick Conway and Leah Koloadin from UNSW.
The poster focused on the experimental part of a project to design, fabricate, characterize and model high-entropy alloys (HEAs), a new category of metals that have the potential to replace many common metals due to excellent properties that can be tailored to specific applications. Unlike traditional alloys that have one primary constituent element, HEAs, or compositionally complex alloys, have four or more metallic elements in roughly equal proportions. "High-entropy alloys have excellent potential in a vast range of applications from making lighter-weight, high-strength structures to usage in high-temperature, high-wear or corrosive environments," said Bassman, who has traveled with students to UNSW every summer since 2009.
The project is funded by a three-year, $223,438 grant from the National Science Foundation and conducted under the Harvey Mudd Jude and Eileen Laspa Fellowship in Applied Mechanics. The computational side of the project is also supported by a large allocation of supercomputing resources awarded in September 2014. Harvey Mudd is able to access The Extreme Science and Engineering Discovery Environment (XSEDE), the most powerful and robust collection of integrated advanced digital resources and supercomputing services in the world.
Last fall the Harvey Mudd-UNSW team filed an Australian provisional patent on the novel family of alloys that Sridhar presented, and they submitted a journal paper this spring.