Math Simplified Through Mime
February 18, 2015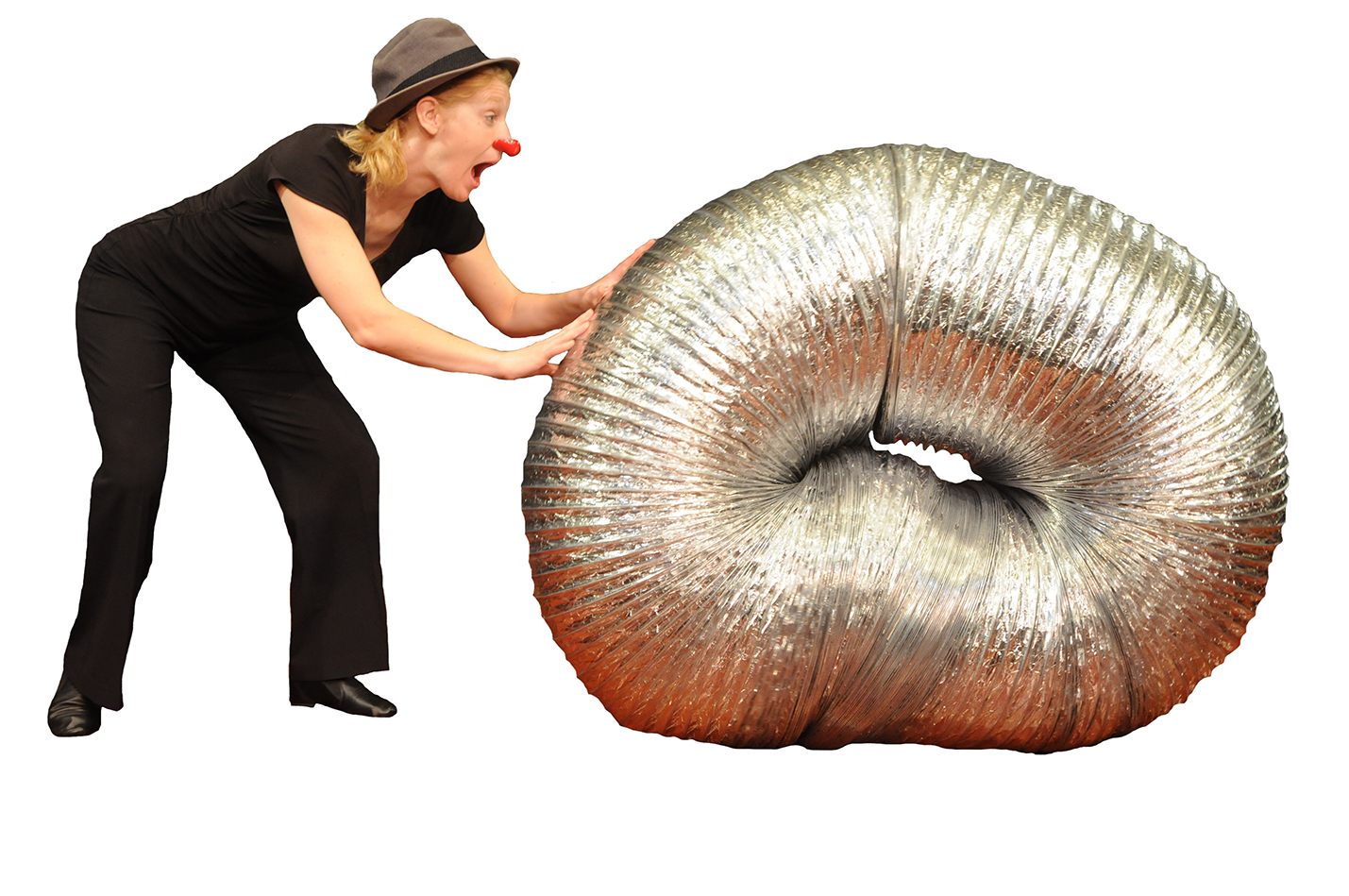 In connection with the spring Michael E. Moody Lecture, the husband-and-wife team of Tim and Tanya Chartier will present a free Mime show from 6:30 to 7:30 p.m. Thursday, March 5, in the Harvey Mudd Shanahan Center Auditorium.
In Mime-matics, the Chartiers explore mathematical ideas through the art of mime, illustrating and simplifying complex math concepts. Whether creating an illusion of an invisible wall, wearing a mask covered with geometric shapes or pulling on an invisible rope, the couple delves into math concepts such as estimation, tiling and infinity. Through Mime-matics, audiences encounter math through the entertaining style of performing artists who have performed in local, national and international settings.
Tanya Chartier has been in the field of K-12 education for 20 years. Between her undergraduate studies in English literature at Denison University and graduate studies in the teaching of reading at Western Michigan University, Tanya studied literacy in Japan as a Fulbright Fellow. Since then, her experiences have run the gamut from classroom teacher, reading specialist, theater teacher and diagnostician for reading disabilities. In addition, Tanya has taught in the Education Department at Davidson College.
An associate professor of mathematics and computer science at Davidson College, Tim Chartier specializes in applied linear algebra in the fields of data analytics and partial differential equations. In 2014, he was named the inaugural Math Ambassador for the Mathematical Association of America, which also recognized Chartier's ability to communicate math with a national teaching award. His research and scholarship were recognized with an Alfred P. Sloan Research Fellowship. Published by Princeton University Press, Tim wrote Math Bytes: Google Bombs, Chocolate-Covered Pi, and Other Cool Bits in Computing and coauthored the textbook Numerical Methods: Design, Analysis, and Computer Implementation of Algorithms. Tim fields mathematical questions for the Sports Science program on ESPN, and has also been a resource for a variety of media inquiries, which include appearances with NPR, the CBS Evening News, USA Today and The New York Times.
Tim and Tanya Chartier's mime combines masks, puppetry and classical mime illusions into a distinctive style that they have performed throughout the United States and also in the Netherlands, Japan and South Korea. The Chartiers have trained at Le Centre du Silence mime school, the Dell'Arte School of International Physical Theater and with the world-renowned mime artist Marcel Marceau.
Information about Michael E. Moody Lecture Series