Endowed Chair Appointments Include New Stauffer Chair
October 16, 2014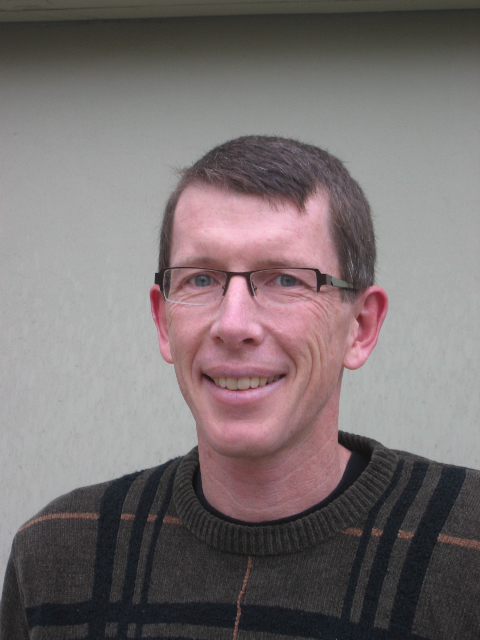 Harvey Mudd College has appointed Professor of Chemistry Hal Van Ryswyk to the inaugural John Stauffer Professorship in Chemistry, an endowed chair established in 2014 by the trustees of the John Stauffer Charitable Trust and with matching funds from the College. An important addition to the $150 million Campaign for Harvey Mudd College, the John Stauffer Chair supports a senior member of the chemistry faculty who has attained the rank of full professor.
Van Ryswyk has been a member of the faculty since 1986. His research centers on dye-sensitized solar cells utilizing porphyrin dyes on nanostructured zinc oxide. He and his research students use zinc oxide nanoparticles, nanorods and nanotubes as the photoanode in combination with a range of zinc porphyrins to better understand the interactions of dye and photoanode in dye-sensitized solar cells (DSSCs). The goal of Van Ryswyk's research is to create low-cost photovoltaics that can be produced easily for large-area applications. In other work, Van Ryswyk recently published a paper in the Journal of Chemical Education exploring a novel technique for probing the structure of large molecules.
Prominent Los Angeles industrialist John Stauffer, who founded the Stauffer Chemical Company and who was a longtime supporter of science education at Southern California colleges and universities, established the Stauffer Trust.
"The Department of Chemistry is deeply grateful for the John Stauffer Charitable Trust's continued recognition of our educational program through their philanthropic giving," said Kerry Karukstis, Ray and Mary Ingwersen Professor of Chemistry and department chair. "The Stauffer Trust recently partnered with the department to provide a challenge grant that matched gifts from many generous alumni and friends to create an endowed fund generating valuable and much-needed research support for chemistry students in the summer. Now, their current gift of an endowed professorship is a vital investment in our most important resource: our faculty. The John Stauffer Chair in Chemistry is an ideal way to recognize Professor Hal Van Ryswyk's long record of achievements at the College and his many contributions to the success of the chemistry department."
New Appointments
In addition to the College's new Stauffer chair, several faculty members have been appointed this academic year to existing endowed professorships.
Sharon Gerbode has been named the Iris and Howard Critchell Assistant Professor of Physics. A two-year appointment, the Critchell Professorship is awarded to a junior professor in advance of earning tenure as a way to recognize faculty who, in the early stages of their careers, exhibit unusual talent for mentoring students in all aspects of their lives. Gerbode focuses on two areas at the forefront of experimental soft matter physics: colloids, where microscopic, solid particles suspended in a fluid self-assemble into thermodynamic phases; and adaptive biomaterials, where soft microstructured biological tissues actuate complex motions.
Weiqing Gu is the new Avery Professor of Mathematics, a one-year appointment. The Avery Fellows program was created in 1987 by Mr. R. Stanton Avery to increase the teaching and scholarly quality and distinction of the faculty throughout The Claremont Colleges. Gu's areas of expertise are differential geometry and topology, Grassmann manifolds and computer-aided geometric design.
Susan Martonosi has been named to the Joseph B. Platt Chair in Effective Teaching. This five-year chair is awarded to a faculty member who has demonstrated both personal effectiveness in teaching and a passion to promote effective teaching in others. Martonosi researches the application of operations research models and methodology to problems in homeland security, using game theory, social network analysis and graph theory to solve problems in resource allocation and terrorist network disruption. In addition to working in homeland security, Martonosi is also developing mathematical models for malaria intervention policy. She is president of the Forum for Women in Operations Research and Management Science of the Institute for Operations Research and Management Science.
Alison Cool is the new Hixon-Riggs Visiting Professor in Science and Technology Studies. The Hixon-Riggs Visiting Professorship is offered to a senior scholar who has interest and expertise in science, technology and society. Cool is working on a book manuscript based on her dissertation, an ethnographic study of Swedish economists, behavior geneticists and psychologists who conduct twin studies or use data on twins to investigate genetic and environmental influences on social and economic behavior. She received a PhD in cultural anthropology from New York University in 2013. She also completed NYU's certificate program in culture and media and produced a short documentary about being an identical twin (Separation Anxiety, 2009).
Endowed faculty positions—chairs, professorships and fellowships—are among the most important gifts to Harvey Mudd College, because they enable the College to recruit, retain and recognize its most outstanding faculty members. These critical donations provide a living legacy of support for current and future generations of scholar-educators. The men and women who hold endowed faculty positions conduct pioneering research, help attract top students who want to work with leading educators and bring international prestige to the College through the courses they teach, the students they mentor and the academic and scholarly work they pursue.
Learn more about The Campaign for Harvey Mudd College.