Harvey Mudd Graduates Landmark Class
May 20, 2014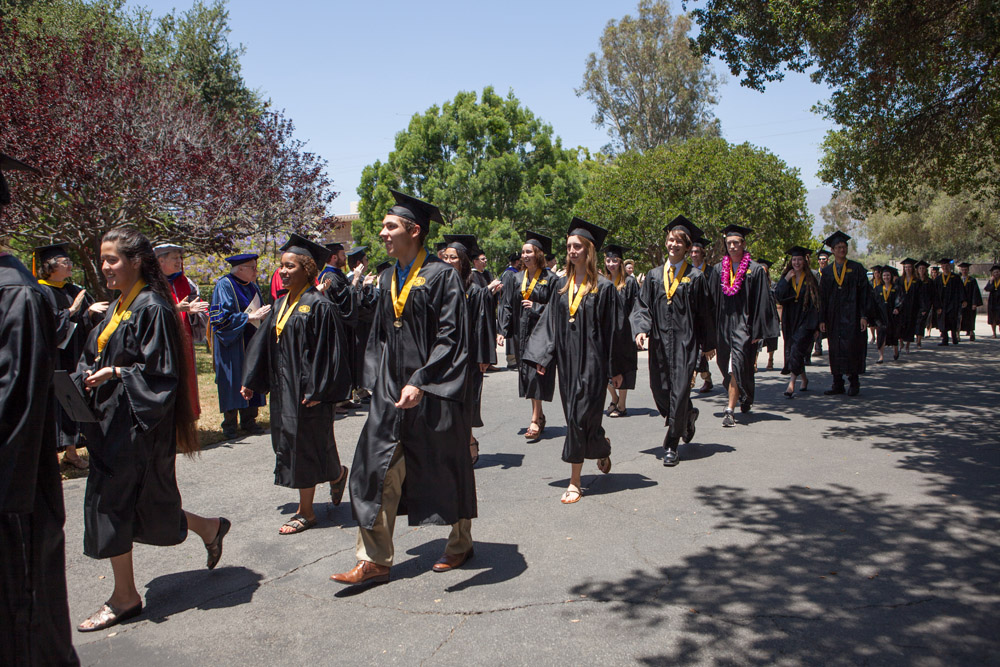 For the first time in its history, Harvey Mudd College awarded more engineering degrees to women than to men at its annual commencement, May 18. Fifty-six percent of students who graduated this spring in engineering were female, and 44 percent were male.
The College conferred bachelor of science degrees upon 173 students—88 men and 85 women—at this year's commencement, the College's 56th since its founding in 1955.
Evolutionary biologist Beth Shapiro gave the commencement address. Shapiro specializes in the genetics of ice age animals and plants. A pioneer in the young field called "ancient DNA," using DNA sequences extracted from these remains, she hopes to better understand how the distribution and abundance of species changed in response to major climate changes in the past and why some species go extinct while others persist.
"Strategies for dealing with climate change, the extinction crisis and all the other crises we hear about today tend to focus on preserving the status quo," Shapiro told the graduates. "But why should we be satisfied with the status quo? Since we can, why not use science and technology to actually make the world a better place to live in? Not just a better-than-the-experts-predict kind of place."
"As you take your skills out into the real world, I urge you to intervene," Shapiro said. "It's time to get involved."
Graduating seniors Miranda Parker and Christian Mason shared the podium for the student keynote speech, joking that their "collaborative" speech was in keeping with Harvey Mudd values.
"Don't stop growing," Parker told her classmates. "You can prove yourself wrong time and time again and do things you never thought possible."
"Accept the moments you haven't succeeded because when you learn from them, you can succeed in the future," Mason added. "Remember the moments when you did demonstrate how amazing you are, and don't forget them when you leave Mudd. Both are proof of who you are and what you are capable of—be proud."
Glen Hastings '93 welcomed the new graduates into the HMC Alumni Association.
"Mudders are professors and teachers at all levels of education from the sciences to the humanities, engineers and scientists across hundreds of disciplines around the globe, entrepreneurs, business leaders, futurists, doctors, attorneys, astronauts, Oscar Award winners and Tony Award winners," Hastings said. "As you look at the Mudders to your left and to your right, remember, these are people that will change the world."
President Maria Klawe pointed out that the Class of 2014 was the first to go through the new Core Curriculum, the first to enter with more female students than male and the first to graduate with more female than male engineering majors.
"As a landmark class, you are a tangible representation of the achievements resulting from the hard work by our faculty, staff, trustees, alumni and parents, to continually improve the learning environment and outcomes for our students," said Klawe. "We are very proud of you and of how far Harvey Mudd has come over the last 56 years."
"We never rest on our laurels," Klawe added. "We constantly strive to be even better and to provide even stronger support for each other."
Read the full text of Beth Shapiro's commencement speech (PDF)