Napier Fellows Pursue Social Justice Projects
January 27, 2014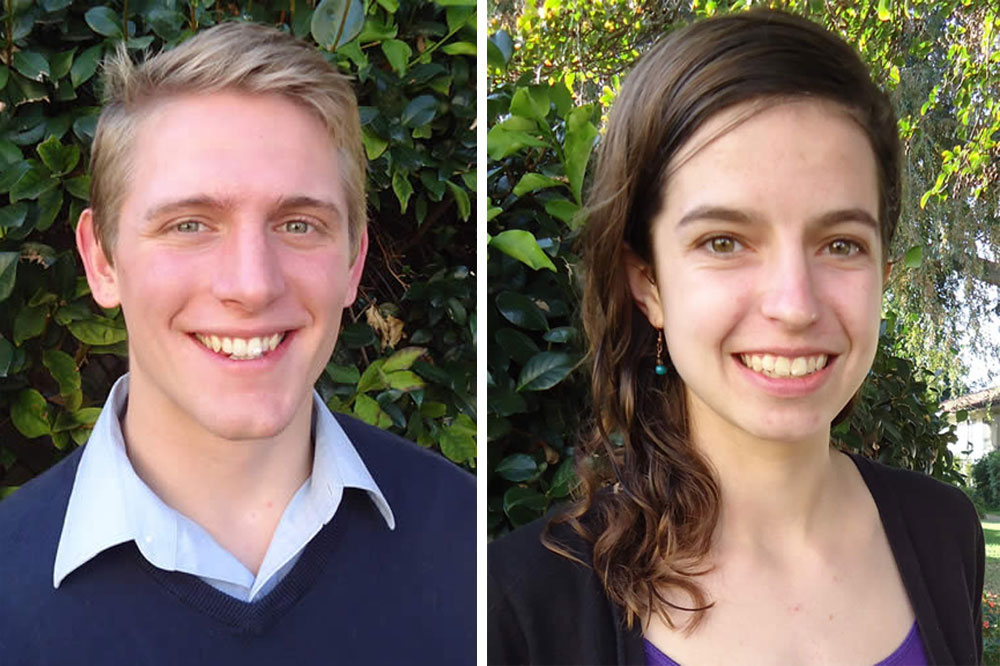 A new force for social change is emerging, one that brings together youthful enthusiasm and the wisdom of elders.
Harvey Mudd College seniors Christian Stevens and Margaret Thompson are enjoying this dynamic pairing—known as the Napier Initiative. With support and input from retired professionals, Stevens and Thompson are developing separate projects aimed at effecting social change. Both students were named 2014 Napier Fellows with an opportunity to receive one of three $10,000 Napier Awards.
The Napier Initiative supports a new generation of leadership for social change through a partnership between the Claremont retirement community Pilgrim Place and the five undergraduate Colleges (Harvey Mudd, Claremont McKenna, Scripps, Pitzer and Pomona). Named for former Pilgrim Place residents and educators Davie and Joy Napier, the Initiative helps talented undergraduates make enduring commitments to social justice, peace and environmental sustainability. The Initiative features intergenerational, collaborative courses (currently taught at Pomona and Harvey Mudd colleges), a fellowship program and awards. A highlight of the Initiative is intergenerational mentoring, which pairs students with Pilgrim Place retirees—many of whom spent their careers as advocates for social change—who share their vocational commitment and experience.
Nominated by Harvey Mudd and selected by the Napier Initiative Committee, Stevens and Thompson are Harvey Mudd's third and fourth Napier Fellows (Tiffany Liu '13 sought to work with school children in Kenya and Kimberly Chung '12 worked with indigenous peoples in Taiwan). Stevens, a biology and chemistry joint major, has been working on HIV gene therapy research in the lab of Karl Haushalter, professor of chemistry and biology, for nearly two years. Haushalter, whose HIV-AIDS course has an intergenerational component and is part of the Napier Initiative, says the best aspect of the Initiative is the connections that are made. "Our students are meeting people who have worked in many areas of the world and have thought about these issues in their professional lives, so students are gaining a lot of experience," said Haushalter.
HIV and Healthcare Outcomes
Stevens is a community volunteer concerned with the social impact of HIV, including the social problems that prevent patients from fully accessing the available medical treatment. He proposes to work for nine months with Partners in Hope in the city of Lilongwe in Malawi, a poor African nation with a high incidence of HIV/AIDS, tuberculosis and malaria, all infections which require strict adherence to medication programs if treatment is to be successful.
Stevens intends to spend time with physicians and other health-care professionals as well as their patients and other members of the community in order to gain a better understanding of the factors that affect medication adherence. He will then help to create an organization that includes both citizens and health-care professionals that will focus on improving health-care outcomes for patients in Lilongwe by improving medication adherence. Stevens' mentor is Steve Smith, a retired professor of philosophy at Claremont McKenna College, who spent over three decades helping students reach greater self-awareness and clarity of purpose, much of it through a popular class called "Theories of the Good Life."
Community Impact of Transnational Relationships

Thompson's project addresses issues surrounding transnational relationships. Immigrants living in the United States who maintain romantic relationships with partners living in another country face a host of barriers that have the potential to undermine the stability of the relationship and co-parenting dynamics. Thompson, an engineering major, believes that where immigrants make up a large percentage of a community, that community has a responsibility to care about how community structures, such as immigration laws, are affecting the lives of its people.
Thompson began her project as independent study with Harvey Mudd psychology Professor Debra Mashek and a research team who studied transnational relationships from a relationship psychology perspective. "Professor Mashek and I were interested in how some individuals who migrate to the United States from Latin America maintain their long-distance relationships with individuals in their sending country under sometimes incredible circumstances—many are separated for years on end and face barriers for a variety of reasons," Thompson said.
Thompson would supplement this research by traveling to Guadalajara, Mexico, for one semester to converse with individuals whose partners have migrated to the U.S. Further work with the Harvey Mudd research team would involve integrating the collected data and potentially preparing a paper for publication. Thompson's mentor is Barbara Troxell, a former campus minister who works with local Latin American families who immigrated to the U.S.
"Being involved in the Napier Initiative has encouraged me to create something entirely new. It's thrilling to be the one 'in the driver's seat' creating a project that by nature will serve other people. Furthermore, the mentoring relationship is a unique aspect of the Napier Initiative that is really geared toward helping the fellows succeed," Thompson said.
Paul Minus, former chair of the Initiative and current committee member, said the partnership has been invigorating. "It's affirming of Pilgrim Place residents to work with young people. There's magic being in touch with students with talent and vision—we try to help them think through their options and support them during the process. We hope other retirement communities and colleges will pick up the model and adapt it for their circumstances."
Winners of the three 2014 Napier Awards for Creative Leadership will be announced Feb. 22 at a banquet that includes Napier Fellows from each of The Claremont Colleges, their Pilgrim Place mentors and other Napier Initiative participants and supporters.