Dannenhauer, Naden Set New Track Records
May 28, 2013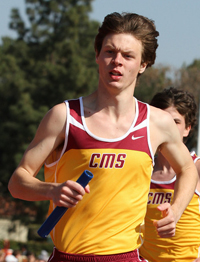 Harvey Mudd College seniors Rafer Dannenhauer and Bennett Naden broke Claremont-Mudd-Scripps track and field records this month.
Dannenhauer broke a 10-year-old CMS track record May 4 at the Occidental Invitational in Los Angeles, finishing the men's 5,000-meter with a time of 14:21.74, breaking the old CMS record (14.28.5) by nearly seven seconds.
His time is the second best in Southern California Intercollegiate Athletic Conference (SCIAC) history and currently the sixth fastest in the nation.
Naden broke the CMS record (9:09.17) in the men's steeplechase May 12 at the Oxy-Lu Last Chance Meet in Los Angeles, finishing with a time of 9:06.59. In March, he was named a U.S. Track & Field/Cross Country Coaches Association National Athlete of the Week (for Division III). The award spotlights exceptional performances by student-athletes from around the nation.
At the SCIAC Championships in April, Naden won the men's steeplechase and Dannenhauer came in second in the 5,000-meter event. The CMS men's track and field team (Stags) earned first place, marking the 20th SCIAC title in the team's history.