G. William Daub Awarded 2013 Mudd Prize
May 23, 2013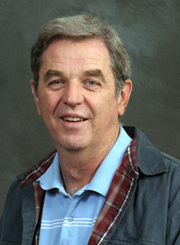 Chemistry Professor G. William Daub was recognized for his extraordinary service to the Harvey Mudd College community May 19 during HMC's 55th Commencement Ceremony.
President Maria Klawe presented Daub, who is Seeley Wintersmith Mudd Professor of Chemistry, with the annual Henry T. Mudd Prize, which recognized his years of service and lauded his expertise, his kind heart and his "quiet voice of reason."
Daub expressed gratitude to those who nominated and chose him for the Mudd Prize, and then offered some words of wisdom.
"Faculty don't work in a vacuum. They've got a strong and supportive board of trustees and administration, they've got great colleagues, they've got wonderful staff, but, most importantly," said Daub, gesturing toward the graduates, "they have you guys, the students. Without you, this place wouldn't be nearly as much fun. So, let me give you just one bit of advice as you move on: Life is short; remember to laugh."
Daub joined the HMC faculty in 1978, following a postdoctoral fellowship at Stanford University. His service the College includes teaching general and organic chemistry, mentoring students and faculty, and serving in a variety of leadership roles. He has served as the freshman division director (1994–1995) and Department of Chemistry chair (1995–2008), and he is currently the Core Curriculum director. Daub also served on the Department Chairs Committee and as an advisor to the deans of students.
The Henry T. Mudd Prize is awarded each year at Commencement to a member of the HMC community whose service to the College and its mission is exemplary. Henry T. Mudd (1913-1990), the son of Harvey S. Mudd, was instrumental in the creation and early development of the College named for his father. He served as a founding trustee and board chair for 23 years.
Following is the text of the citation presented to Daub by Klawe:
"For his exemplary service to Harvey Mudd College spanning more than three decades, during which he has served with kindness, collegiality and expertise;
For his selfless dedication to student achievement, helping to shape the first-year experience through his teaching of first-year courses and laboratories, guiding students to academic success and devoting countless hours to students and the College;
For his kind heart, which is ever apparent in his interactions with students, faculty and staff, and for his active role in mentoring both students and faculty, leading by example with his dedication to excellent teaching while maintaining balance in his life;
For exhibiting a quiet voice of reason in faculty meetings where he is unpretentious, low-key, soft-spoken but authoritative;
For his service as a trusted advisor to the administration, particularly to the deans of students, whom he has supported with distinction on the Dean of Students Advisory Committee;
For his leadership on the Department Chairs Committee for more than 13 years, during which time he shepherded the College into the adoption of the joint major in chemistry and biology;
For admirably serving the College in a number of major leadership roles including department chair, director of the freshmen division and Core curriculum director;
For epitomizing altruistic loyalty to Harvey Mudd College, being a true citizen of the community, a faculty member to be emulated and celebrated, G. William Daub, Seeley Wintersmith Mudd Professor of Chemistry, is hereby designated as the 2013 recipient of the Henry T. Mudd Prize."