CMS Cross Country Teams Win SCIAC Championships
October 30, 2012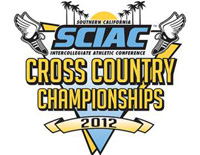 Claremont-Mudd-Scripps men's and women's cross-country teams won the Southern California Intercollegiate Athletic Conference Championships Oct. 27 in Chino, Calif.
The championships mark the 22nd title for the women, the 12th title for the men and the ninth time that both teams won titles in the same year.
The Stags, who rank first in the region and ninth nationally, scored 33 points and captured the men's SCIAC Cross Country Championship. Rafer Dannenhauer '13 won the race and the men's individual title—the first Stag individual title since 2002—and earned SCIAC Runner of the Year honors. Teammates Zorg Loustalet '16, Justin Jones '15 and Bennett Naden '13 finished fifth, ninth and 10th, respectively. All four students earned First Team All-SCIAC honors. Jacob Higle-Ralbovsky '16 finished 16th to earn Second Team All-SCIAC honors.
The Athenas, who rank first regionally and fourth nationally, scored 30 points and seized the women's SCIAC Cross Country Championship. Kate Crawford '13 finished 14th and earned Second Team All-SCIAC honors.
The SCIAC First and Second Teams will compete Nov. 10 at the NCAA West Regionals, a qualifying race for the NCAA Championships, in Salem, Ore.