DSA Staff Lauded for Student Affairs Excellence
April 16, 2019
Two professionals in the Department of Student Affairs at Harvey Mudd College earned awards from the National Association of Student Personnel Administrators (NASPA) at the organization's March annual conference, where student affairs professionals from across the United States were recognized for their service.
Danny Ledezma, associate director of community engagement, and Anna Gonzalez, vice president of student affairs and dean of students, were recognized for their dedication to student affairs.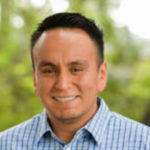 Ledezma was one of three recipients of a NASPA NOW Impact Award, presented to recent graduates and new professionals in the student affairs profession for qualities that align with the NASPA Pillars—Integrity, Inclusion, Innovation, Inquiry and Impact. The award recognizes members for supporting the mission and strategic plan of NASPA through their work on a campus. At Harvey Mudd, Ledezma helps organize, develop and support community engagement programming on and off campus, including student-led and community-led programs. He also manages and supervises the Homework Hotline program, a free over-the-phone math and science tutoring service for students in grades 4 through 12. He recruits and develops Harvey Mudd student tutors, conducts program assessments and collaborates with school districts, educators and other members of the campus and local community.
"I am extremely honored to receive such an important award for new professionals," said Ledezma, who's been a NASPA member for four years. "I am grateful for the recognition by my colleagues and friends. I am fortunate to have the opportunity to grow and contribute to NASPA."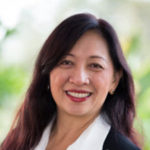 Gonzalez received the APIKC Doris Michiko Ching Shattering the Glass Ceiling Award. The award recognizes an individual who has made an outstanding impact on the Asian/Pacific Islander/Desi American community and the student affairs profession through leadership, service and scholarship.
As a first-generation U.S. college student, she recognizes the impact a college education can have on families and communities.
"My service to the profession of student affairs has been influenced by my commitment to creating accessible educational experiences for all individuals, especially those who have historically been disenfranchised," Gonzalez says.
Gonzalez was recently elected Region VI director for NASPA and has received the organization's Region V Scott Goodnight Award for Outstanding Performance as a Dean (2018) for her work at Lewis and Clark College as well as the NASPA Pillars of the Profession award.
HMC's Division of Student Affairs, with its 19 staff members, is responsible for residential life, student activities, career services, health and wellness, institutional diversity, and community engagement.