HMC Physics Community Attends APS
March 22, 2018
When designing his solid state physics course for the 2018 spring semester, Professor Nicholas Breznay '02 had an ultimate goal in mind: Get as many students as he could to attend the American Physical Society March Meeting, held this year in Los Angeles.
"The idea was to give students ownership of the language and active questions in condensed matter physics, with the hope of providing them a jumping-off point for attending this conference," Breznay says. Physics professors Jason Gallicchio and Peter Saeta also attended, as did Sharon Gerbode, Iris and Howard Critchell Professor of Physics, who brought students from her lab.
To help his students get the most from the conference, Breznay gave them a to-do list of 27 challenges encouraging them to do things like attend invited talks, ask questions during Q-and-A sessions and meet new people in the physics community. "Some small conferences are self-explanatory, but the March Meeting is the largest in the world—more than 11,000 attendees this year—and it can be opaque and intimidating," Breznay says. "I wanted to open as many doors for engagement as I could for the students and to share my sense of the opportunities."
Because the conference was so close to campus, Breznay sought to make a Harvey Mudd event out of it, including alumni and current and retired faculty, who met the students for lunch.
Here are some of the day's highlights.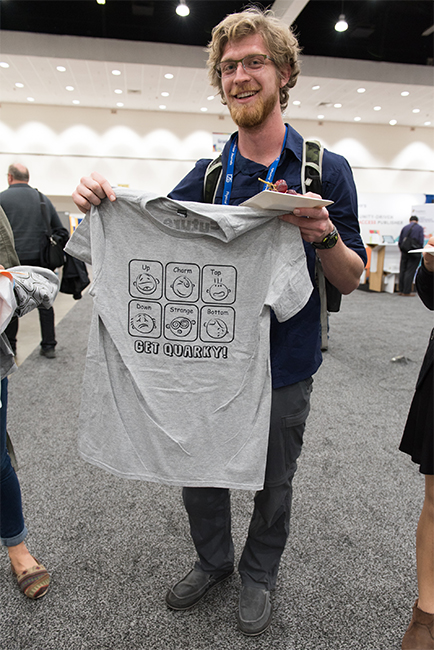 Junior Colin Adams checked 15 of the 27 to-dos from his list, including attending the tradeshow (#13) and meeting and talking to someone he didn't know before the conference (#18). Adams says he thoroughly enjoyed the experience. "My favorite part of the day was probably the alumni lunch," he says. "I love meeting Mudd alumni and bonding over the shared experience of Mudd. They understand what we're going through." Adams enjoyed Breznay's class and the culminating trip to the conference so much that he says he'd recommend it to "12/10 friends if it's offered again."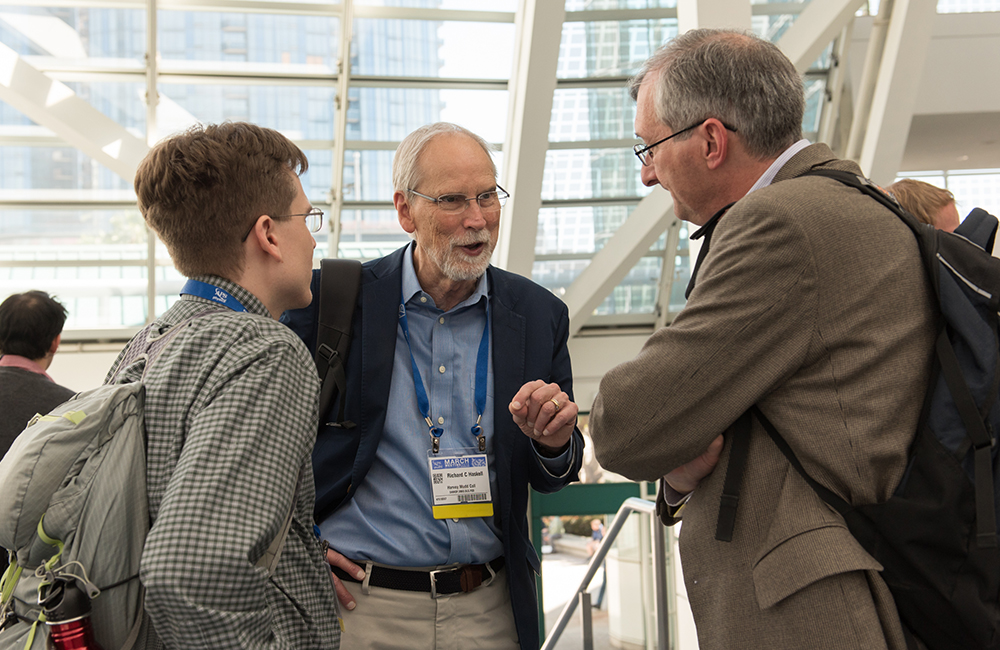 Recently retired physics professor Richard Haskell was happy to reunite with colleagues and former students. Having been to approximately 20 APS conferences throughout the years, Haskell was impressed by the number of Mudders in attendance, saying it was perhaps the largest such reunion he's seen at a conference. "What an exciting experience for Mudders to immerse themselves in a huge group of highly motivated physicists who just want to understand the physical universe," he says. "I love the intellectual excitement of hearing new research results and sharing that excitement with new folks that I meet and especially with alums who, of course, are old friends."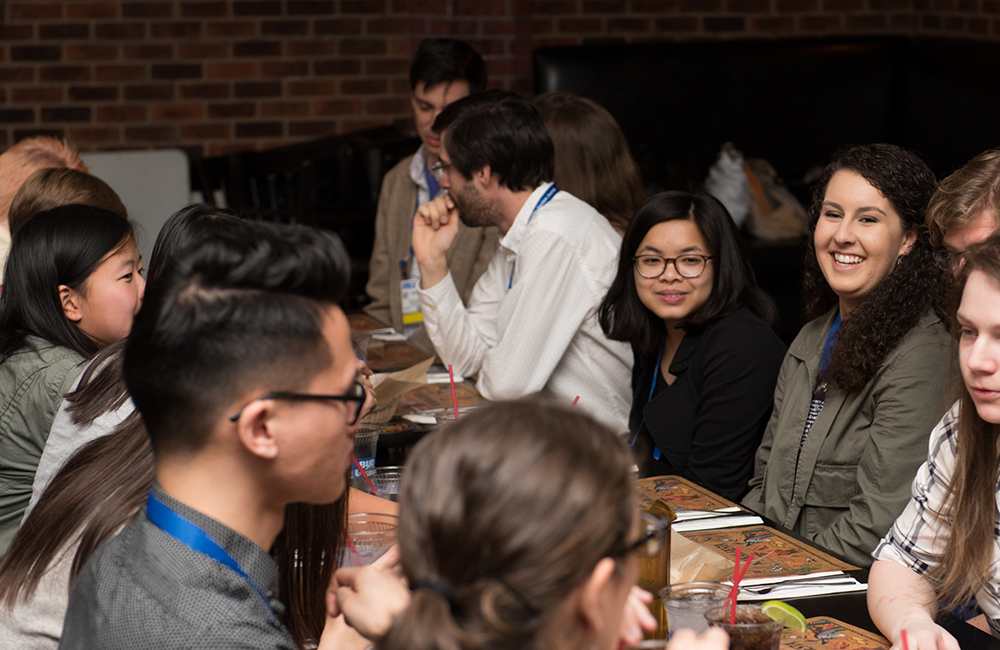 "The experience of being at such a large physics conference really fosters that sense of belonging, at least for me," says junior Vivian Phun. "My favorite part of the day was definitely the lunch with the HMC community. I often take that feeling of community for granted on campus because of all of the schoolwork. It was nice to just sit down and chat with HMC physicists without feeling the stress of homework."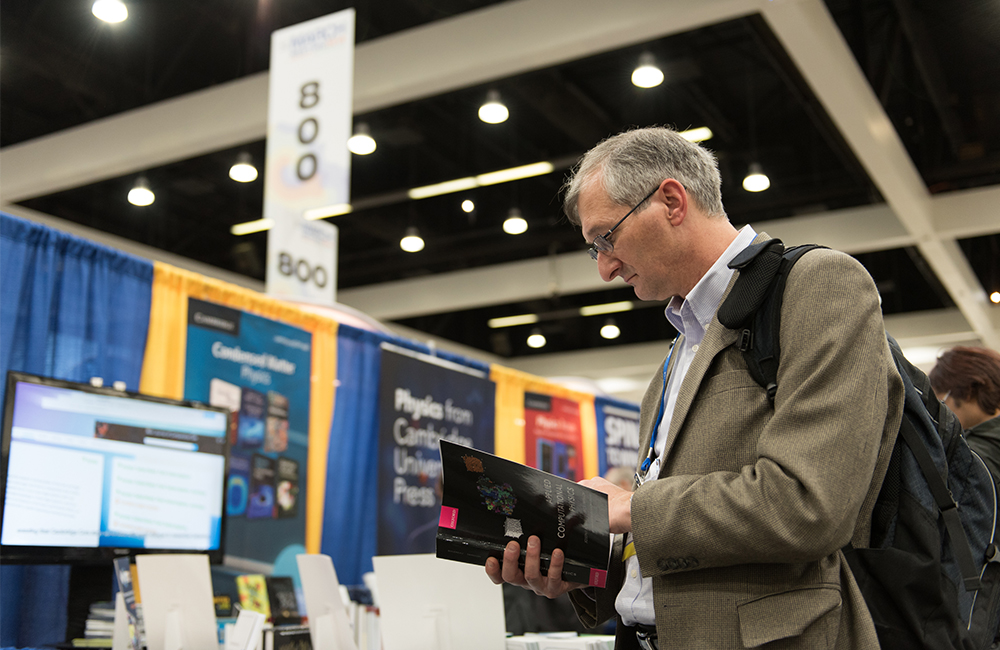 Saeta enjoyed perusing the latest in physics literature, but agrees with his colleagues that "without question, the lunch that was so incredibly well attended was the highlight for me. It was great to run into so many alums, both at lunch and in the corridors of the conference."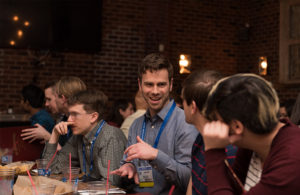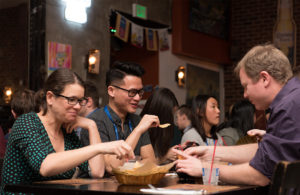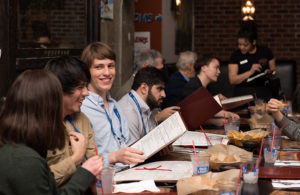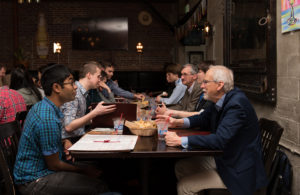 "We had great turnout of students, alumni and faculty," Breznay says, noting that Mudders from each academic year—first years through seniors—attended the conference. "I think we can empower our amazing students and alumni by giving them all an additional network of names, friendly faces and areas of expertise."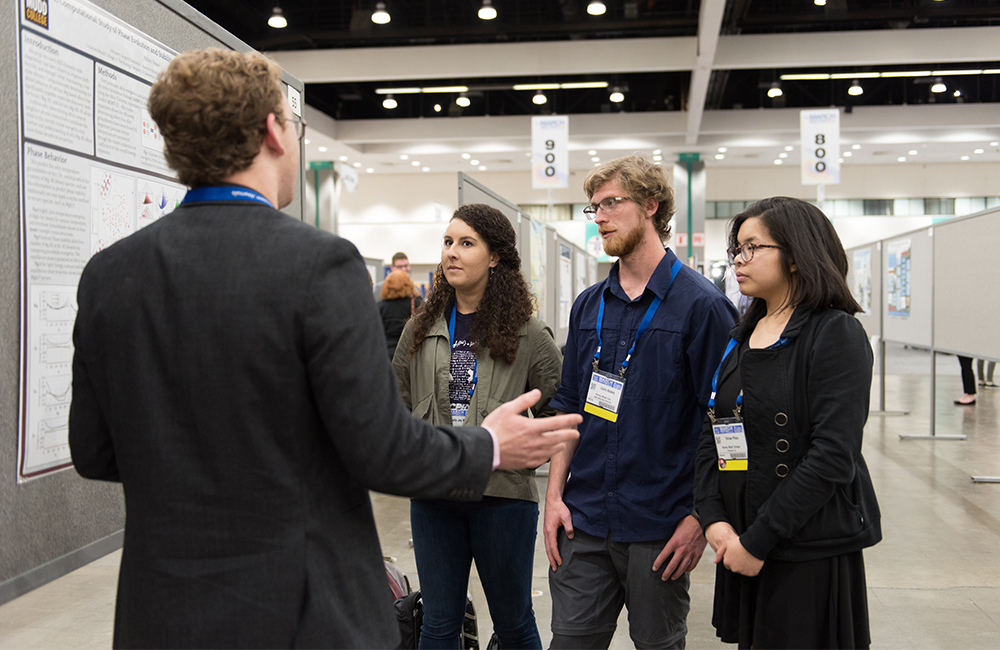 In addition to reuniting with alumni, attending talks and eating lunch, Mudders learned about instrumentation for sale in the tradeshow and viewed student poster presentations, including one by Adam Shaw '18. Carla Becker '18, Adams and Phun checked off the poster session-related to-dos (Nos. 20–22) by attending Shaw's presentation.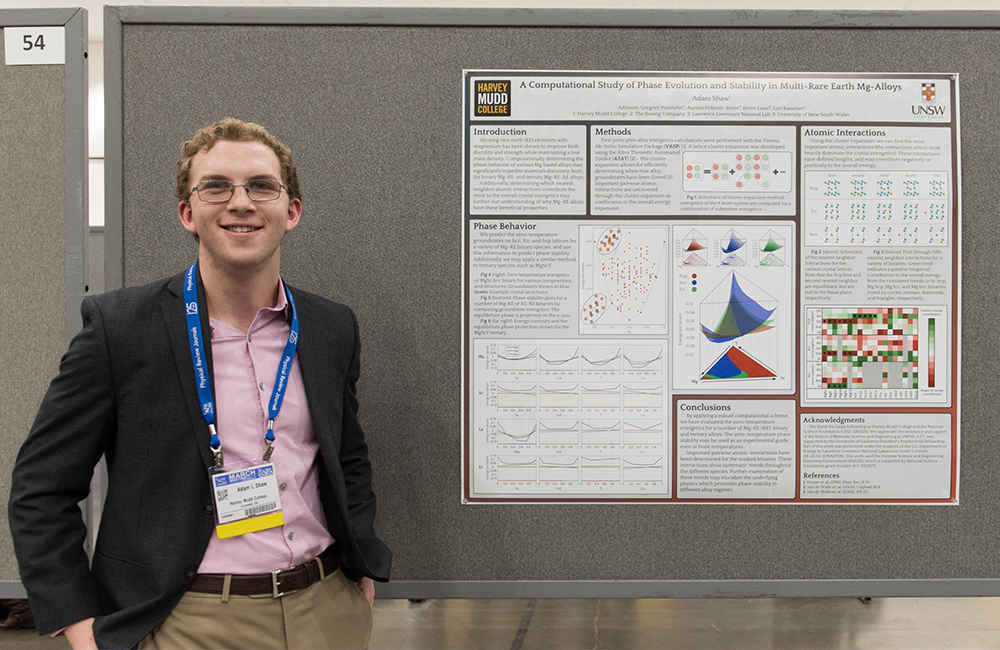 Shaw also delivered a talk at the conference, explaining his work with Breznay. "After seeing Adam's very clear talk, a colleague mentioned their surprise that Adam is 'only' an undergraduate," Breznay says. "He has owned the project at every step, and I am also proud that it was a collaborative effort. Teammate Miguel Velez '21 and our other group members asked great questions and gave very helpful feedback."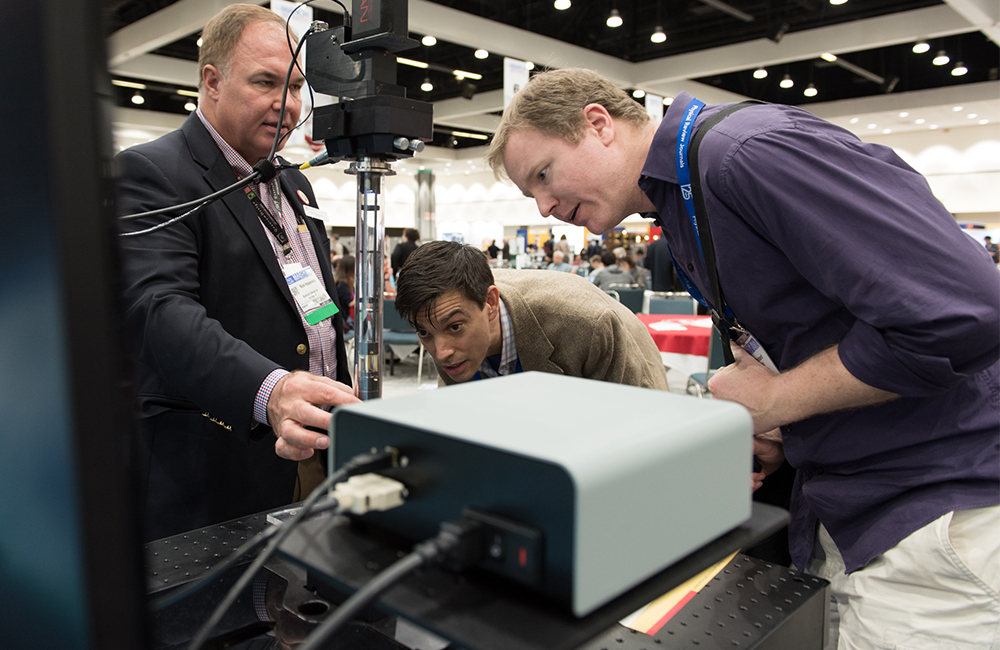 Breznay and Gallicchio used some of their time at the conference to talk with vendors. Breznay hopes to acquire a variable-temperature cryogenic refrigerator with a superconducting magnet and associated experimental probes for the College. "It is a serious piece of hardware, and everyone at Harvey Mudd, including first-year students, could learn how to use it and carry out their own experiments," he says. "I can't wait!"
Gallicchio says he enjoyed his time at the conference: "The highlight for me was learning about a new astronomical polarization measurement technique from an undergraduate student's poster," he says. "That, and the lunch."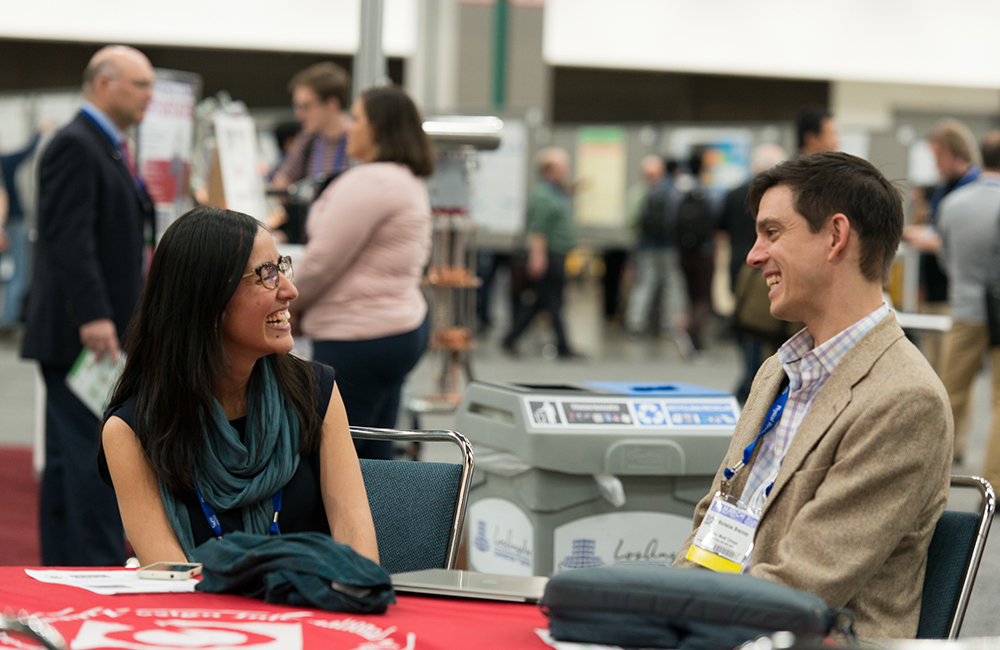 Breznay made it a priority to meet with collaborators, like Professor Claudia Ojeda-Aristizabal (California State University, Long Beach). He also had conversations with more than 20 colleagues from the U.S. and around the world. "The value of a big conference is to network, connect with colleagues and collaborators, talk to vendors, sell your ideas, and see what research questions are intriguing and active," he says. "And we have to participate. When Harvey Mudd shows up, STEM communities don't just become stronger, they become more inclusive and more diverse. Even in such a big conference, we are making an impact."