After School Specials! to Compete in ICCA Final Round
April 11, 2018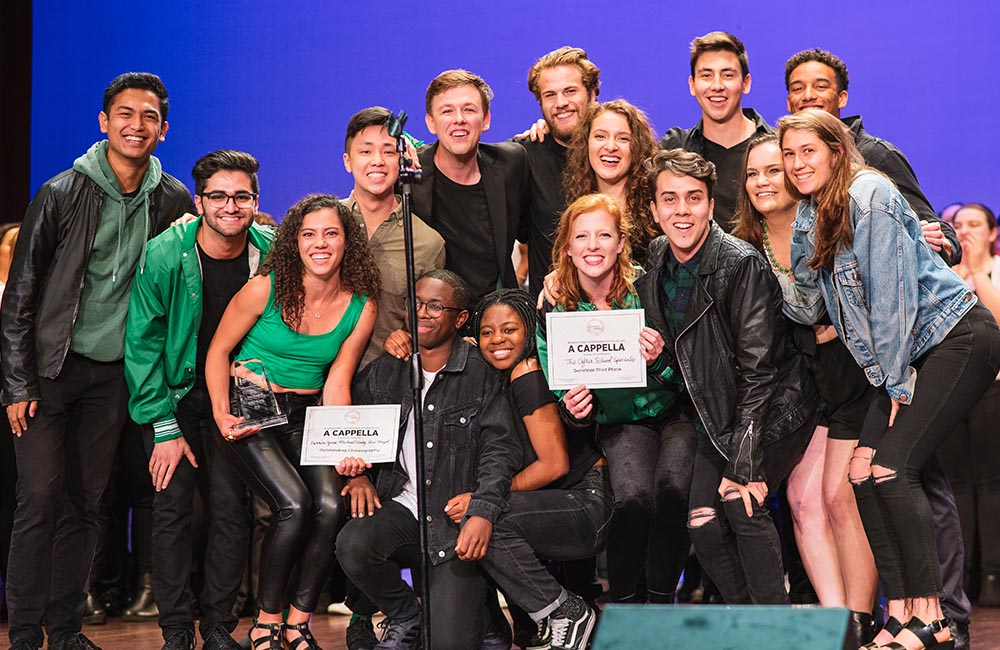 Picture this: A small town. A tenacious a cappella group with big dreams. All are undergrads, three are STEM majors balancing activities and the challenging Harvey Mudd College curriculum. But nothing can keep them from their goal, to compete in the International Championship of Collegiate A Cappella (ICCA). A respectable third-place semifinal finish looks like the end of the road, the end of the dream, but then—
This isn't the plot of another Pitch Perfect movie. Even better, it's the real life story of The After School Specials!, a 5C a cappella group that earned a wild card spot and is now one of 10 groups out of 400 to advance to the final competition.
Angelica Virrueta '18 (alto), Annalise Schweickart '18 (soprano) and Russell Salazar '19 (baritone) will travel with other members of The After School Specials! (a total of 15 students representing each of the undergraduate Claremont colleges) to New York City for the competition at the Beacon Theatre on Broadway April 21.
After placing second in the quarterfinals in February, the group moved to the semifinals, contested in Salem, Oregon, in March. There, they won awards for best choreography and best soloist and placed third overall, performing Greedy by Ariana Grande, These Walls by Kendrick Lamar/Moss Kena and Jealous by Labrinth.
"While our third-place prize did not secure a final spot, it allowed us into the wild card round," says Salazar. "Those who placed in any semifinal around the world could submit a live video of their performance for a chance at finals. We received notice April 3 that we had won the wild card round, scoring higher than 17 other groups and securing a place in the finals."
Salazar says this is the first time any Claremont Colleges group has made it this far in the ICCA competition. The three Mudders have been with the group for four years. "We are excited and humbled to get to share the stage with some of the best college a cappella groups in the world," Salazar says.
The Specials will perform the same set of songs for the finals and have been working diligently to incorporate the feedback they received from their last competition.
"Our group comes together three times a week for one-and-a-half hour rehearsals as our regular commitment," Salazar says. "Given the extra work needed to perfect our performance for this competition, we've been adding a couple extra hours each week. In total, it has been about six to eight hours a week, plus any on-campus performances. It's a big commitment, especially on top of the Mudd workload, but this is a once-in-a-lifetime experience for all of us, and we do what we need to make every rehearsal count. Anything—from singing on our way to rehearsal, to dancing as we get ready in the mornings—helps put us in the mindset to use rehearsal time efficiently."
The group has set up a Go Fund Me page for anyone interested in helping them with competition expenses.