Who We Are (OID)
Dr. Jennifer Alanis, Associate Dean
Dr. Jennifer Alanis is the Associate Dean of Institutional Diversity and Title IX Officer at Harvey Mudd College in Claremont, California. She focuses on creating an inclusive campus through programming, trainings, creating strategic plans, and partnerships in the Claremont community. Previously, Dr. Alanis served as the Director of Diversity of Inclusion for Colorado State University-Pueblo. Dr. Alanis also previously served as the Program Manager for the Office of Inclusion and Intercultural Relations at the University of Illinois Urbana-Champaign and before then was the Assistant Director for La Casa Cultural Latina.  Dr. Jennifer Alanis is a 2004 Loyola University Chicago graduate where she received her B.S. in Communications with a triple minor in Spanish, Women's Studies, and Literature. She is 2007 graduate of Columbia College Chicago with a M.A. in Arts, Entertainment and Media Management. Dr. Alanis then completed her M.Ed. n Educational Policy Organizational Leadership from the University of Illinois Urbana-Champaign. Most recently, Jennifer completed a Doctorate of Education (Ed.D.) from Benedictine University in Higher Education and Organizational Change.
Contact: jalanis@g.hmc.edu | 909.607.3470 | oid@g.hmc.edu
Arianna Figueroa, Assistant Dean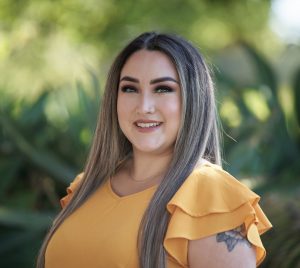 As the Assistant Dean for Institutional Diversity, Arianna develops and manages programs, services, and initiatives that promote diversity, inclusion, and educational equity, as well as cultivates cultural understanding and competency. She is dedicated to developing programming centered around inclusive excellence and leadership development. She has worked in different areas of Student Affairs, such as student support services, multicultural affairs, new student orientation, and residence life. Arianna is a graduate of Lewis & Clark College where she received both her B.A. in Sociology and Anthropology and her M.A. in Student Affairs Administration.
Contact: afigueroa@g.hmc.edu | 909.607.1865 | oid@g.hmc.edu
Student Interns
The 2021-2022 OID student interns members serve as diversity and inclusion ambassadors for the Harvey Mudd campus! Stop by to say hello and find out what's happening through OID.