Harvey Mudd Students Receive Pando Award for Zeroing in on Solar Energy
July 20, 2023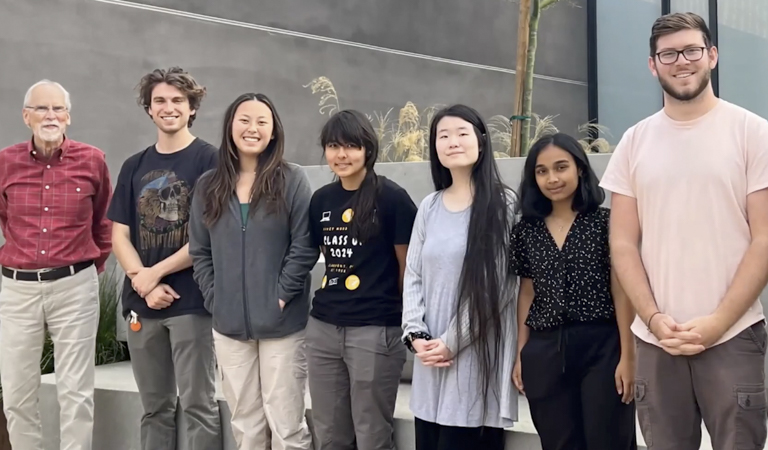 Harvey Mudd College students Jackson Castro '22, Kasey Chung '25, Brittany Pan '24, Amy Yuan '24, Shivani Manivasagan '25 and Jackson Philion '25 partnered with students from Pomona College and Cal Poly Pomona for the 2022 Pando Days Program. Their project, which won the Pando Award for Feasibility and Viability, aims to place a state-of-the-art, nonprofit solar panel factory in each of Los Angeles County's five supervisorial districts.

For "Zeroing in on Solar: Developing a strategic plan to place non-profit solar panel factories in Los Angeles County's underserved communities," the team partnered with Community Home Energy Revolution Project (CHERP), which established the first replicable, nonprofit solar panel assembly factory in Pomona. They then identified additional locations in the other four supervisorial districts by using data that showed areas burdened by environmental justice markers like high energy costs. A strategic plan was produced to identify economic, political and community partnership opportunities for each location. These community connections will ensure that the resulting community-run facility has the capacity to create solar manufacturing and installation jobs by producing solar panels and selling them to anchor businesses, and school districts within its city.
"Their project is all about jobs, patented solar photovoltaics technology and social equity," says Richard Haskell, team advisor, professor emeritus of physics and former director of the Center for Environmental Studies, now part of the Hixon Center for Climate and the Environment. "Students' initial interest and ultimate feelings about the project centered on the opportunity to put their boots on the ground and devote their time and energy to measurable accomplishments in combating climate change in a timely way."
The Pando Days program began in 2019 and was created to bring together educators in the arts, humanities, sciences and communications to help advance sustainable development in the greater Los Angeles area. Every year, they ask participants to inspire themselves and others with ingenious new solutions and plans to solve big problems.
Watch the Zeroing in on Solar team present their project in its entirety on YouTube at the Pando Days '22 Premiere Presentation: Harvey Mudd, Pomona and California State Polytechnic.