Ruvalcaba Awarded Mudd Prize
May 22, 2023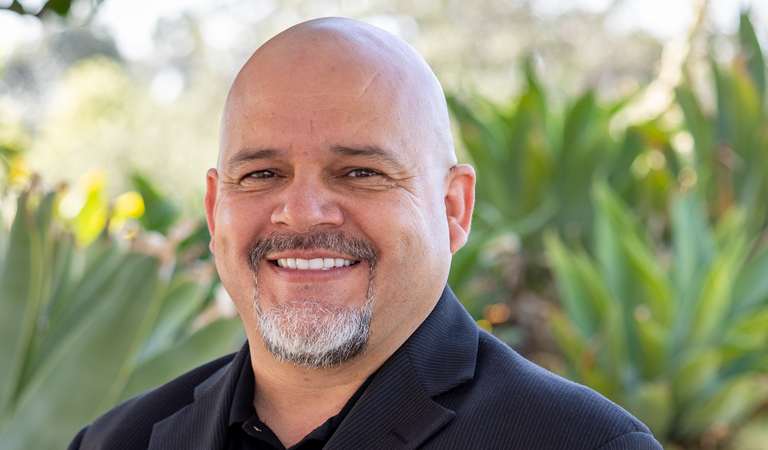 Miguel Ruvalcaba, senior director for dining services at Harvey Mudd College, is the recipient of the 2023 Henry T. Mudd Prize, an award that recognizes extraordinary service. The honor was announced at the College's Commencement ceremony, May 14.
Awardees receive $6,000, $3,000 of which is designated for use within the College at the discretion of the recipient.
A longtime, self-described foodie, Ruvalcaba has been cooking or working in the food industry since age 14. He's worked at nearly every food-related job, from bus person to catering manager, so he has a thorough understanding of the business. "I love what I do. I love providing meals and solving challenges like dietary restrictions. I love being part of events we plan at Harvey Mudd, like Ramadan and Copper Chef, and being challenged to come up with solutions that benefit our students. I want to continue having the reputation within our community and within our student body of being one of the best dining halls among the undergraduate Claremont Colleges."
Ruvalcaba joined the Harvey Mudd staff in 2010. As senior director for dining services, he directs all food-related services for the College, including Hoch-Shanahan Dining Commons, the Café, catering and Jay's Place. In addition to providing training for all employees in food and physical safety, customer service and recipe development, Ruvalcaba works closely with campus administrators to provide high-quality service and food at the College. He works with the Student Food Committee to implement new menu ideas and arranges student events in the dining hall.
"I love this place and I know that it's going to continue being a great place to work with our new president," said Ruvalcaba, referring to incoming president Harriet Nembhard. "I just love being part of that."
Text of the citation awarded to Ruvalcaba by President Maria Klawe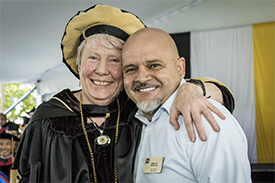 For his exemplary service to Harvey Mudd College over the past 13 years, during which he has demonstrated an extraordinary level of care for each member of the College community;
For his selfless dedication to our students and his willingness to listen and respond to student concerns;
For his service to the broader Claremont Colleges community, including his work coordinating with his counterparts at the other colleges and supporting the students of many 5C and 7C student organizations;
For his endless creativity and energy, which have produced innovations in service that directly respond to the needs of our students, faculty and staff;
For his enthusiasm and relentless drive to provide a positive impact in all of his interactions with students, faculty, staff, alumni, parents and trustees;
For his all-hands-on-deck approach to work and his willingness to step in and lend a helping hand no matter the circumstance, from moving furniture to stuffing envelopes;
For his superlative efforts during the pandemic, during which he worked closely with student leadership and multiple campus departments to organize an ever-changing response to our campus needs and served as a campus liaison to our furloughed employees, assisting them in navigating the unemployment process as well as in applying for the College's employee emergency relief fund awards;
For his leadership of one of the largest departments on campus and for his true spirit of collegiality and respect, which exemplify every aspect of his work with his team;
For his and his team's approach to service, providing extraordinary and individual support for all members of the College community with dietary concerns;
For his innovative idea, shared during his interview before joining the College, to introduce the Copper Chef program for the students, to build community around the shared meal and fun of a student competition;
Miguel Ruvalcaba, Senior Director for Dining Services, is hereby designated as the 2023 recipient of the Henry T. Mudd Prize.